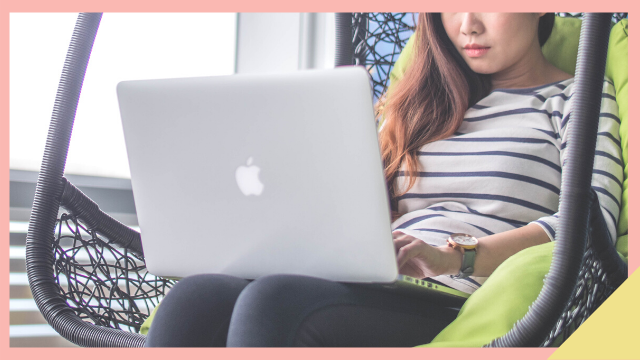 If you're planning to work from home, going through all the options you have can definitely be overwhelming at first, especially when you don't have prior experience in any of these jobs. The good news is, there are plenty of home-based jobs that actually require little to no work experience. Transcription work is one of them! 
ADVERTISEMENT - CONTINUE READING BELOW
In this online job, you'll have to listen to audio files and convert them into text format. Transcribing seems easy to do, but as Eliza Santiago, a makeup artist who has also been working as a transcriptionist—on and off—since 2012, tells us, it still involves a lot of skills. 
Below, Eliza shares what it's like to work as a transcriptionist—including how much you can earn from this home-based job! 
Female Network: What made you decide to get an online transcription job?
Eliza Santiago: It appealed to me because it seemed easy enough. That's what I thought! I discovered later on that it's a skill you need to hone and develop and actually involves a lot of other skills. I also like it because there is no human contact (less mentally taxing in my opinion) and the schedule was flexible.
FN: What type of transcription work do you do? And what is a typical workday for you like? 
ES: I do transcriptions for a wide range of topics. I like my work to be enjoyable, so I prefer jobs that are human interest, interviews, and workshops, etc. Celebrity interviews are the best! An ideal job would be a clear audio or video file on a topic that really interests me or something I can learn from. Sometimes, the job is just the job and you just set out to provide a clear transcript for your client. The fun is a huge bonus.
ADVERTISEMENT - CONTINUE READING BELOW
I try to maintain a healthy, balanced schedule and work during "office hours". Transcription work is available 24/7 and I can set my work hours at my convenience. Right now, I try to work from 9 a.m. to noon, take a break until 2 pm, and work again until dinner time. Sometimes, I work a little bit after dinner if there's a job I can't resist.
FN: 

Are there online tests you had to take? What are the qualities and skills companies would usually look for?

ES: Transcription companies will always have an applicant take some sort of test to screen for basic skills. It usually involves a test file that you have to transcribe following the particular style guides that the company adheres by. You should be able to follow these instructions, understand things from context, be familiar with expressions, be a good speller, have a solid knowledge of grammar, and have above-average typing skills. A good grasp of international general knowledge helps, as well as research sense. Google is your friend when researching names, brands, events, and companies. 

ADVERTISEMENT - CONTINUE READING BELOW
FN: What would you say is the most challenging part of the job? 
ES: Having tenacity and stamina. It gets pretty tiring having a voice in your ear for hours. I deal with this by balancing my work hours, and knowing when to stop. Sometimes it is so tempting to go, "Just one more file." Before you know it, it's 6 a.m. the following day and you're still working.
FN: Is there a typing strategy you've developed to work faster?

ES: Your typing skills aren't worth anything if you don't have a good ear. In transcription, accuracy is more important than speed. Companies will give you more than enough time to finish a job (enough time for a short nap even) so develop that more than speed in typing. 
FN: How much can you earn from online transcription jobs? And how much did you make when you just started? 
ES: In the beginning, I only took jobs that were fairly easy (single or two speakers, clear audio, no accents) and those pay lower. As I improved, I began taking in work that was more difficult and started to earn more. The company I work for also gives incentives for transcriptionists that have good scores from reviewers and clients (higher pay, early access), so I try to turn in quality work to avail of these incentives. How much you make really depends on how much work you put in. No transcription, no pay! A file can pay anywhere from $.30 to $1.00 per audio minute. I give myself a quota. Following the schedule I have set out for myself, I try to make $200 a week. I could make more, but I am trying to balance work with healthy home life.
ADVERTISEMENT - CONTINUE READING BELOW
FN: Can you share some tips for newbies on how they can avoid being scammed online?
ES: You can apply to be a transcriptionist on several websites. Before I signed in with the company I worked for, I put in bids in freelancing sites. I always looked for clients that had verified information. When I passed the test for the company I work for now, I didn't need to look for anything else. They always have jobs available and pay on time. The big transcription companies are always the most reliable. 
Load More Stories