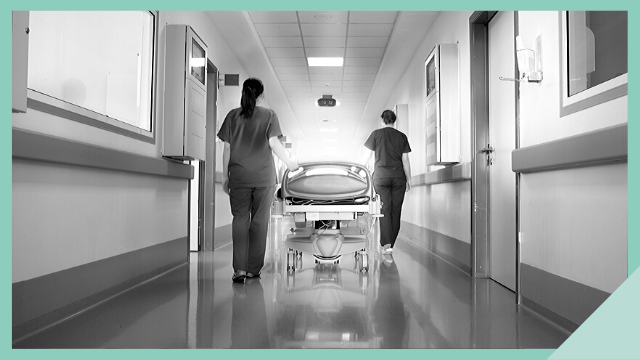 It's Halloween, the best time to share the creepiest, most hair-raising stories you've had on the floor. We've collated some of your best scares in the workplace the past two years, but this year, we've had a spate of stories from medical practitioners who work closely with life and death on a daily basis—and admittedly, these are some of the creepiest yet.
ADVERTISEMENT - CONTINUE READING BELOW
So sit back, relax, and make sure you're not alone, as these stories will definitely keep you looking over your shoulder:
A Ghostly Welcome
From Acetylcholine on GirlTalk
CONTINUE READING BELOW
Recommended Videos
One of my many experience sa hospital duty, new hire [ako] that time, na sa loob ako ng pharmacy to pick up something. The pharmacist in charge left me in dahil saglit lang naman. Wala pang ilang minuto may narinig ako na umiiyak. Pinakinggan ko mabuti kasi baka mali lang rinig ko, [kasi] 'yong pharmacy is katabi ng emergency room kaya naisip ko baka may dinala sa emergency room.
Sobrang lakas ng iyak niya na parang nananaghoy so sabi ko sa pharmacist may dinala ata sa emergency room, but then kita kasi agad 'pag may dinala kasi madadaanan kami, kaya sabi niya, wala naman. Lumabas ako nung nakuha ko na 'yong kailangan ko then dumaan ako sa emergency room. Wala naman patient ni isa. Tatlong nurse ang duty that time then sinabi ko 'yong narinig ko, then sabi nila wini-welcome daw ako, madalas daw talaga 'yon lalo na sa gabi.
ADVERTISEMENT - CONTINUE READING BELOW
Elevator Encounters
Shared by EllynReyne on Girltalk, as told to her by her cousin, a nurse
I heard these these stories when I was like 8 to 10 years old. Back in the day, my cousin was a nurse...

1. My cousin and another nurse were doing their rounds during their night shift. At some point they needed to inspect some patients in the upper floors so they took the elevator. Once inside, the elevator shot upwards at nilampasan 'yong destination nila. Then dinala sila doon sa one of the topmost floors na tambakan na lang ng mga gamit (and cadavers, if I recall correctly), and doon nag-stop 'yong elevator. To their horror, biglang bumukas 'yong pinto and sobrang dilim daw doon sa area. They panicked and started screaming while pushing the close button but nothing happened. Bukas ang door for like 10 minutes or so and they're so hysterical na. Finally, after what seemed like forever biglang sumara 'yong door. Putlang-putla daw sila nung nakabalik na sila sa lobby.
ADVERTISEMENT - CONTINUE READING BELOW
These two stories are not firsthand experiences pero if I recall correctly, naikwento sa cousin ko 'to ng either mga co-workers niya or mga patients:

2. May babae raw na sumakay ng elevator. Nagmamadali raw 'yong babae and ang dami raw nakapila sa elevator that night so nakipagunahan siya the moment na bumukas 'yong doors, and pumuwesto doon sa tapat ng buttons. Once na umandar na 'yong elevator, napansin nung babae na parang walang nakatabi sa kanya e siksikan nga sila sa pagpasok. Lumingon siya sa side niya at sa likod and to her shock, mag-isa lang siya sa loob.

3. Finally there's this story of a lady na sumakay ng elevator na may nakasabay na isang lalaki. Pumuwesto siya malapit sa door tapos 'yong guy nasa may bandang likod. While inside, bigla nalang daw dumura yung guy sa loob ng elevator. Nainis at nandiri 'yong babae and she glanced at the floor. To her horror, nakita niya na nakalutang 'yong guy about one or two feet. Hinimatay daw 'yong babae at nakita na lang sa loob ng elevator na walang malay.
ADVERTISEMENT - CONTINUE READING BELOW
Kaya ako every time na nandoon ako sa hospital na 'yon (at kahit saang hospital) for whatever reason hindi ako nag-e-elevator. Kahit nasa tuktok pa 'yong pupuntahan ko I use the stairs talaga. At least sa hagdan pwede kang makatakbo ang you have better chances of getting help, e sa loob ng elevator wala kang kalaban-laban. You're totally at the mercy of these entities.
The Call Light from Room 220
From of Diane, a Pinay nurse based in the U.S.
This would sound really cliché, but those stories they tell you about random call lights and sounds? Those do happen.
Before I permanently worked at ED, I worked as a float nurse where I can be assigned to any department in the hospital. So you have to learn the layout of the hospital. I started working on 2north (2nd flr)...where the "old nurses" (who had worked there for a thousand years) at nights would be telling you about their experiences. They would be telling you to watch the old call light system—not only because the patient might need something but rather to watch for RM 222, a room that does not exist. Nobody can really say where it is. Which is also weird because 2N starts at RMs 241. If anything else, the call light should pop out of East which starts at 223 or West which ends at 220.
ADVERTISEMENT - CONTINUE READING BELOW
According to the old timers, they swear that if that call light turns on, [you have to] be very watchful of your patient, [because] apparently, Grim Reaper is making his rounds. 
And apparently, Grim ain't exclusively looking for the dying patients...They come in threes, guaranteed, they said. So I thought they be just bullshitting until one day, while we were in the pantry, we hear one of the nurses cursing and adamantly saying "Check your patients." So the other nurses were like why? And she was like "22 turned on." I have not seen some of them move that fast. I can vaguely remember seeing 22 in the old call light system before the charge was hustling us to make rounds. Nothing happened on our shift but in the next days, apparently they coded three patients on that floor that expired.
Need more creepy stories? Here are round-ups from the previous years:
ADVERTISEMENT - CONTINUE READING BELOW
Load More Stories