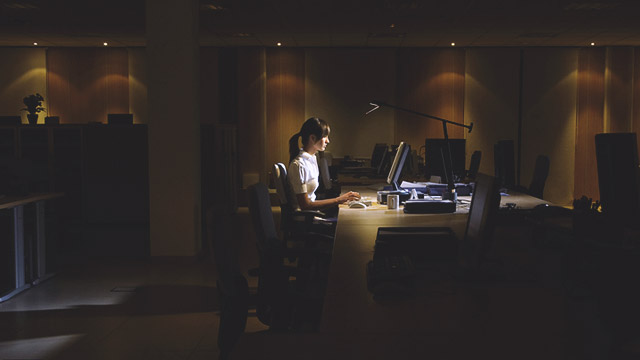 Last year, we asked you to share your creepiest ghost stories at work, and you delivered! So this year, we're treating you to more spine-tingling tales of office hauntings and horrors—just make sure you're not reading this during late-night OT!
The Ghostly Printer
From GirlTalker Simang
ADVERTISEMENT - CONTINUE READING BELOW
"I worked in one of the biggest universities in the country and the school is quite known for so many urban legends and ghost stories (i.e. CCTV recording shows 'Jose Rizal' roaming inside one of the oldest buildings in the campus at 3 a. m., things like that). 
"Our office was in the building where the medicine department is, the anatomy laboratory where they keep the cadavers is in that same building. So ghost encounters are apparently very common in there. Some co-workers have their personal stories too.
"It was Saturday, there were no classes so I was alone in the office checking some papers. At the very end of the room [to] my right were open cubicles for the department heads. I only turned one light on and kept the lights off on that side. While I was doing paperwork on my desk, I heard a faint noise coming from the side of the cubicles. I ignored it and continued with what I was doing. The noise became more distinct and clear—it was the sound of a classic Epson printer printing something. I got so scared I ran outside immediately. I didn't bother looking if the printer was actually printing something.
"I told one co-worker about it the next week. She said that she always sees a ghost of a little boy in that area of the room (and sometimes by the door of the pantry). Grabe it really gave me the creeps. It was my one and only 'encounter' and I hope I don't get to experience another one."
My Boss' Doppleganger 
From @redcurlystone via IG
"I was on duty one night when someone asked me, "Bakit andiyan pa ' boss mo?" Apparently, he saw someone in my boss' office, sitting on his chair. My boss usually goes home at 5 p.m. and it was already 11 p.m.!"
Knock, Knock
From Girltalker airish_2
"My workmate and I were chatting while eating breakfast sa back office. Routine namin ito since 5:30 a. m. pa lang. Three doors ang papasukin before [getting to the] back office and kaming dalawa lang ang duty, tawanan pa kami while kwentuhan nang marinig namin na tumunog 'yung second door. Bukas 'yung third door kaya narinig namin agad 'yung second door—may distinct noise siya na kami lang nakakaalam (for security purposes) and sa loob siya mabubuksan. Ang authorized lang pumasok is kami na naka-duty that day and 'yung boss namin which is impossible kasi pumupunta 'yon ng afternoon pero not as early as 5 a.m.
"So, nagkatinginan kami ni workmate inisip namin 'yung boss namin kasi madaling araw paglabas namin sarado 'yung second door and naka-lock pero sure kami na may bumukas kasi parehas kami nakarinig, at mas malala pa eh, ni-lock namin 'yung first door from the inside so wala talaga makakapasok. Eh, patay pa naman yung ilaw sa room between the first door and the second door, napabukas kami ng ilaw ng wala sa oras at nagbukas ng radio para maingay."
Dead Weight
From Girltalker purple_tips 
"I have an officemate who came in way too early, inaantok pa siya so natulog muna siya sitting position with her head on the desk. Tapos bigla raw bumigat ulo niya. She tried to lift her head up pero parang may nakadagan daw, 'di niya maakyat ulo niya as well as her entire body. She started praying, nawala naman daw. May third eye 'yung officemate ko and sensitive siya; praying works daw talaga para lumayo sila."
ADVERTISEMENT - CONTINUE READING BELOW
The Unknown Voice
From @mayie0416 via Instagram
"My team was covering [the] graveyard shift sa hotel reservations company that time and kami lang ang tao noon sa floor na 'yon. 
"I went to the comfort room to freshen up dahil queuing that time. I was inside the cubicle when I heard my friend Marie's voice na pumasok din ng CR. She was singing. So paglabas ko ng cubicle I washed my hands and asked her, 'Uy baks kain na tayo, gutom na ko... Intay kita sa labas ah.' She answered, 'Sige sunod ako.' 
"I've already been waiting for five minutes sa tapat ng CR when I saw Marie sitting sa kanyang work station talking to our team mates.. I approached her and said, 'Saan ka dumaan, kanina ka pa dito?' Sabi niya 'Oo, kakatapos ko lang ng call eh.' Sabi ko, 'Sino yung kausap ko sa CR?' They all looked at me and said, 'Wala namang tao doon, ikaw lang ang umalis dito sa area.'
"At first akala ko pina-prank lang nila ako, then I realized, oo nga lahat sila sa team namin nakaupo pa sa stations nila, ako lang ang nakatayo. That whole night, hindi na ako nag CR ulit sa floor na 'yon."
A Hotel's Past
From @jovelynygo via Instagram
"Back in 2004, we, with my family, stayed in an international hotel in Subic. I remember it was December, Christmas lights and decors were everywhere, so there's a happy and positive feeling. But on our first night—well, I think we just stayed overnight—I woke up at around 1 a.m. to pee, [and] honestly for some reason, I couldn't go to the bathroom. I don't know but there's something scaring me. I didn't want to wake up anyone so I prayed and went to the rest room.
"Morning came, [and] while I was taking a bath, again there was a strange feeling; [it] felt like there was someone with me. I prayed and hurriedly finished my bath. After checking out, my sister shared that these hotels were hospitals before. Creepy!"
The Last Laugh
From Rachelle Medina
"We were re-designing the magazine for a grand re-launch, and most of the team were working weekends.
"One Saturday, I went to the office to download layouts and huge files from Nat, our art director. There were a couple of people in the office, but after 30 minutes, they went home. The roving guard approached me at my cubicle. I asked him: 'Manong, ako na lang ba ang nandito? Saglit lang po ako, may dina-download lang ako.' He said that I was the only one left, and that he was going to leave and go to the 7th floor.
"I was totally alone on the 6th floor. It was about 5:30 in the afternoon, and it was starting to get dark. While I was quietly downloading the files, I started to hear a woman's laugh from the far end of the corridor. I got slightly freaked out, but I thought it was someone's ring tone. And then a few minutes later, I heard the laugh again, but it was different; and it sounded like it was getting nearer to me! I sat petrified in my seat, and then I heard another laugh—and it sounded like it was coming from the next cubicle—it was really loud. That was when I bolted out of my seat, and I ran towards the elevators, leaving my downloading files for dead!"
ADVERTISEMENT - CONTINUE READING BELOW
*Minor edits have been made by the Femalenetwork.com editors for clarity.
Load More Stories