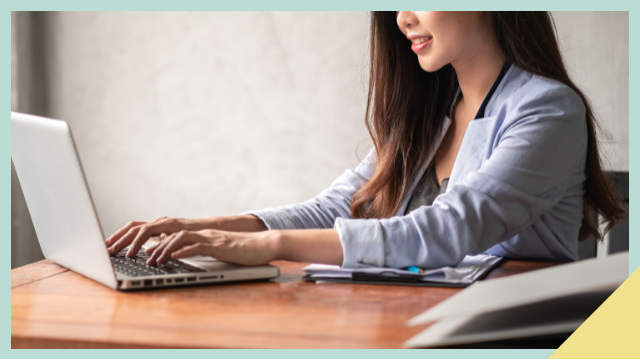 With more and more people being open to the idea of working from home, it's no surprise that many are looking to find remote jobs that they could either do on the side or transition to full-time. At first, it would appear that most work-from-home jobs in the Philippines require making and taking calls, which not all of us are comfortable doing. But do you know that there are a lot of non-voice work-from-home jobs out there as well? 
ADVERTISEMENT - CONTINUE READING BELOW
Female Network sat down with Gaze Kasilag-Del Castillo, Work from Home Pinay PH community founder and a tech startup co-founder, to find out what these non-voice online jobs for Filipinos are. Most remote jobs are based on USD rates, so you earn more than you typically would in traditional work setups. 
Non-voice Online Jobs in the Philippines
1. Developer
There is a lot of demand for developers in the remote work industry. If you have a knack for coding, designing, and modifying websites and have the technical skills and experience to back you up, it might be worth giving a shot. According to Gaze, developers can earn around a minimum of P50,000 to P180,000 a month, but that can increase depending on the number of projects you take. "If you are a high caliber developer, you can easily P180,000 to P250,000 in a month. That's easy."
2. UI/UX Designer 
Designing websites, apps, and other tech products to achieve the best look and feel for their users that's what a UI/UX designer does. Being a work-from-home UI/UX designer pays decently too. "If you're kunwari a fresh grad or you don't have experience pa you can get at least mga P40,000 up to mga P80,000," shares Gaze. 
ADVERTISEMENT - CONTINUE READING BELOW
3. UX Writer
As per Gaze, a UI/UX writer's pay range falls under the same pay range as a UI/UX designer.
4. Graphic Designer 
The same goes for home-based graphic designers. They typically earn around P40,000 to P80,000 on average.
5. 
Product Manager
Being a product manager pays quite well too, but it depends on your experience. "So if you're an entry level product manager, you can land at least P60,000 siguro if it's online. But let's say medyo mataas na yung experience mo, you can get around P200 to P250,000." However, there is a catch. The responsibilities are way more than the other jobs outlined here.
6. Project Manager
Like a product manager, an entry-level project manager can earn around P60,000 to P250,000. 
7. ISO Consultant
ISO consultants help guide companies in understanding and complying with ISO standards. "This one is fairly new. May kakilala akong dalawang nagwowork from home as ISO consultants. Prior to COVID, she used to fly to China every quarter kasi doon ang client niya, but yung bunch of work she's doing remotely." This work-from-home job is typically done on a project basis. 
ADVERTISEMENT - CONTINUE READING BELOW
8. Online Business Manager
"What they do naman is that they're like an office manager, but they're online." You get paid per hour, and the rates vary depending on the client. "If it's a small company, it's around $12 per hour. If it's a big company naman, I know people who are earning like $25 per hour," Gaze said. One would also have to factor in the work hours since the need for this role can be pretty flexible. "Sometimes, they only need you for like 10 hours or 20 hours per week. Then some clients would hire you for like 40 hours per week so that's 8 hours per day."
9. Curriculum Designer
One can design e-courses used in a variety of learning and development applications. Some even for universities. On average, one can earn around $80 per hour for curriculum design, according to Gaze.
10. Social Media Manager
Due to many businesses turning to social media to grow their brand, this job is pretty in demand right now. As for the pay, it varies depending on experience and the responsibilities you are required to perform. But usually, it would range from P60,000 to P180,000. Some remote social media managers can even earn as much as P200,000. 
ADVERTISEMENT - CONTINUE READING BELOW
11. LinkedIn Marketing Specialist
Usually done on a retainer basis, you can earn around $25/hour with work from home job. "Usually sa mga social media managers, LinkedIn, Pinterest, digital marketing, and SEO they have like this three-month rule kasi nga you won't see the effect if one month mo lang gagamitin yung services nila. So usually, it's three months per package. It depends kung high level or mid level ang makukuha mo." Gaze explains. 
12. Pinterest Manager
As its name implies, you would be in charge of promoting your client's products content and services via Pinterest. As with the LinkedIn marketing specialist, it pays around $25/hour as well, and you typically sign a three-month retainer agreement with your client.
13. Podcast Manager
Podcast managers usually divide their tasks between doing PR for the podcast of their clients while at the same time editing them. "Since sobrang dami ng nagpopodcast right now. I would say, I know people na nagchacharge ng 20 to 25 dollars per hour," Gaze said.
ADVERTISEMENT - CONTINUE READING BELOW
14. Video Editor
"I know this one mataas talaga right now. Siguro when you're starting mga 60 (USD/hr). And then if you are mid, siguro around 100 and then siguro kung sa sikat na YouTuber mga 100+ na yan," she said. 
15. Content Writer
As its name suggests, this role requires you to write content for websites. Depending on the requirements of a particular client, you may or may not need to have basic SEO knowledge to be a content writer. You can earn around 20,000 pesos to 50,000 pesos a month, depending on your experience and how many projects you are willing to take. 
How can I work online with no experience?
Here are some tips from Gaze that you can follow:
1. Build your portfolio by practicing within your circle as a sort of internship.
Almost everyone is an online seller now, so ask if anyone among your friends or acquaintances needs help managing their business' social media accounts. Then, you can start from there. 
ADVERTISEMENT - CONTINUE READING BELOW
2. Join Facebook groups for Filipino freelancers online.
Then look for one or two clients to do free work for in exchange for a review or feedback that you can include in your portfolio.
3. Utilize the internet.
Take online classes and short courses that relate to the job that you intend to do. Doing this will arm you with the knowledge and confidence needed to start with your first project. 
While some of these online jobs call for more technical skills and specializations, there are some that you can easily transition to as long as you're willing to spend enough time to learn and prepare yourself for them. Good luck! 
READ MORE: 
7 Online Jobs You Can Do At Home If You Have Little To No Experience
Websites for Online Jobs to Check Out If You're Planning to Work From Home
Online Part-Time Jobs You Can Apply for If You Need Extra Income
ADVERTISEMENT - CONTINUE READING BELOW
Load More Stories