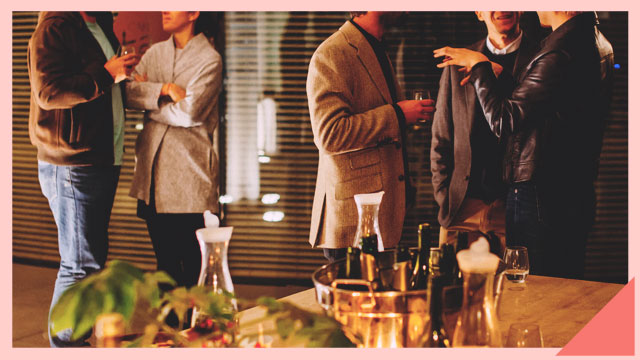 One of the hardest things a person can ask an introvert to do is to go out and meet new people. For most industries, though, this is a must—networking, after all, means building new relationships that can be beneficial to a company.
ADVERTISEMENT - CONTINUE READING BELOW
But it can be both daunting and painful if you're the introvert asked to do the job, because you most probably avoid small talk a lot of times. This avoidance is due to the fact that you feel that these too-proper introductions are unnatural, and as an introvert, you don't really have the patience for pretenses. As we mentioned in a previous article, introverts value deeper conversations and connections rather than idle chit-chat that often marks initial meetings.
This isn't to demonize networking—a lot of successful professional and even personal relationships have begun with small talk—but if the thought of it gets you anxious, here are a few things you may want to try out.  
1. Research, research, research.
The best way to deal with the worry of meeting other people is by finding out as much as you can about things you can talk about. For example, you know that the event you're headed to focuses on marketing, and you're 95 percent sure that a lot of attendees are from that industry. Early on, read up on trends, interesting tidbits of information, and other things you can contribute to conversations.
But that doesn't mean that you have to do all the talking once you're there. You can actually leverage on something you're good at, which brings us to the next number.
2. Listen.
Introverts are known to be great listeners, and listening can actually help you get into conversations better: the more you learn about the person you're speaking with, the more likely you'll find something that you're both interested in. "Go into conversations with new people with the goal of hearing their stories," writes human resources professional and coach Kelly Poulson on Introvert, Dear. "Try to learn about new people, places, and things—introverts tend to be naturally curious and love adding to their vast stores of knowledge."
3. Allow yourself to gradually get into it.
Sure, you need to network for work, but that doesn't mean that you have to immediately throw yourself out there and force yourself to be the extroverted life of the party (besides, it's pretty much impossible for an introvert to do a 180 at a snap of a finger).
ADVERTISEMENT - CONTINUE READING BELOW
Test the waters, and get used to engaging in one person first. Former Forbes contributor Jon Levy cites "flow," a concept by researcher Mihaly Csikszentmihalyi, which says that "people are happiest when they are doing something that is slightly outside their comfort zone." Basically, it means huwag biglain: when you find that you're slowly getting comfy in your situation, that's when you're okay to push yourself a bit more.
ADVERTISEMENT - CONTINUE READING BELOW
4. Stop worrying about what will happen next and focus on your goal.
The more you think about wanting to leave, the longer the whole thing will seem. Instead of tapping your feet and eyeing the exit, make a conscious effort to be present. If you're having a hard time managing your anxiety, breathe in through your diaphragm. Doing so will activate the vagus nerve, which will help you immediately feel calmer. You can also fold your arms over your chest (loosely, so as not to give the impression that you're being too defensive) and gently tap yourself to help you relax. Once you've managed to center yourself once more, focus back on your goal—maybe it's getting into one good conversation, or making at least one or two strong connections. Focusing on an end result can help you feel less overwhelmed, while enabling you to manage your own expectations and stay in a space you're comfortable in. That being said…
ADVERTISEMENT - CONTINUE READING BELOW
5. Don't feel guilty about stepping away.
There will be times when you won't be able to meet your goal, and that's fine. The fact that you even showed up to an event where you need to meet new people is a victory in itself. If you don't wish to have prolonged conversations, simply exchange calling cards and say that you'll be in touch. Subtly make your exit by saying "Please don't let me keep you," and if it doesn't work, politely excuse yourself by mentioning that you'll get more refreshments, or or any similar excuse.
If you feel that you're done for the day and are already planning on going home, then tell the truth. A simple statement like "I need to go ahead, but it was so nice meeting you" not only affords you a respectful exit, but also expresses that you've enjoyed your time with your new acquaintance.
ADVERTISEMENT - CONTINUE READING BELOW
Load More Stories