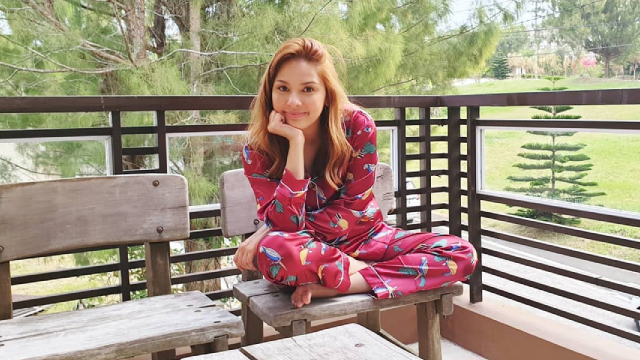 Neri Naig-Miranda has always been open about how she started her small enterprises. She's known online as someone who likes getting into many a negosyo and creating her own sources of income; a shift which was a result of realizing that maintaining a person's financial freedom is important in a marriage. 
ADVERTISEMENT - CONTINUE READING BELOW
"Iba pa rin ang may pera kang sarili, nahihiya ako mapapabili ako sa kanya eh ayun practical siya na tao," she notes of her husband, Parokya ni Edgar frontman, Chito Miranda. "Dati gusto ko ng kaldero, tinanong niya, 'Aanhin mo 'yan?' Kaya sabi dapat may sarili akong pera."
Neri, who has been away from show business for years, has been busy running her household as well as her different businesses: a bakery, ukay-ukay shops, and a bed-and-breakfast. She also resells fancy accessories, beddings, and sleepwear. Her bottled gourmet tuyo, the most profitable of all her ventures, was something she discovered by accident.
The beginnings of Neri's Gourmet Tuyo
She recalls trying to cook gourmet tuyo back for her brother-in-law who was coming over to visit. This was back in 2015. "Nag-search ako ng recipe sa internet. Trial and error lang. Nakakatawa pa, 'di pa ako nakakain ng gourmet tuyo noon."
The dish, however, was left uneaten and stored in their refrigerator. It was only served a few weeks after to a set of visiting friends. "Gustong-gusto nila, eh hindi ko sinulat kung paano ko nagawa. So, gumawa ako ulit tapos sinulat ko siya. Tapos okay daw."
Neri took orders from the same friends who first tried her gourmet tuyo despite having no intentions of turning it into a serious venture. "'Di ko talaga sineseryoso 'yon. Sige gagawa ako 'pag gusto nila...Hobby lang siya." She was reluctant to enter into a business, recalling how her franchised milk tea shop failed to take off when she was still active in showbiz. But friends kept placing orders, and she was getting invitations to sell at bazaars.
ADVERTISEMENT - CONTINUE READING BELOW
She tried her luck at a local church fair, and shared a table with another seller. With a capital of P3,000, she produced 150 bottles, all cooked from her home kitchen. Everything was sold in less than two hours.
Neri knew that she had something big when a friend ordered P60,000 worth of gourmet tuyo. She then decided to get into the business seriously, starting by buying bottled tuyo off the shelves of groceries to compare how her product fared against competition.
ADVERTISEMENT - CONTINUE READING BELOW
"Iba talaga siya kasi 'yong iba pare-pareho ang lasa. Sa akin, pure olive oil, fresh talaga ingredients ko," she proudly shares. She also started looking for cheaper suppliers of bottles to save on production costs and labeled her produce as Neri's Gourmet Tuyo.
Neri has more than a million followers on her Instagram account. With the hashtag "WaisNaMisis", she leveraged on social media and sold her products online.
To date, she no longer cooks gourmet tuyo at home. She now has a separate kitchen with 14 employees churning out an average of 3,000 bottles per day. Her dish is also being sold in select SM and Robinsons supermarkets, as well as in her own physical shop.
Expanding her empire
With her income from her tuyo venture, Neri got into other business. She initially connected with a partner to import and resell beddings, which she branded Very Neri. Her capital contribution of P100,000 for the business all came from selling gourmet tuyo.
ADVERTISEMENT - CONTINUE READING BELOW
She sold the beddings online and managed to recover her capital quickly: "In one day bawi ko na."
With her success with beddings, her partner suggested that she start reselling fashion accessories, which also turned out to be very profitable.
Neri then decided to put her online presence to good use and launched an online ukayan. Less than a year later, she opened a brick-and-mortar shop to resell the second-hand clothes she imports from the United States.
ADVERTISEMENT - CONTINUE READING BELOW
Not one to rest on her laurels, she took it a step further and started a bed-and-breakfast in Alfonso, Cavite, which opened in 2017. The land was a gift from her husband, who bought it for her to build a kitchen for her tuyo busines.
Neri, however, saw another opportunity, telling Chito, "Iba ang nakikita ko dito. Pwede pa rentahan 'pag na-renovate." She now rents out the small house for P3,500 a night.
But the property was not the only gift from her husband that she used for business. When he gave her an industrial oven, Neri saw another opportunity and opened her bakery, Neri's Bakeshop, which now sells an average of 500 breads per day. Neri's Bakeshop currently has two branches, one in Alfonso, Cavite and the other in Tagaytay.
Moving forward
Neri continues to be on the look out for different opportunities. Recently, she opened a physical store in Alfonso for her gourmet tuyo. She has also launched a cafe called Neri's Not So Secret Garden, which she prepared for by enrolling in a short course on baking at the Heny Sison Culinary School. The cafe has a small, quaint nook overlooking a sparwling garden, where many famous musicians regularly perform.
ADVERTISEMENT - CONTINUE READING BELOW
ADVERTISEMENT - CONTINUE READING BELOW
Neri's Gourmet Tuyo continues to help her fund bigger ventures, and it has recently allowed her to acquire another piece of land in Cavite, which she plans to be a cozy home-like events place: "May rooms upstairs, sala and day bed and pergola," she reveals.
There's no stopping Neri as she intends to grow her entreprises by pouring most of her earnings back to them. "Lahat ng kita ko, expansion, expansion hindi bakasyon tayo dito, bili ako nito." 
ADVERTISEMENT - CONTINUE READING BELOW
Neri is an inspiration in keeping one's financial identity and independence through marriage. While business-savvy is what will keep opportunities coming in, it's fearlessness in taking well-calculated risks that will eventually lead to success. As she says in a May 4, 2019 Instagram post, "Walang mangyayare kundi mo susubukan. Kung madapa ka man at least sinubukan mo at natuto ka."
Load More Stories