Have helpful money or home tips to share? Email SmartParenting.com.ph at smartparentingsubmissions@gmail with the subject "Share Ko Lang." Click here to read more 'Share Ko Lang' stories.
At the start of each year, families think of different resolutions or goals that they want to achieve in order to grow their money. But you don't need a new year just to start saving—the key is to pick one that you're most comfortable with and stick to it!
Looking for an "ipon challenge" that will motivate you? Mom Rica Habana, 42, shared her kakaibang money hack: It's called the '100 Pieces' ipon challenge where you set aside 100 pieces of each peso denomination starting from Php5 to Php1,000. After finishing the challenge, she was able to save a total of Php168,500!
How to do the '100 Pieces' Ipon Challenge
ADVERTISEMENT - CONTINUE READING BELOW
In an interview with SmartParenting.com.ph, the part-time businesswoman, full-time employee in a BPO company, and mom of four shared that she thought of the challenge while setting aside Php50 bills for their family savings.
"Then, every time nakakareceive ako ng money na bago, iyong crisp pa or almost new, itatago ko rin siya, regardless of the denomination," she says.
This made her think of setting aside 100 pieces of each bill, since most banks bundle money this way. She just decided to skip the Php200 bill since she knows they're hard to get ahold of.
To encourage herself to finish the challenge, Rica printed out images of the coins and bills on a sheet with circles that represent each piece. Then, she shades the circles every time she's able to set aside the money.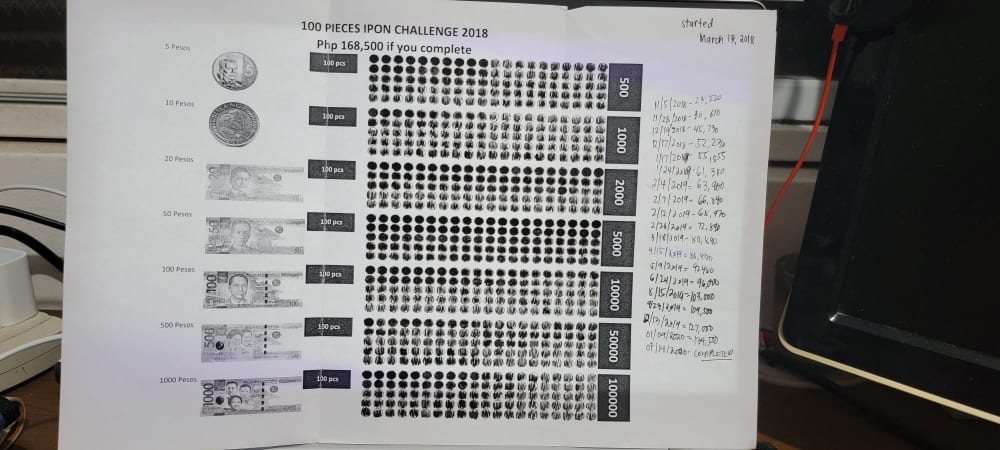 The mom of four also decided not to set a deadline for her savings. "With the typical ipon challenge, you start of the beginning of the year and it lasts the entire year—forced ka to save. May progression pa 'yung iba, palaki ng palaki ang ihuhulog mo sa alkansya toward the end of the year," she explains.
"In my head, I know na hindi ko kaya ang may deadline. Because I need to allocate budget for other expenses like grocery, tuition, insurance ng kids, savings ng kids, miscellaneous expenses, etc."
To ensure that she doesn't "dip" into her savings, Rica stored her money in a place that she cannot see or access often. "Out of sight, out of mind," she says.
One of the challenges that the mom encountered is completing the 100 pieces for the Php500 and Php1,000 bills. She admits, "Ang bigat sa bulsa!"
She also hid it from her husband, Arthur Habana. "Hindi sa madamot, para sa amin din naman iyon. Si husband kasi, ang daming gustong bilhin kapag tinatanong ko siya: 'If I have Php100k++, ano'ng gagawin mo?' Halos gustong bilhin ang mall sa kaunting naipon ko, haha!"
Why money challenges are worth it
Rica shares that it took her more than a year to complete the challenge. She started it around November 2018 and finished in January 2020.
Still, the mom shares that it's worth doing, plus the money you end up with is a sizeable amount. "Every time I shade my tracker, nakaka-excite kasi I am getting closer to the end of the challenge. Kapag sinisipag akong bilangin kung ilan na 'yung na-shade ko, I put a remark sa side ng tracker with the date and amount para makita ko rin ang progress ko."
She also feels proud for completing the challenge, especially because her friends who asked for a copy of her tracker to try the challenge were unable to finish it. "Natagalan nga lang pero kaya! [I feel proud] kahit hindi milyones ang naipon ko, it's still valuable."
ADVERTISEMENT - CONTINUE READING BELOW
Rica says that saving money is essential especially now that we're in the middle of a pandemic. "For me, kaya nga siya 'savings' because it will eventually save and secure you and your family's future. Just do it! Save, save, save habang kaya. Dahil sa buhay walang kasiguraduhan," she says.
Experts say this is the better formula to saving money. Click here to read.
Check out these stories for more financial tips: 
How Exactly Do You Become a Rich and Successful Woman?
15 Signs You've Finally Mastered Handling Money in Your 30s
8 Money Mistakes To Avoid, Based On Real Women's Stories
Load More Stories