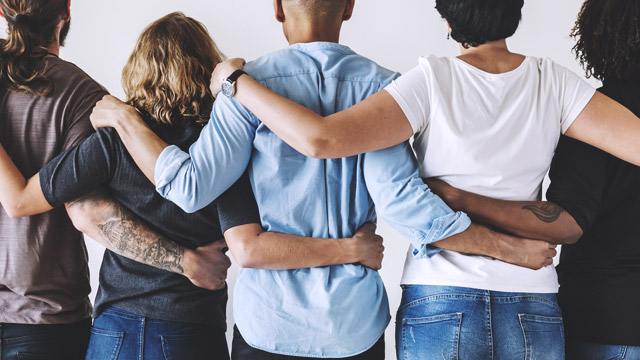 Depression, anxiety, and other mental illnesses are on the rise. Just last year, a record number of 3.29 million people in the Philippines were said to be living with depression.
Statistics also show that 300 million people are battling the condition worldwide—that's an 18 percent increase in the period between 2005 and 2015.
ADVERTISEMENT - CONTINUE READING BELOW
With this growth, we have to be more mindful of how we treat each other, regardless of whether someone is experiencing mental health problems or not. With this in mind, here are a few simple ways to make the office a better place:
1. Encourage discussion and openness among your colleagues.
Break the stigma. If you notice that an employee or fellow officemate is exhibiting the symptoms of any mental illness or is acting out of character, create a safe space for him or her to air out any issues or grievances that he or she might be going through.
If it's the other way around and you're the one suffering from a mental illness, speak out and let someone you trust know about it so you can get some sort of support.
2. Attend or host a mental health first aid workshop.
If you want to go the extra mile and learn how to handle someone with a mental illness, there are plenty of discussions hosted by doctors, experts, and other mental health advocates that you may attend. Some are free, while others even provide a certification on mental health first aid. If you're keen to spread that knowledge, try getting an expert to come to your office to talk about it with those interested in learning.
3. Know who to call.
Our knowledge on mental health isn't all-encompassing, which is why at some point, it would be wise to refer an afflicted colleague to a professional. There may be an office counselor, a psychiatrist, or a psychologist that you could recommend. There are also 24-hour suicide hotline numbers: 804-4673; 0917.558.4673; and 2919 for Globe and TM subscribers.
4. Don't be afraid to use your sick leaves for your mental well-being.
Some mental illnesses leave people too unwell to work so do understand that they could need time off. Remember that sick leaves can be used for the upkeep of one's mental health. If you have a colleague who is facing this situation, be understanding. Let him or her rest or offer to help them catch up with work. Last year, CEO Ben Congleton was praised by Twitter users after an email exchange between him and employee Madalyn Parker provided a great example of allowing employees to refresh for mental health reasons.
ADVERTISEMENT - CONTINUE READING BELOW
When the CEO responds to your out of the office email about taking sick leave for mental health and reaffirms your decision. ???? pic.twitter.com/6BvJVCJJFq

â madalyn (@madalynrose) June 30, 2017
5. Suggest a mental log out when office hours are over.
We're familiar with the term "work-life balance" but often, a constant flow of work e-mail and correspondence after office hours may burn out employees, research shows. Give them time to recharge at home and encourage "time out" to actually mean time out.
One of the busiest places in the world, France, has made it illegal for some employers to send e-mails outside of office hours. German company Volkswagen has also followed this practice by turning off its e-mail servers at night. New York might be next, as Brooklyn lawmaker Raphael Espinal has introduced a bill that could give employees the "right to disconnect" and potentially fine employers.
6. Adapt a more conducive and supportive work environment.
Words can mean a lot to somebody struggling with depression or anxiety, so be careful to praise the right behavior and quit putting others down. Employers should not foster a workplace that sees internal competition as the path to success or compliments potentially harmful practices such as overtime work. If your company thinks that being overworked and being dedicated are the same thing, then it may be time to find new employement.
ADVERTISEMENT - CONTINUE READING BELOW
7. Educate yourself on the Philippine Mental Health Law (RA 11036) and its provisions.
* If you think you may have depression or know someone with depression, you can contact the Department of Health's 24-hour suicide prevention hotline, Hopeline, 804-4637; 0917-5584673; and 2919 for Globe and TM subscribers.
You may also call Crisis Line for free and anonymous counseling through: (02) 893-7603, 0917-8001123, or 0922-8938944. You can also join SOS Philippines on Facebook, a support group founded for survivors of suicide loss and Filipinos undergoing mental health ailments like depression and bipolar disorder.
ADVERTISEMENT - CONTINUE READING BELOW
This story originally appeared on Townandcountry.ph.
* Minor edits have been made by the Femalenetwork.com editors.
Load More Stories