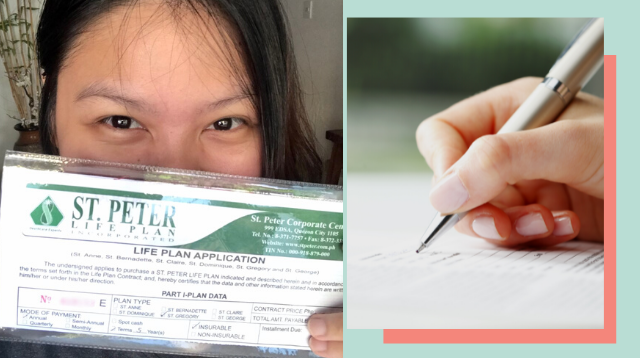 Whether we like it or not, we all know that eventually, we are bound to leave this earth. While some of us are still low-key afraid to prepare for our own (or even our family's) passing, one Pinay is firm on her decision to plan ahead. Meet Evelyn Alvarez, a 27-year-old IT Professional. In an exclusive e-mail interview with Cosmopolitan Philippines, she shared what it's like to recently get a memorial plan for herself at a young age. Keep reading to know how and why she did it.
ADVERTISEMENT - CONTINUE READING BELOW
What made you decide to get a memorial plan?
Evelyn: "Naging interested ako rito nung narinig ko from my tita na a collector will be coming to receive the payment for their memorial plans. My thinking then was, 'What? Memorial plan? Nagre-ready na ba sila? Bakit pumili at bumili na agad sila ng kabaong?  Na-curious ako kung ano pa ba meron sa memorial plan bukod sa casket na nakikita ko lagi sa endorsements nila. Why are my relatives availing these? Maybe it's good to have one also?
I got some ideas on what the inclusions are in a memorial plan and was amazed by the benefits. I did not have any hesitations at all! 'Di ako natakot sa mga sabi sabi na, 'Kapag naghahanda, may mangyayari.' I decided to get one 'pag 'nakaluwag-luwag' na ako. To be honest, excited akong pumili ng sarili kong kabaong! I mean, we know we will all get there anyway, so why not prepare earlier kung kaya?
ADVERTISEMENT - CONTINUE READING BELOW
Recommended Videos
As a breadwinner, I bought this plan because I love my family. I would not want them to experience the emotional and financial burden of having to pay funeral and burial costs 'pag may nangyari sakin. Plus factor na rin yung I'll get a decent memorial service no matter what when the time comes."
How did you get your memorial plan?
Evelyn: "Luckily, this year I got extra budget. From there, I decided to consult an agent regarding some questions that I had. On that same day, I availed my memorial plan. Here's how I did it."
1. First, I chose the type of memorial plan I wanted to avail.
"I had the option to choose between two types of memorial plans: the Traditional Life Plans (libing) which currently has six types and the Cremation Life Plans which has two types. I decided to go with the Traditional Life Plan under the St. Gregory type."
ADVERTISEMENT - CONTINUE READING BELOW
St. Gregory
P900/month
Inclusions: Metal casket, single top (split lid cover), full glass, elegant interiors, corners, and handles
Contract price - P47,400
Modes of payment:
Annual - P9,480
Semi-annual - P5,025
Quarterly - P2,605
Monthly - P900
2. I selected a mode of payment.
"There are five modes of payment to choose from: one time payment, annual, semi-annual, quarterly, or monthly. They're all payable in five years. I picked the annual payment because the price of the plan will still be the same after five years. Heads up: A discount is offered if you settle your payment in cash. Also, kapag mas mababang installment yung pinili, a certain amount is added to the original price of the memorial plan. In my opinion, it's better kapag mas mataas yung installment na pipiliin dahil walang additional amount in the long run."
3. I filled out the memorial plan contract.
"This required all my personal details and the names of my beneficiaries. There was no need to present any health certification. I only needed a valid ID."
ADVERTISEMENT - CONTINUE READING BELOW
4. I paid the first installment.
"I was required to pay the initial amount that same day I signed the contract. After getting an official receipt from my agent, the contract became effective. The next payment due date is also based on the contract."
"Honestly, it was so easy I became a memorial plan holder in an hour! As of writing, my next steps will be to complete the payment for the next four years and enjoy the insurance and lifetime service."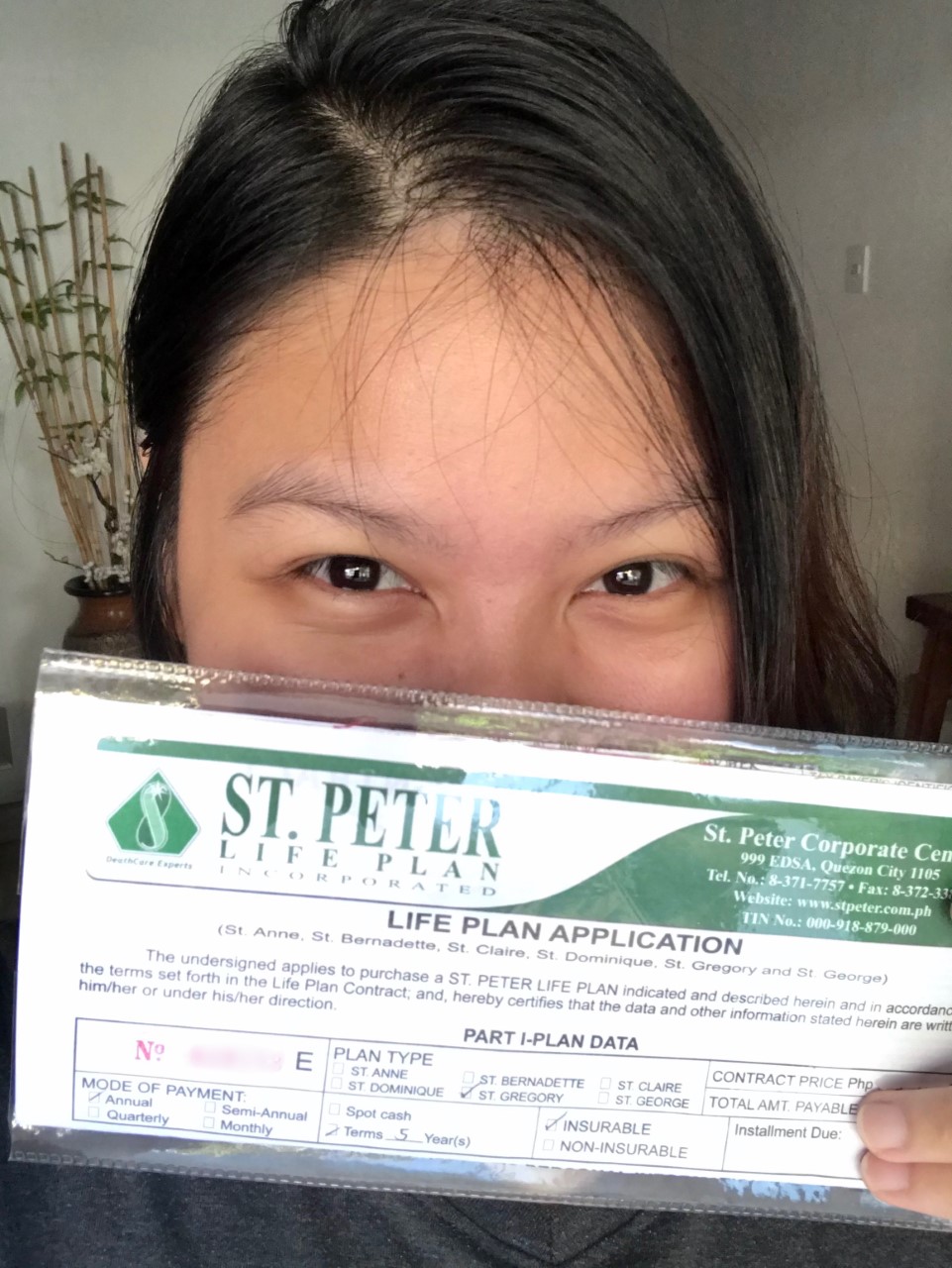 ADVERTISEMENT - CONTINUE READING BELOW
"To give you an idea, below is an overview of the lifetime memorial service package that I got:
1. Response to first call upon death from retrieval of remains to the transfer to the servicing mortuary. This type of service is available 24 hours daily.
2. Embalming, dressing and preparation of the body for viewing. Pre-selected casket is provided according to plan type.
3. Basic setup and assistance are provided to the family members. The viewing may take place in the company's chapels or at the residence designated by the family. (They also have e-burol for the 24-hour real time viewing if it's held in the company chapel and a tribute where a video presentation is made for the planholder.)
4. Transportation to the interment site via elegant hearse.
5. For cremation plans, full cremation service and exquisite marble urn is included.
Below is an overview of the current life plan value added benefits or insurance that the company is offering.
(Note: If the planholder upon signing the contract is within 18 to 60 years old, these are automatically availed. Insurance benefits may overlap upon approval and are subject to conditions.) 
ADVERTISEMENT - CONTINUE READING BELOW
1. Cash benefit - In the event that the planholder passes away within the five-year paying period, the beneficiaries are to receive cash assistance.
2. Extended cash benefit - Beneficiaries are also to receive cash assistance when the planholder passes away within five years after the paying period.
3. Credit life insurance - The remaining balance is deemed paid if the planholder passes away within the paying period.
4. Accidental death and dismemberment - Cash assistance is provided to beneficiaries if the planholder passes away due to an accident or dismemberment.
5. Waiver of installment - The remaining balance is deemed paid if the planholder is fully disabled.
One thing you should know is that prices of memorial plans are also affected by inflation. The packages that were offered to me will most likely change after a few years.

For now, availing a memorial plan from my preferred company is done through contacting agents. There's no online application yet. Also, collection of payment is traditional. For the planholder's convenience, an authorized agent collector may go to the planholder's house every payment period, or the planholder can opt to transfer the payment via the agent's personal online banking accounts. You just have to make sure that an official receipt is provided for every payment. Choosing an agent that can accommodate all your inquiries is really important. Of course, you want someone you can trust."
ADVERTISEMENT - CONTINUE READING BELOW
What's your advice to Pinays who are also thinking about getting a memorial plan?
Evelyn: "Get a memorial plan as soon as you can afford it. This is one of the investments or expenses that most people tend to ignore. The truth is, we all need a memorial plan in the future, right? We don't know when our time will come, so having a memorial plan is a must and would be a great help to our family members who will be left behind. Also, memorial service rates are getting higher each year, so better to avail now habang mas mababa pa ang prices. Availing the plan earlier is much more affordable than buying the service at the time it is needed. Lalo na ngayong pandemic, it's best to be prepared.
Try to get one memorial plan for each of your family members. If 'di pa kaya, try to get one for now. There are some memorial plans that have features where the planholder can assign the service to any deceased person. This is helpful because the plan that will be used is at a pre-need price (availed plan to be used for the future), which is more affordable than at-need prices (availed service as needed). There are also features where the planholder could transfer the contract to a living person and if the memorial service is not performed, the beneficiaries may opt to withdraw the amount paid by the planholder or retain the memorial service for their own.
ADVERTISEMENT - CONTINUE READING BELOW
Lastly, don't be afraid. It is much scarier and problematic if you're not prepared. You should consider this kind of investment in your plans because as we all know, magagamit talaga ito. The goal is to be worry-free in the future by planning ahead. Be open-minded, practical, and wise."
***
Cosmopolitan Philippines is now on Quento! Click here to download the app and enjoy more articles and videos from Cosmo and your favorite websites!
Load More Stories