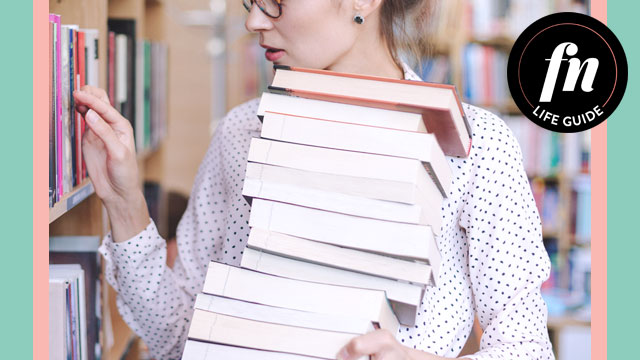 FN Life Guide is a series featuring step-by-step how-tos ofopportunities that can help you navigate major milestones.
For this last installment, Nicai De Guzman continues to share her experiences as an international student at the University College Dublin Michael Smurfit Graduate Business School, this time, giving tips on money management as she balances a part-time job and school work.
Check out the first two parts of this series on taking up graduate studies abroad:
On working and managing your money
How to survive working a part-time job while studying
Most of the part-time work available to international students abroad are in the service industry, and it's great if you're up for that. Just know that a job can possibly distract you from schoolwork. If you think your working hours will not allow you to study properly, then just focus on studying. After all, that's why you are where you are.   
ADVERTISEMENT - CONTINUE READING BELOW
Check with your school if they have policies or programs that will enable you to work with companies in that country. The University College Dublin Michael Smurfit Graduate Business School, for example, gave us a chance to work with brands for our different classes. This could count as work experience too.  
LinkedIn is one website where even part-time jobs are posted but you can also try other websites specific to your country. A majority of my classmates, however, found part-time jobs by walking around where they live or near school and handing out their CVs. It is important to choose a place of work near where you live or study so commuting won't be hard (especially if you have a shift right after class!).  
Some international students retained clients from back home and continued to work with them remotely. The only downside to this is the exchange rate of your currency back home may not be favorable to your new country.  
Underline this important fact: depending on the country, student visas have restriction on working hours and working conditions. Check with the immigration website or even with your school first before even considering applying for a part-time job.  
Tips on managing your budget
This depends on your situation. If your parents send you allowance or you have enough in your bank account to live comfortably, then managing your money shouldn't be a problem. Before flying out, I worked very hard to save enough and enjoy life's little luxuries. 
I always thought that moving (even temporarily) to another country meant giving up your lifestyle. I heard stories from friends who studied abroad and had to make ends meet. This isn't the case all the time, though. I had a friend who received a scholarship from the Japanese government and she even received a monthly stipend. This enabled her to save some of that to travel all around Japan during her masters. I have other friends who also lived quite comfortably because they worked part-time jobs.  
Living abroad may be difficult at times due to the new environment, so you shouldn't scrimp on little luxuries or pleasures to make your stay more convenient or bearable at least. You want to buy that chocolate bar? Go ahead. The only downside is spas and even salons are really expensive in other countries, so you may need to shell out more money but also be on the lookout for inexpensive but quality places. You usually find these out through word of mouth (ask your friends!) or join social media communities (groups in Facebook particular to your country for expat and students) where they provide feedback on such spots.  
Managing your budget only becomes a problem if you can't control your shopping or if there are unforeseen circumstances in the market. (For example, your money is in dollars and it crashed so it's worth less in euros or other currencies.) For this, you can download budget tracking apps such as Mint or Wally. 
ADVERTISEMENT - CONTINUE READING BELOW
If you know you need to travel a lot and exchange currencies often, there are also certain apps and cards suited for that. When I travel back and forth from Dublin and London, I use Revolut, which gives you a free card that you can use for payments in different countries. The best part is I don't have to go through the hassle of exchanging currencies in a store or bank. I just load up my app with money and it does automatic conversion. It also has a budget tracking feature and security features such as locking your card against online use or withdrawals.   
If you're having trouble with money, most schools should have a student assistance office which you could contact. Some schools even have an office dedicated to just financial help while others have a general student assistance office. There are also those that have something like a support fund. In our school, convenience stores in the main campus already have reduced prices to accommodate student budgets. So if you have similar stores in your school, do ask other students about it.  
Some countries use travel cards (like a the Beep Card) when commuting. UK has the Oyster Card and Ireland has the Leap Card, for example. Check if there is student card option for these as these also give you reduced prices. 
Don't underestimate the power of your student ID, too! Pharmacies, museums, cinemas often give discounts to students so always bring your student ID with you and ask if you're entitled to a student discount! Restaurants and cafes near schools also have "student deals" so go around your area during your first week and make a list!  
Student discounts sometimes stretch to medical care or even the repair of electronic devices. Some schools may offer free or discounted services of doctors. Check your medical insurance (which you needed as part of your visa) if they can also reimburse you for certain expenses. You may also want to vist the IT department of your school to see if they offer free repairs or loans of laptops in case yours bugs down. (Personally, I used a school laptop free of charge for months when mine was being repaired.)
Lastly, don't scrimp on healthy food, activities, and services just because you're tight on budget. Don't go on an instant noodles diet just because it's cheap, or skip on prescripted medication just because it costs a lot. It's better to pay for healthy food and take proper medicine now than get seriously sick and pay for more later. 
ADVERTISEMENT - CONTINUE READING BELOW
On dealing with homesickness
While not everyone may experience homesickness, it's understandable if you do every once in a while. This is why you should never underestimate the power of video calls and even your friends' GCs (group chats) and connecting with them as often as your schedule permits. 
Back home, I rarely watched Star Cinema movies, but when they have showings in Dublin, I'd see them with other Filipinos. I wish Cinemalaya movies were shown more often abroad, though!
If you miss products back home, rather than waiting for your friends or family to send them, try to find Asian groceries or Filipino stores in your city. You'd be surprised how many there are! You can find local brands of noodles, condiments, even hygiene items. Other stores also sell Filipino food like lechon, leche flan, and other Pinoy delicacies.
If you don't have a Filipino restaurant or store nearby, then this is the time you may have to cook them yourself. There are a lot of websites and YouTube channels like Panlasang Pinoy where you can learn to cook basic Pinoy dishes and some may even suggest alternatives since some countries don't have our local ingredients. For example, you can use lemon for calamansi or spinach instead of kangkong. 
Also, don't worry too much: it may be true that Filipinos are everywhere. 
To be honest, it does help to know Filipinos in your new country. I had another Filipina schoolmate and one of my orgmates in UP was also living in Dublin. They eventually introduced me to other Pinoys working in the big firms in the city. Of course talking to them and hanging out with them feels like home and who else would you discuss celebrity chismis or political issues with?  
A lot of students consider countries where they may have relatives or where there are big Filipino communities. Does this make the adjustment easier? Maybe, but this shouldn't stop you either from considering schools in countries where there may not be a big Filipino community.
That said, don't feel forced to join a Filipino community either. It really depends on your personality and the crowd you want to hang around with. Plus it's always good to learn about other cultures and expand your horizons!
Your time abroad will help you get to know yourself more as a person and don't take that for granted. It's going to be a crazy ride but it will be worth it, I promise! 
Load More Stories