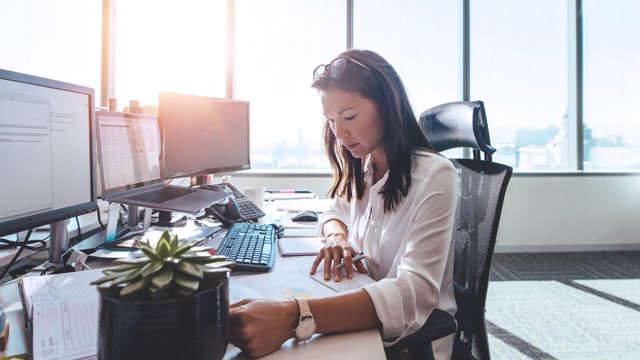 You know those sci-fi movies where robots take over practically every job known to man? LinkedIn says that it isn't as impossible as you probably think. "It has been estimated that by 2020, robotic automation and artificial intelligence will be responsible for a net loss of more than 5 billion jobs across 15 developed nations," the company states in a report called The Digital Workforce of the Future.
ADVERTISEMENT - CONTINUE READING BELOW
Everything is going digital so much so that it's less of a trend and already more of a lifestyle—meaning you'll need to adapt or get left behind. If you want to remain a valuable asset to your employers, you'll need to hone and master your digital skills instead of leaving them to IT professionals. Executives in traditional industries are keen on harnessing technology to stay ahead of their competitors, so much so that in the Asia Pacific, 80% saw an increase in the proportion of digital skilled hires made.
So what competencies should you develop to make sure your job isn't taken away by robots? The most in-demand skills across the region are Artificial Intelligence, Big Data, and Cloud Computing, also known as ABC talent. The supply of professionals who possess these skills isn't enough to meet growing demand, meaning that if you're someone with ABC talent you'll be an ideal hire not just in Asia, but in countries like the United States, Canada, United Kingdom, Germany, and UAE as well.
CONTINUE READING BELOW
Recommended Videos
And as mentioned, IT won't be the only industry open to you—in the Asia Pacific, the sectors that are hiring the biggest proportion of ABC talents are hardware and networking, media and communications, entertainment, and corporate services.
ADVERTISEMENT - CONTINUE READING BELOW
The agriculture, transportation and logistics, and legal sectors have also seen the most rapid growth in percentage of digital hires. In the Philippines, big data is the most desirable digital skill, followed by cloud computing, mobile development, and artificial intelligence.
But staying ahead of the pack isn't just about the so-called hard skills, such as being well-versed in digital technology. Employers also value soft skills—in other words, it's also important to hone human skills that AIs don't have, such as critical thinking. Unfortunately, Filipino small-medium businesses (SMBs) consider critical thinking to be the most difficult skill to find in new talents, according to another local LinkedIn survey.
ADVERTISEMENT - CONTINUE READING BELOW
In particular, 44% of employees ranked critical thinking as the skill most commonly missing among applicants, followed by adaptability and resilience (38%) and then followed by digital skills (22%). At the same time, 46% consider critical thinking as the skill that's essential to achieving success in the workplace.
On the bright side, it turns out that Filipinos value continuous learning: 87% hope to develop the skills they need on the job, while 20% believe they can obtain them through training classes paid for by the company, and 20% are willing to fork out for training themselves.
If you're looking to become better at your current job or expand your professional horizons, add programming and coding courses, along with reading books about critical thinking to your list of New Year's resolutions.
This story originally appeared on Esquiremag.ph.
* Minor edits have been made by the Femalenetwork.com editors.
Load More Stories