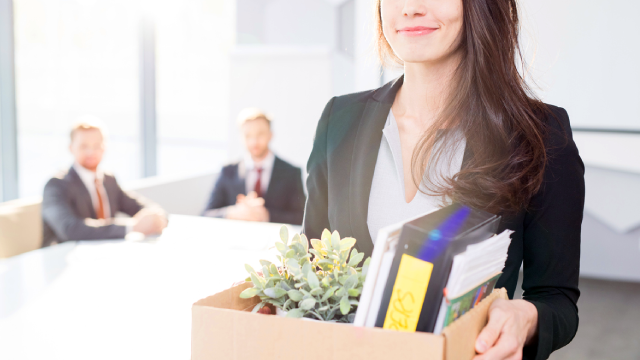 Resignation is more than just packing your stuff up and leaving, and that goes double for when you're moving on from a company that you've stayed in for years. You'll be saying goodbye to a place you've gotten so used to; it may or may not have been consistently stressful, but it's familiar. As with every relationship in your life, you'll need to properly "breakup" with the job you're leaving. Here are a few things you need to remember:
ADVERTISEMENT - CONTINUE READING BELOW
1. Revisit your reason for resigning.
Every person has a different reason for resigning. Whatever yours is, are you sure that it's worth leaving your current job for? If it's due to certain task or team issues, have you actually tried reaching out to your boss to improve on them? Or are you just resigning because you're pissed off at the moment?
The reason why you should once again question your decision is because you should never make a life-altering call if your emotions are running high. Take a breather, sleep on it, or better yet, sleep on it for a week—maybe your mind will change after you've calmed down. Remember that this isn't just a temp job; you've had this position for years. Whatever your situation is now, it deserves a bit of thinking over.
2. Make time to do a proper turn-over.
Now that you've really decided to tender your resignation, make sure that no one can say anything about what you'll leave behind. Through the years, you've accumulated a lot of responsibilities, and with them were a lot of paperwork. Make sure to organize the materials that you'll be leaving, save a document of all work-related passwords, and discuss important processes that still need to go on after you leave with the person who'll take over. You may think that only your company will benefit from this, but in fact, so would you: looking through all your past work and literally closing the books can be therapeutic and give you the closure that you need. 
ADVERTISEMENT - CONTINUE READING BELOW
Recommended Videos
3. Check in with HR.
Aside from the requirements you'll need to complete before you can officially file your resignation, you'll also want to ask important questions about your backpay, 13th month pay, as well as the status of any loan you may have. It's best to work with them for smoother transitioning. 
4. Don't burn any bridges.
While this won't be possible all the time, making an effort to keep professional relationships alive can help you expand your contacts, especially if you're staying within the same industry. If you have issues with certain officemates, the best outcome would be to resolve things and let bygones be bygones; if that doesn't work, don't antagonize, and simply leave all the negativity behind. You deserve to start off with a clean slate and a positive attitude.
5. Take a break.
The best time to resign is when you've found a better job offer; however it's important to give yourself time to rest and transition after your last day. A lot of people tend to end one job then start the new one the following day, but this isn't healthy at all. If your boss requests that you stay an additional two weeks, and those two weeks will eat into your time to rest, negotiate for fewer days. Now is the time to prioritize yourself.
ADVERTISEMENT - CONTINUE READING BELOW
A break is actually the right time to process things. This applies whether you're coming from a job you love, or a job you love to hate. If you're coming from a company you couldn't wait to leave, a feature on Forbes by entrepreneur and marketing fim founder J. Maureen Henderson notes that, "The last thing you want to do is jump from the frying pan into the fire and end up in another ill-suited role... It takes time and intellectual distance to process these questions and uncover the insights that will help you to avoid recreating the scenario you're leaving."
6. Move on.
Whatever baggage you've had with your last job, leave them all behind, but take the lessons with you. Leave on the best terms possible, and just be grateful. In the end, that part of your life has made you into the better person you are now.
ADVERTISEMENT - CONTINUE READING BELOW
Load More Stories