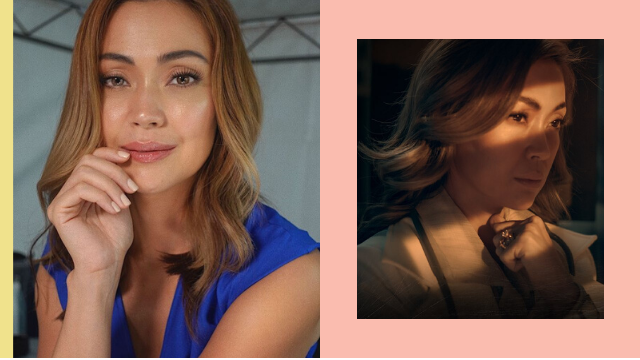 Growth happens when you leave your comfort zone, and this is something that 39-year-old actress Jodi Sta. Maria strongly believes in. 
In an interview with Female Network and other members of the press, the newest face of beauty brand Estée Lauder opened up about how she carefully chooses her roles as an actress. 
ADVERTISEMENT - CONTINUE READING BELOW
"I always choose the ones that I am most afraid of," she divulged. "I think that fear kind of keeps me on my toes." 
Usually, Jodi said, "I would choose something that I've never done before or something that would make me doubt myself because that would [make me want] to prove to myself that I can do it and that I can deliver.
"That's the only way to find out if something is going to work or not instead of just wondering, 'Kung ginawa ko, okay kaya? Nag work kaya?'
"I don't want to live a life of what-ifs so even if I'm scared or unsure, I just take a leap of faith and do it."
In case you missed it, Jodi will be starring in the Philippine remake of Doctor Foster, where she will play the lead role, Dr. Jill Ilustre, a successful doctor who caught her husband cheating on her. 
The actress revealed that it's one of the most challenging roles she played. "Her character is so complex. There are so many things going on inside her head," she explained. "What makes it even more challenging is that it was already done in five different countries and you know, people have their expectations."
ADVERTISEMENT - CONTINUE READING BELOW
The latest adaptation of the British series is South Korea's The World of the Married, which became the highest-rating K-drama of all time on cable TV.
At the end of the day, Jodi wants to remind other women that "if you feel that nudge in your heart that you want to do something, go for it... Have faith in yourself."
ADVERTISEMENT - CONTINUE READING BELOW
READ MORE: 
Jodi Sta. Maria Fulfills Dream of Finishing College at 39
Beauty Lessons Every Woman in Her 30s Can Learn From Jodi Sta. Maria
Jodi Sta. Maria On Self-Worth: 'Our value is not defined by those around us'
Jodi Sta. Maria Goes Back to the Location of Hit TV Series 'Tabing Ilog'
Load More Stories