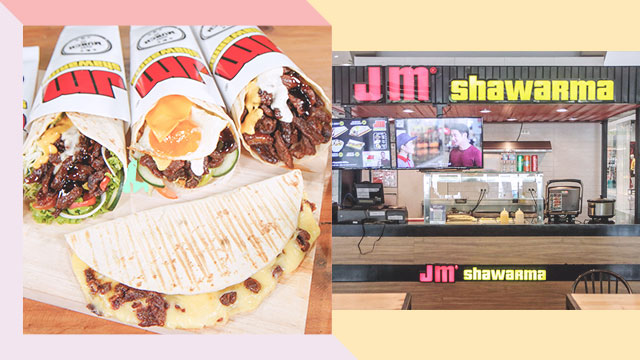 The shawarma has always been a kiosk food staple, and why not? It's tasty and filling, and can be enjoyed under P100.
There are many shawarma franchises in the country, and one of the more popular brands in JM's Shawarma. Its menu includes wraps with three kinds of fillings (chicken, tuna, beef) in three preparations: All Meat (P69), Regular (P59), and Cheesy Wrap (P59). If you want something heavier, you can opt to have add-ons such as extra meat (+P20), egg (+P15), or cheese (P15), or just get everything and order the  Shawarma Overload (P84). Not in the mood for wraps? There's also the noodle bowl (P59) and the rice (P59) options.
ADVERTISEMENT - CONTINUE READING BELOW
Interested getting a puwesto? Here's information you'll need to get started:
JM's Shawarma Kiosks and Rates
JM's Shawarma offers the following store types:
Cart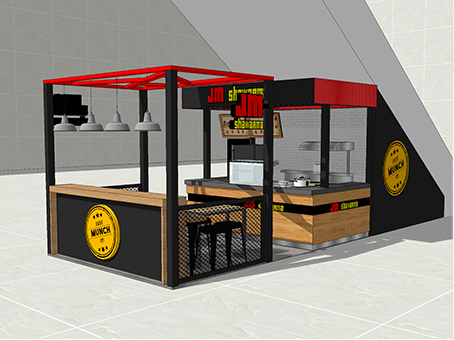 Stall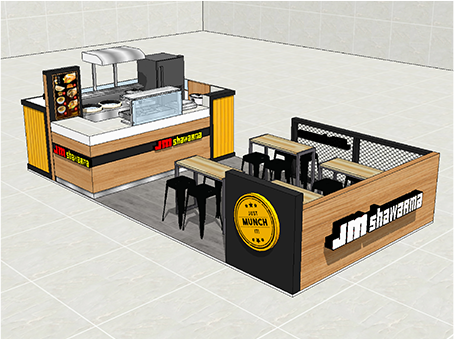 ADVERTISEMENT - CONTINUE READING BELOW
Recommended Videos
Full Store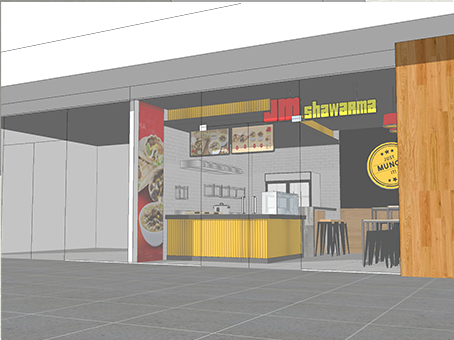 A franchise requires space of 4 to 6 square meters.
The total franchise investment is at P545,000, which is inclusive of a P200,000 franchise fee. The continuing fee is 3 percent of monthly gross sales. According to a JM's Shawarma representative, the package includes:
ADVERTISEMENT - CONTINUE READING BELOW
Franchise fee
Use of licensed name, trademark, and logo
Site evaluation and construction assistance
Pre-opening and start-up assistance
Cart, tools/utensils, staff uniforms
Franchise operations manuals and systems
Training on operations, management, customer service, product knowledge, and franchise marketing
Grand opening assistance
National and local store marketing
Continuing business guidance and support
Access to new products and promos
Tha package can not be paid in installments.
A JM's Shawarma contract runs for three years, and is "renewable for two additional terms of three years each, for a total of nine years."
How to apply for a JM's Shawarma franchise
Submit a letter of intent and an application form. Both can be downloaded from the JM's Shawarma website. 
Fill out your details and upload the completed forms at at http://jmshawarma.com/franchising-application/. Once your application has been processed, a representative will reach out to you.
Make sure to attend a business opportunity meeting and and interview.
Upon approval of your application, you'll then be asked to sign the franchise agreement. Properly settle your accounts. An orientation will then follow.
Upon completion of cart construction and staff training, you'll then be assisted by JM's Shawarma in opening your kioks.
ADVERTISEMENT - CONTINUE READING BELOW
You can also call (0917) 840-9268 (0921)4894538 send your queries to franchise@jmshawarma.com or franchise.jmshawarma@gmail.com.
Return of Investmet
On the average, ROI for a JM's Shawarma kiosk can be achieved in six to 12 months, but of course, this may vary. Location plays a huge role in the success of your kioks, so make sure that you pick the right place for your franchise.
For more information on JM's Shawarma, visit them on Facebook. 
Load More Stories