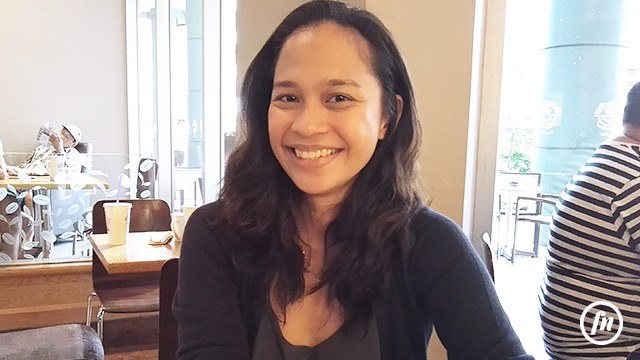 When 30-year-old Ice Idanan approaches you, you can almost hear the gears working in her head; she's confident, full of spunk, and direct-to-the-point with good reason: Being the director, cinematographer, and co-writer of a film set for nationwide release means that she has little time to spend for anything else.
ADVERTISEMENT - CONTINUE READING BELOW
Sakaling Hindi Makarating is a film about a heartbroken woman down on her luck who suddenly receives anonymous postcards from different places. These give her something to look forward to, and propels her to search for the sender. Together with her neighbor, she rediscovers the country she calls home as well as her own person she thought she lost. 
A quick volley of Facebook messages resulted in a sudden afternoon meeting with Direk Ice in a busy coffee shop, where she gamely talks about her interesting journey to her passion. 
"When I graduated from high school, I didn't know what I wanted to take up," she says over her cup. "I went through three different courses. I took the test in UP and Ateneo. I didn't get into the course that I wanted, so I went to Miriam for a year. Half of the year I studied psychology because I thought I wanted to be a doctor."
ADVERTISEMENT - CONTINUE READING BELOW
Recommended Videos
It wasn't a surprising choice, since her entire family gravitated towards the sciences. Her father is a science professor; her mother, a chemical engineer. "My brother is a biologist, major in genetics. My sister is in teaching… medyo may child psychology," Ice explains. "So sabi ko, baka keri ako—pero hindi pala. So the following term, I tried to get humanities courses para mag-law. Tapos, hindi pa rin, and then I transferred to UP."
Ice took up Filipino Studies, hoping that it could get her into law. She thought she was set on her path until someone introduced her to a film subject.
"Sabi ko, lumipat kaya ako ulit?"
It was then that her love story with production began. "Natuwa ako sa kanya, especially during the time when I was taking Film Language and Grammar with Lyle Sacris. He's one of my mentors. Na-enjoy ko talaga 'yong production. And there I decided that I'm staying in this course. I think I found it."
ADVERTISEMENT - CONTINUE READING BELOW
Her passion for the industry more than makes up for the roundabout path that has led her to it. She shares that she immediately zoned in on cinematography, noting the joy she gains from being behind the camera and framing shots. The only sad part is that she wasn't able to participate much in what she wanted.
"During that time, no one really believed that I could be a cinematographer," Ice shared. 
"Ang film kasi may pagka-sexist 'yang industry na 'yan, na siyempre camera, lalaki, gano'n," she says. "That was 2007. And they saw na I was very good in production management, 'cause I liked planning and stuff… So parang they felt na, 'This is your niche, you have to stick to it!'"
And stick to it she did, even when every time she saw a camera, she wanted to be behind it. After graduating college, Ice went to work as a production assistant in a huge company for six months, saying that her salary was so "dirt poor" that she had to hide it from her mother. "Hindi niya ako bibigyan ng allowance kasi she thought I was working," she says. "And I kept saying na sinimulan ko 'to, eh, so I have to finish it… Dapat ko siyang pagdaanan."
ADVERTISEMENT - CONTINUE READING BELOW
It was around that time that a friend told her about a three-week post graduate film program in the Asian Film Academy, which she gamely applied for. She picked production as one of her tracks, but the program organizers had other plans for her.
"They put me in the cinematography track."
The memory put a huge smile on her face. "Sobrang as in – I'm home! Ito talaga 'yong gusto kong mangyari."
The program gave her the opportunity to shoot a film in South Korea, which became part of the roster of the 2010 Busan International Film Festival. This earned the respect of her contemporaries in the Philippines, paving the way for her debut film Sakaling Hindi Makarating.
Sakaling Hindi Makarating waited years for its turn in the limelight due to so many logistical issues, and even when her team received a huge grant, Ice recalls that producing it was no easy feat as she played three vital roles for it behind the camera.
ADVERTISEMENT - CONTINUE READING BELOW
"So many hats, and it's not a small production… Coming into it, I was talking to Lyle [Sacris]… Sabi niya sa 'kin, 'Get a young DOP [director of photography] na you can instruct… I suggest you should focus on directing because this is your debut film."
But Ice decided against it, saying that the film was her baby. "'Yong struggle ko is, hindi ko ba talaga kaya? Kasi everyone's saying 'Hindi mo kaya' eh… Finally, a few months before the actual filming, sabi ko, 'Hindi, I think kaya ko...' The film took five years to make. I know it like the back if my hand. I felt that if I gave it to someone else, it won't be the way I want it to be."
She worked out a way to be a director, a cinematographer, and a co-writer without sacrificing any role. She made adjustments with the support with her Assistant Director (who is her good friend) and the rest of her crew who steered her back the right direction whenever she strayed. "Nagkaroon ako ng process na, when I go to the set, I'm a DOP first… and then I switch that off. I turn it over to my camera directors, and then I become a director."
ADVERTISEMENT - CONTINUE READING BELOW
With Sakaling Hindi Makarating, Ice wants her audience to shy away from the usual perception of what an indie film is. "Usually 'pag independent sasabihin nila 'gritty' 'yan, talagang very political 'yong issues... [Sakaling Hindi Makarating] is very reflective. Nasa gitna siya ng independent and ng mainstream."
"Ito, mapapaisip ka, but not too much. It's light enough for you to keep repeating it, and I really wanted to cross that boundary na kahit ang independent puwedeng maging quality…
"I really wanted to show how beautiful the Philippines is kasi parating Maynila, may slums, ganyan. Ito – makikita mo na hindi lang 'yon ang problema. May ibang problema. Hindi lang 'yon ang kuwento. May ibang kuwento."
And as Sakaling Hindi Makarating is a journey of many definitions, Direk Ice Idanan has this advice to those still looking for the right path to follow.
"When you give a limit to yourself, you really won't get anywhere. If you have that set goal na 'O, ito dapat ako…' Maganda na may plan ka, but you also have to be kind to yourself. You also have to give yourself that time to really discover what you're good at, what you really want to do.
ADVERTISEMENT - CONTINUE READING BELOW
"And it comes… Hindi talaga siya pinipilit. Just because people say you're 30 doesn't mean you have to be 'this' already. Some people find their way when they're 40… but that's them. And you're not them. You're your own person. So set your pace, and believe in that pace. That's really what I learned."
Load More Stories