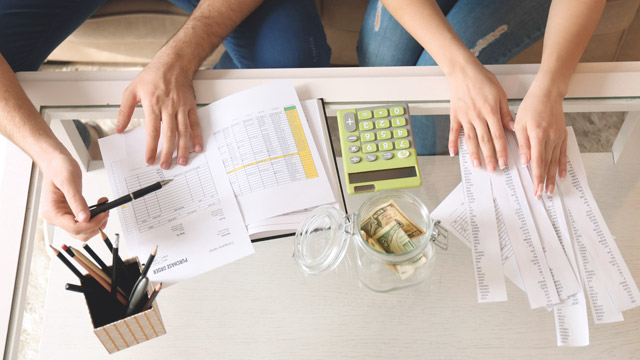 So you're planning to get married: congratulations on deciding to take the leap! While we know that you're more than ready to move on to the next phase of your life, it's still important focus on the nitty-gritty that could either make or break your relationship down the line, and one of these issues is money.
ADVERTISEMENT - CONTINUE READING BELOW
While the hopeless romantic would say that "love will keep us alive," the fact is, you'll need money to keep your household running. Moreover, a survey done in Britain reveals that money is the number one reason why marriages end, and it's not too far-fetched to think it's also one of the reasons why people separate globally.
Thus, it's quite a must for you and your husband-to-be to sit down and discuss your finances. After all, it's one of the things that you'll both be managing once you're Mr. and Mrs. Here are a few questions you need to answer as a couple before finally tying the knot.
1. How much money do you each earn in a month?
You need to throw the idea that asking a person for his salary is taboo out the window. You'll have to know what each one is making in order for you to financially adjust to the kind of lifestyle you'd want to have as a couple. From here, you can start planning how you'll budget your money to run a household, put kids to school, get a car, etc.
2. What are the benefits your employers offer?
Health coverage is so important since it really buffers your emergency funds when it comes to sudden illnesses or accidents. Aside from this, you'll also want to discuss bonuses, car plans, and other benefits you can both pool together and utilize.
3. Will you be getting a joint account?
Sharing and managing your finances really depends on the kind of relationship you have. Some are comfortable having a joint savings account, while others would rather keep their personal accounts to themselves and then create another savings account for bills. For example, Solenn Heussaff and Nico Bolzico don't really bother with each other's savings: "He knows naman how much I earn, gan'on... but he doesn't know kung may savings ako or kung wala," Solenn previously explained. "May joint account na every month, same 'yong amount na nilalagay namin. So 'pag kailangan kong magbayad ng bills for the house or ganun, d'on ko kinukuha."
ADVERTISEMENT - CONTINUE READING BELOW
The point is that the two of you will need to agree on whatever system you think will work to remove any unwarranted financial friction down the road.
4. What are certain money quirks and habits that each of you have that the other should know about?
Does your partner splurge when he feels bad? Are you matipid to the point of depriving yourself of little things that are actually alright to enjoy? You'll need to find and iron out how you look at and spend money as small actions can snowball into huge repercussions as you go deep into your life together. That brings us to the next question...
ADVERTISEMENT - CONTINUE READING BELOW
5. Do either of you have any expensive hobbies or extra-curricular activities?
You may have an expensive Pilates studio membership you wouldn't want to let go of, while he might be into upgrading cars for track racing--if you both have something expensive that you love, then you'll need to be honest with each other about it, as these will affect your finances. This isn't to say that one should ask the other to give up a hobby (because that will really be unfair and may even start deep-seated marital issues); however, it's important for both parties to understand that while indulging in hobbies and activities is more than fine and in fact welcome, there will be moments of compromise, and you should be prepared for these as a couple.
6. Do either of you have any investments?
If you or your partner have invested in stocks, bonds, or any other money growing vehicles while you were still single, then these must be disclosed, as you'll eventually need to update papers to include your spouse as a beneficiary should something happen to you. You can, however, still decide on what to do with any returns: would they go to your joint acount? Can each keep his or her earnings as his or her own personal savings? Again, it depends on how the both of you deal with money.
ADVERTISEMENT - CONTINUE READING BELOW
7. Do either of you have any debts?
Probably one of the most important things to talk about, debt can easily affect a marriage especially if one will ask the other to shoulder a huge amount without prior notice. Sometimes, debt can even spell the end of an engagement, especially if it comes to light that one party actually has a money problem. 
When discussing debts, you need to lay everything on the table because once you're married, one's debt will be both your debt. Talk about how much still needs to be paid, how much should be set aside every month, and by when the debt should be settled. Being honest pays, but especially when you're dealing with utang.
8. Do you want to have children?
Whether you'll have a child or through adoption, you'll need to prepare for the expenses that starting a family will incur. Remember that the cash-out doesn't end when you've paid off your hospital bills or adoption fees: you'll be spending for education, health care, and many more for decades to come. It's important to have a plan and a small financial headstart before you begin that phase of your life.
ADVERTISEMENT - CONTINUE READING BELOW
9. What are your plans in the coming years?
Now that you'll have a partner for richer and for poorer, you'll need to plan for the future—and it's not just the rose-tinted-glasses version of the future we're talking about. We're talking about where you'll be financially in the next few decades, how much life and health insurance you'll need to invest in, as well as how much you'll want and need to have saved by the time you've both retired from your careers. It's never too early to plan for the big milestones of your life together. After all, being financially free will help you enjoy your marriage even more.
ADVERTISEMENT - CONTINUE READING BELOW
Sources: Forbes, Busines Insider
Load More Stories