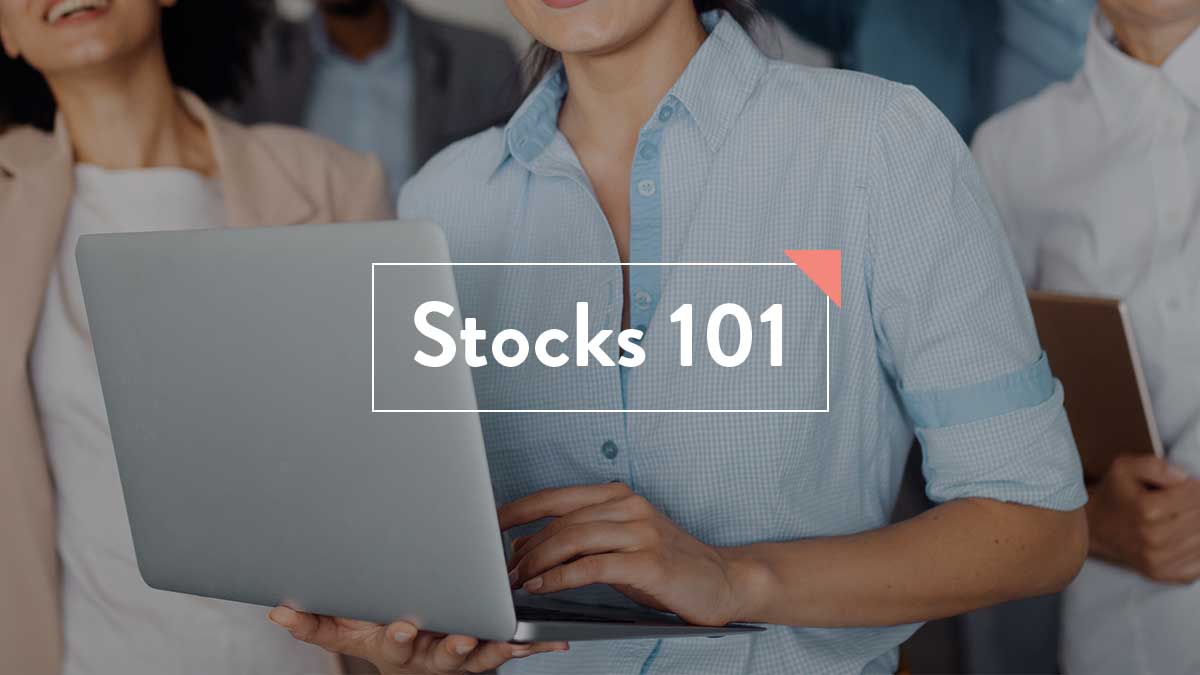 Investing in stocks may seem daunting, but it's one of the best ways to earn extra cash. You can earn bigger returns than just putting it in a savings account or a time deposit. It also does not require huge sums of money compared to investing in real estate. However, it does entail risk. Given the volatility of the stock market, investing in stocks needs smarts, guts, and perseverance.
Should I invest in stocks? The Pros and Cons
If you're considering investing in stocks but don't know where to begin, here are five things that you should consider.
1. Purpose
Is your purpose for investing long-term or short-term? Your purpose may be both, but choosing a priority will affect your choice in stocks to invest in.
If you foresee your investment to be long-term, you generally choose companies that have regular dividend payouts and those that have historically grown steadily over a long period of time.
If you intend to invest in the short-run, this would entail close and daily monitoring of the stock market. You should generally choose companies that have shown quick growth historically, or if you anticipate major announcements that could positively influence the stock prices. In both cases, you try to time purchase when stocks are priced low and sell when it is high.
ADVERTISEMENT - CONTINUE READING BELOW
2. Broker VS. Online Platform
Hiring a broker may help if you are a beginner or do not have the time to consistently monitor the stock market. A broker will act as your eyes and ears in the market, provide you with guidance and process your stock purchases and sales for a commission.
Online platforms will require you to be more hands-on. You will have more control on buying and selling since you are able to bid or ask for the price yourself. There are various analytical tools available at your fingertips like technical guides and historical data, which can help in your decision making.
Both will have fees and the most common ones are summarized below: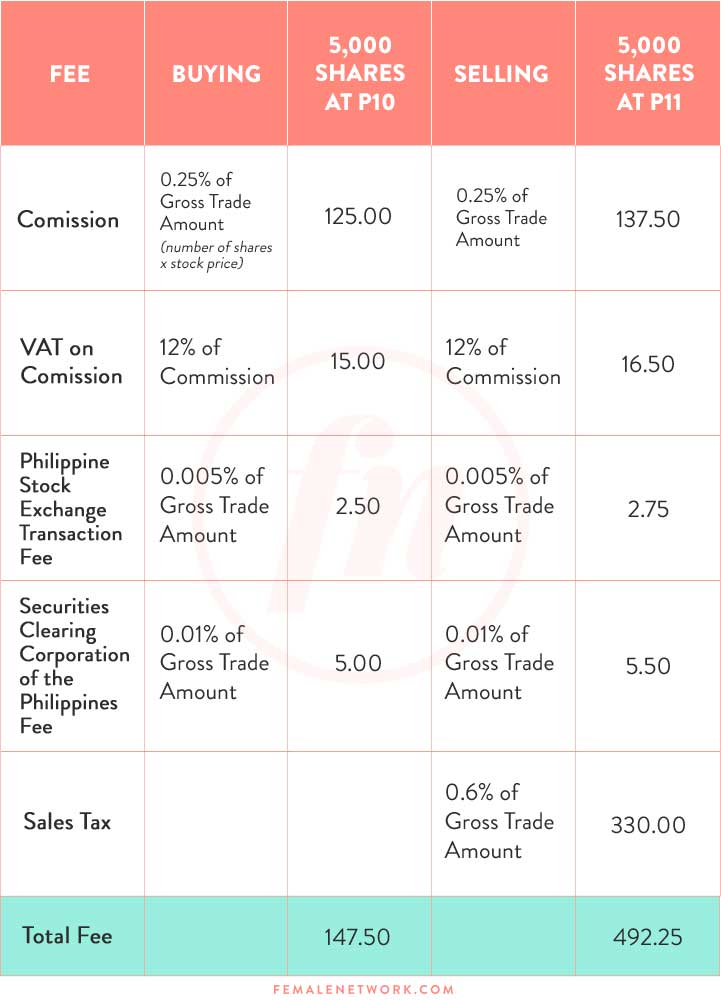 There may be other additional fees from buying, selling and transferring of funds upon deposit or withdrawal depending on the broker and online platform.
3. Dividends
For those purchasing for purposes of earning dividends [dividends are what a company regularly pays its shareholders - Ed.], there are two important terms that you have to understand: ex-date and record date.
Record date is the cut-off date at which the recorded stockholders are entitled to dividends.
Ex-date or ex-dividend date is three working days before the record date, before which purchases of the stocks must be completed in order to entitle the buyer to dividends. For example: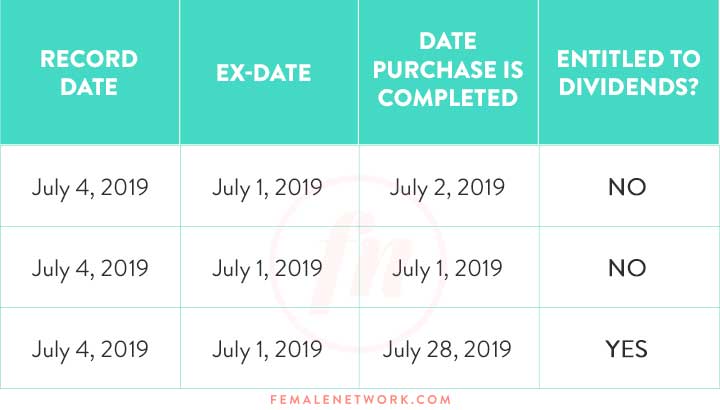 ADVERTISEMENT - CONTINUE READING BELOW
This can serve as a guide to when to buy or sell stocks to ensure you are able to earn dividends.
4. History
History may not repeat itself but it can be a good basis for assessing stocks. There are different sources of historical data. You may want to forget that accounting subject that you took back in college, but this is when the skills you've learned from it may come in handy.
As you may remember, the financial statements of a company can be a good gauge of a company's profitability and sustainability. Although net income may indicate a company is profitable, it is best to look at its operating income—particularly if it is earning from its main line of business. This is to avoid being blindsided by income that arises outside of operations that may be just a one-off transaction.
Cash flows particularly from operations is a good indicator of sustainability. A steady flow of cash means that the company is able to convert its profits to cash, which can be used to generate more revenue, invest and pay off debt, and dividends.
ADVERTISEMENT - CONTINUE READING BELOW
Historical data on the highs and lows of stock prices available on newspapers and online can help in determining a stock's performance. The highs can give you an idea of how much stock prices can get for a particular share of stock and if the price you are buying it at can give you a good return.
5. Prospect
What are the company's plans in the future? Future prospects of the company may lift stock prices up or pull them down depending on how investors feel about the company, its plans, and its profitability. The business section of your preferred newspaper may be a good place to start. It has news about opening plants or branches, business mergers and joint ventures, and current projects and performance of listed companies.
For company specific information, most listed companies have an investor relations section on their websites, which has their prospectus and other information for investors. Online platforms have technical guides that can provide an analysis of listed companies with advice as to whether to buy, hold or sell stocks.
ADVERTISEMENT - CONTINUE READING BELOW
What it takes to invest in stocks
It really depends on what kind of an investor you are and how much of a risk you're willing to take. If you're a beginner and are in need of a bit of a confidence boost, you may want to first try out safer options, such as bonds, or even a time deposit. You may also want to first take up a few lessons about the stock market because, this isn't an "out of sight out of mind" kind of investment. It takes a bit of memorization (because you'll come across a lot of financial jargon), a great deal of patience when it comes to actually following current events (because the news can help you predict how the markets will go), and a whole lot of skill when it comes to reading trends (because you'll need to always plan three steps ahead).
Remember that there are no assurances of quick and significant gains when you play in the stock market. What one day may be up may fall flat the next, which means you'll probably lose money. This is why it's important to make sure that the money you are investing is really money that you can spare, or—at the risk of sounding negative—you can afford to let go of. The point is to always be ready to win some and lose some, and always learn from your missteps.
ADVERTISEMENT - CONTINUE READING BELOW
* Pamela Lloren is a Certified Public Accountant and is currently teaching accounting and finance subjects at the University of the Philippines.
Load More Stories