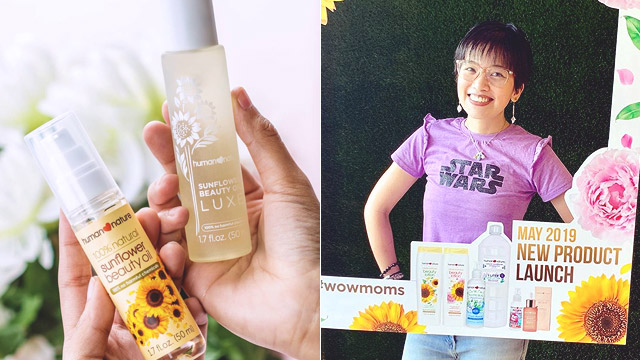 Extra income is always welcome. Investing in bonds and funds is one way to earn passively, but another option is to get a side hustle or start a small business, and if you think you've got a knack for convincing people to give a product you believe in a try, then you may want to try to become a beauty reseller.
ADVERTISEMENT - CONTINUE READING BELOW
A Quick History of Human Nature
There are many brands locally that are in constant search of resellers, one of which is Human Nature, a pro-poor and pro-environment social enterprise that offers natural and cruelty-free home, cosmetic, and skincare products. Started in 2007, the company uses locally-sourced materials bought from low-income communities, who are in turn, provided with ample training for them to be able to create a sustainable system.
In fact, Human Nature is quite supportive of its resellers, giving them the time to shine in many of their activities and marketing activations. One of them is Samantha Gail Lucas.
"Selling products that I believe in not only sustains me financially, but enables me to give back to communities as well," she noted when asked about being a dealer. "Human Nature allows me to support those in need while earning at the same time. Plus, their products are kind to my skin and to the environment!"
How to become a Human Nature Reseller
Human Nature sells its products in its own branches as well as in select kiosks and supermarkets, but true to its advocacy of sustainability and financial empowerment, it encourages dealership and reselling. Female Network reached out to Jen Suguitan of Human Nature to find out how one can start reselling their products:
Female Network: How do you apply to become a reseller? What are the specific requirements that one needs to submit?
Jen Suguitan: There are two ways to sign up—you can visit any Human Nature Branch or register online via https://humanheartnature.com/buy/reseller. All you need to do is purchase Human Nature products for your account and present a valid ID.
ADVERTISEMENT - CONTINUE READING BELOW
You can sign up as a MEMBER or as a DEALER. For MEMBERS, you have to purchase P799 worth of Human Nature products of your choice, net of the 15 percent discount that you get on your first purchase. For DEALERS, you need to buy P1,299 worth of Human Nature products of your choice, net of the 25 percent discount.
FN: How will a reseller earn?
JS: Apart from reselling, we help our resellers market their products. Every two months, we launch at least two to three products and promos featured in our magalogue (magazine + catalogue). Some of our dealers sell their products to their officemates, family, and friends.
They can also open their own Online Dealer Shop (ODS) for only P99. Having your own Online Dealer Shop makes selling easier. You just have to send your shop's link to your buyer then backend operations will be handled by Human Nature. For example, if I shop through your ODS, Human Nature will process and deliver the order but all the profits will still be under your account.
ADVERTISEMENT - CONTINUE READING BELOW
FN: Does a reseller have to meet a certain deadline to finish her stocks, or does she have to meet any quota?
JS: For Members, there's an P800 monthly purchase, net of discount to maintain your discount status and P1,500 monthly purchase, net of discount for Dealer status.
FN: What happens to products that a reseller wasn't able to sell?
JS: They can return the products to their home branch 30 days after purchase in exchange of P5 stocking fee per item.
ADVERTISEMENT - CONTINUE READING BELOW
FN: What's the approximate time frame for the return of a reseller's investment?
JS: It depends! It usually depends on the seller's volume of sales—it can go from one week to a month. A great thing about being a Human Nature dealer is that the brand already has a cult following so it's easily marketable. We also have new products every two months (that are exclusive to dealers and members) so they always have something new to offer.
Most of our branch operators started off as dealers and members. Due to the amount of orders, they opted to put up their own branch to cater to more people. Fun fact: 32 of our 35 branches are owned by Human Nature dealers!
ADVERTISEMENT - CONTINUE READING BELOW
FN: Are there any taxes that one has to pay as a reseller? If so, can Human Nature assist with them?
JS: Yes. They just need to give their TIN number. Our friendly Customer Service team will process their taxes so they can claim their commission.
FN: Is a reseller free to market Human Nature's products in whatever way she likes as long as it adheres to the company's brand guidelines (for example, via Facebook, through a website, etc.)?
JS: Yes! We have sellers who go sell on Shopee, Facebook, or through IG. The easiest way is still our Online Dealer Shop.
FN: Why is becoming a Human Nature reseller a good side hustle for the 30s working woman?
JS: Let me count the ways. As a Human Nature reseller, you get access to promos and discounts—this comes very handy during the Christmas season since most of our products are very giftable. You also get first dibs on Human Nature products and other training opportunities. For example, our Flagship (Commonwealth), SM North, and Makati branches often have mid-cycle activities and promos that's only available to Human Nature Members and Dealers.
ADVERTISEMENT - CONTINUE READING BELOW
If you're into skincare, the best part would be getting Human Nature products at a discount.
Apart from these, it's hard to squeeze in extracurricular events when you have an 9-to-5 job. If you're a Human Nature reseller with an Online Dealer Shop, you can earn without having to lift a finger—no need to fill in waybills, book a courier, or pack the items for shipping. We'll take care of it so you don't have to.
For more details on how to start your reselling stint, visit Human Nature's website.
Load More Stories