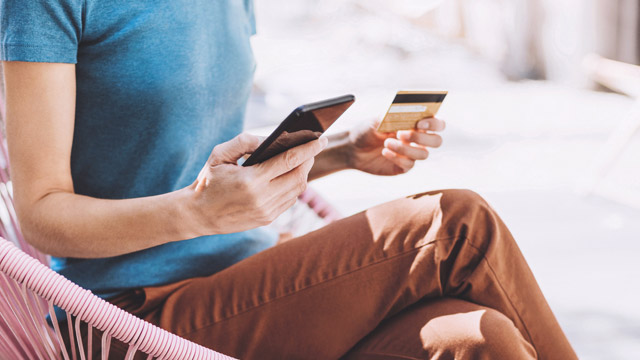 A credit card is a great financial tool that can help you save money or get perks if you use it wisely, but it can also land you in serious financial trouble if you don't manage it right and treat your credit as "free money." To help you maximize yours, here are some frequently asked questions about credit cards and how to use them:
How credit cards work
Essentially, a credit card is like a loan, and unless you pay back your total spend in full by your due date, interest (usually with a rate of around 2.5 to 4% monthly) gets charged, and compounds over time. Meaning if you charged something that's P50,000, and you only pay your provider P20,000 within the grace period, the P30,000 will accumulate interest and finance charges, which will be reflected in the next bill cycle.
ADVERTISEMENT - CONTINUE READING BELOW
Your credit limit is typically dictated by your credit history (employment, financial management, existing debts), or in the case of a secured credit card, your initial deposit.
How many credit cards should I have
There's no one way to determine how many credit cards you should own as every person's lifestyle and finances are different, but a simple way to answer this is, you can have as many as you need (since every credit card comes with unique perks) granted that you are not accumulating debt through compounding interest. 
For instance, the Citi Cash Back card gives you a 6% rebate on supermarket expenses, 2% on Meralco, and .20% on all other purchases, while the Petron-BPI Mastercard gives a 3% fuel rebate in participating Petron branches. If you often drive (and there's a Petron that's easily accessible to you) and do grocery shopping, a combination of these two cards can help you save a few pesos with every purchase. Of course, all the rebates will be pointless if you only pay the minimum fee monthly and rack up a huge debt on each card.
A good rule of thumb to follow is that if you can keep your usage of each credit card to only 25 to 30% of the total available balance (say if your credit limit is P100,000, your bill shouldn't typically go beyond P30,000) and you can regularly pay your credit card debt back in full, then you're using your credit cards smartly and to your advantage.
How to apply for a credit card
Aside from the bank's application form, typical requirements for a credit card include proof of identification (government issued IDs), as well as proof of income and employment (payslips, your ITR, company ID, certificate of employment, etc.).
Some banks also offer promos you can watch for. For instance, you can get a secured credit card with BPI if you open a BPI savings or time deposit account and maintain a P10,000 balance for a year. Others also make application more enticing by making sure you can do everything online (including submitting your documents), giving freebies if you do, and sending the approved credit card to you by mail.
How long does it take to get a credit card
Banks usually have an online feature where you can check your application status, but application periods for credit cards vary, with some banks even using it as an incentive for applying. (Ever see the phrases "instant approval" or "no credit history check"?) You can get simpler credit cards within a week in some banks, but it can take as long as a month or more for others.
How to use credit cards
To use a credit card, you need to physically have it with you, or have the numbers ready at least for online purchases. After using it for your purchase, wait for your bank bill to arrive, and be sure to pay by the due date to avoid late fees.
If you intend on using your credit card for travel, it's best to call your service provider and inform them of the dates you'll be out of the country, to make sure you can use your card internationally and so your purchases don't get flagged as fradulent.
ADVERTISEMENT - CONTINUE READING BELOW
#FNTip: If you have GCash, you may request for a physical Mastercard where you can withdraw money abroad at good rates without having to pay excessive bank fees.
How to get cash from a credit card
Another versatile and helpful feature credit cards offer is cash advance, especially in the Philippines, where there are still many establishments that don't accept cards. More often than not, you have to activate this feature first before you can use it, but after you do so, you can withdraw your cash advance from almost any ATM. Just watch out as there's usually a withdrawal limit, so check the terms of your bank prior to be sure.
How to pay off credit card debt
If you've racked up a huge debt, do not panic... more than you already have, at least. Yes, it's difficult and stressful to go through, but unfortunately, it's a common learning experience for most people who are new at handling personal finances. You can start by first, curbing the bad habits that landed you in your situation in the first place. Reasses your daily, weekly, and monthly spending habits, and see what is causing the biggest dent in your budget. Stop using your card as much as possible, and slowly pay off your debt month-on-month.
How many numbers are on a credit card?
Each credit card number has 16 digits, and a three-digit CVV code in the back, often used for verification when buying something electronically. Online shopping and eCommerce have been all the rage in recent years, which is also why credit card fraud has become even more rampant. Remember to keep your connection secure, and your information, especially your credit card info, private.
How to cancel a credit card
If your reason is simply that you don't need your credit card anymore, or you found one that better suits your needs, pay it off in full first, then call your bank to cancel. If you have a budgeting issue and are an impulsive shopper, stop bringing your card around or cut it up, and spend the next months paying for it before terminating your contract. (via Time) However, you may also opt for a balance transfer, which entails you looking for a credit card with lower interest rates and better payment terms.
How to transfer credit card balance
A balance transfer can be a smart way to manage a debt you're struggling to get ride of. 
As we've previously discussed, a "balance transfer literally means transferring your remaining balance to another credit card company with a lower interest rate..." Expect to go as low as .99% per month compared to your current 2.5 to 4%. "Since you're less burdened by interest, it's easier for you to manage your finances.
"Remember, however, that balance transfers come with fees. Basically, you're paying for the service of transferring your debt, as well as enjoying lower interest rates. Fees are usually a certain percentage of your debt."
You can check each bank as rates vary, but some competitive ones include Security Bank, which promises 0% balance transfer if you apply online. Metrobank, BPI, and Citi also offer installments at varying interest rates.
ADVERTISEMENT - CONTINUE READING BELOW
Load More Stories