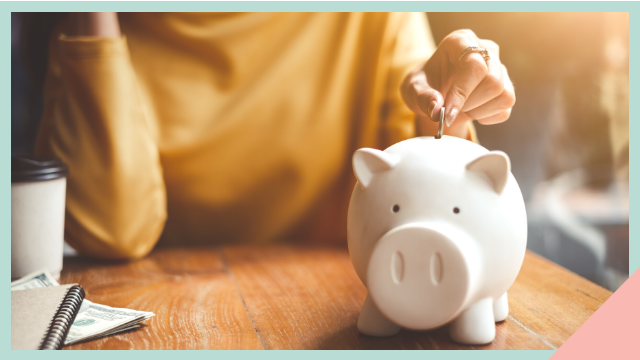 I always thought I had more time—more time to travel, more time to date, and most of all, more time to save money. In my twenties, I thought, "It'd be nice kung may savings ako ngayon pero parang that's future Ysa's problem. Wala naman akong balak mag-invest or mag-business or mag-start ng family soon." As if yun lang yung only reasons kung bakit dapat financially stable ang isang tao. I was living paycheck-to-paycheck, sometimes putting a certain amount aside to finally "start" saving up-only for that amount to disappear. As I'm typing this, I'm not even sure that money went, which means it wasn't a long-term personal benefit. 
And then the pandemic hit. There it was—an actual emergency. The thing I was going to prepare for "someday" was happening. With people losing their jobs left and right, I realized, "If I get fired tomorrow, then what? How will I pay for my bills? How will I eat?! What if I get sick? Wala akong pang hospital!" 2020 was also the year I turned 30: I reevaluated my priorities and took a long, hard look at my life. Where exactly was I headed? Isn't it time to figure it out?
ADVERTISEMENT - CONTINUE READING BELOW
After I calmed down, I turned to YouTube, as one does when they're looking for answers, lol. My algorithm suggested a video by Aja Dang. I used to follow her a few years ago, back when she began creating lifestyle content, but recently, she's shifted into personal finance. The video I saw was of when she became debt-free—an emotional journey for someone who's been working towards this goal for so long. From there, I looked through her recent vlogs and it turned a switch on for me. 
At the beginning of the pandemic, she posted a video of her talking about her emergency fund (EF); she had two months worth of expenses. While I am familiar with the basics of an EF, there was something mildly comforting about someone I found extremely successful to be so real and raw about her financial struggles. (Plus, I've just always loved the way she speaks; something in the way she speaks makes boring topics seem light and even a little fun.)
She instilled the idea that an emergency fund is just about covering the basics: "food, utilities, shelter, transportation, and that is it. Do not worry about worrying about paying off any time of debt...they can all wait. Right now, it is all about survival. Keep a roof over your head. Keep the lights on. Keep stomachs full."
From there, I rediscovered other money-related content I used to love, like all the videos on The Financial Diet! As expected, they talk about emergency funds a lot. Founder Chelsea Fagan said in one video, "It doesn't matter what that thing is. The point is you have to have enough of a buffer in your financial life that every single unexpected event is not financial ruin." Also: "Generally speaking, it takes a person around six months of concerted effort to save up an emergency fund but that is assuming that: a) they are making every possible reduction in their budget and b) they are adding sources of revenue wherever they can." I turned to her words whenever I felt like the process was taking too long. 
So I think step one for me was to mentally prepare myself for the kind of work I have to put into a big life change. Hearing two women I respect and admire talk about the emotional benefits of having an emergency fund. Chelsea said, "You shouldn't be good with money because you want to be rich. You should be good with money because you want the freedom to live the life that makes you happy." This really struck a chord with me. 
What I did to build my emergency fund
I opened a savings account in a completely new bank.
One of the things I noticed was that because people were relying more on online transactions during the pandemic, it was easier to move money in and out of my accounts. This isn't necessarily a bad thing, but for this specific goal, I wanted a dedicated account that 1) no one knows about and 2) is in a bank that isn't popular among my circles. It can just sit quietly in the corner, acquiring money without any movement. 
I started with a small goal.
As a person, I like to move fast. I like to see results right away. But I also noticed that when things don't go as planned, I get discouraged quickly, too. So I changed my tactics. I went with a more manageable goal of transferring P500 to my EF every week in an attempt to turn it into a habit. Once I met my first goal, it was easier to raise the bar.
ADVERTISEMENT - CONTINUE READING BELOW
I treated my emergency fund as a bill.
You know, something I had to take care of every time I got a paycheck. Hindi puwedeng walang papasok sa EF ko.
Any money I didn't expect to get went straight into my emergency fund.
According to The Financial Diet, this is the kind of money you are least likely to miss kasi 'di ko siya in-anticipate. In a way, parang walang nawala sa'kin. 
I included a "reward" in my process.
Whenever I accomplished a small financial goal, I treated myself to a craving or I bought something that's been sitting in my online cart or I just sent a friend a little pick-me-up. It was important for me to find a way to change my mindset when it comes to money, in general. It shouldn't feel like a punishment because having an emergency fund is giving me financial stability and independence. 
To be honest, I'm not quite there yet. The process is slow, but I feel better knowing that I'm being proactive about my finances, even if it took me 30 years get started. 
***
Load More Stories