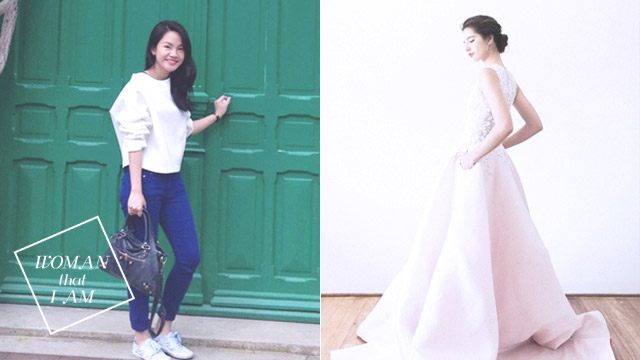 A stunning hand painted off-shoulder wedding gown caught my eye during the Marry Me at Marriott bridal fair last July 24, 2017. Worn by the young actress Maika Rivera, I felt the whole room stop and take notice of this masterpiece: the seemingly simple cut that envelopes the arms, the bodice that accentuates the curves, the tinge of ecru showcasing flower paintings, and the skirt ballooning on the waist with that light dusty peach panel in the middle. It was an artist's canvas brought to life by movement and grace. The rest of the pieces from the same collection drew me in all the more. I ticked off actress Maricar Reyes-Poon's beaded and ethereal classic princess cut gown, and blogger celebrity Trisha Gosingtian-Gabunada's subtly modern beige three quarter sleeved sheath gown flecked with embroidered flowers, as my other favorites.
ADVERTISEMENT - CONTINUE READING BELOW
A new name in the industry was revealed as the genius behind the designs. Hannah Kong. Marry Me At Marriott was her debut, and I just had to know more about this artist for our Female Network readers.
"I grew up in a jeans factory. My dad used to travel to different countries and buy the newest or the trendiest pieces at that particular place. Back then I used to play dress up a lot and would sometimes cut up old clothes to experiment [on designs]. I used to save up my allowance just so I can buy Vogue magazines. I think those contributed to my love for fashion and dress making. That kind of environment feels like home to me," Hannah revealed during our interview. She dabbled into jewelry designing before falling in love with beading gowns. After graduating from fashion school in 2011, she went to the prestigious Ecole Lesage in Paris to study couture embroidery. "I love how they do embroidery and how they teach the art of mixing colors and materials," she says. Focusing on the fading art of embroidery and beadwork with a brand that feels fresh, bespoke, and still classic makes Hannah's pieces stand out. As an artist, Hannah sees these approaches as a way of painting, using threads and beads as a medium and the fabric as a canvas.
CONTINUE READING BELOW
Recommended Videos
ADVERTISEMENT - CONTINUE READING BELOW
She established her atelier in 2015, and soon after brides-to-be have sought her for her signature touch. "It has been an interesting journey, it wasn't always smooth sailing and still isn't. There's always room for improvement and I always feel like I can do better. I'm learning more as I go along and I pray I don't stop learning," Hannah discloses. She shares how the first two to three years were tough, not knowing where to place herself and trying to find a balance of what she and her clients want. Through experience, she's learning how to listen to her clients while communicating what she feels is best. Heavily influenced by Paris couture, incorporating how detail oriented and personal their pieces are, she's launched a label that highlights femininity, originality, timelessness, elegance, and detailed artwork.
ADVERTISEMENT - CONTINUE READING BELOW
It was such a surprise that she only had three weeks to prepare for Marry Me at Marriott, proving that the talented designer has more up her sleeve when in comes to churning out fresh takes on classics. "Inspiration can come from different things. I always say God is the ultimate designer and nature is just so beautiful how He created it," she explains.
ADVERTISEMENT - CONTINUE READING BELOW
Her life revolves around the craft, traveling to experience cultures and trends in fashion, understanding what's beautiful to them and allowing these to influence her work. "I go home and I still research beadwork and details, or look at artwork until I sleep… I think it's part of life already. It's hard to separate. I do try to clear my head by not doing a lot of things that might take up my time from designing."
ADVERTISEMENT - CONTINUE READING BELOW
It's this kind of passion emanating from beautiful pieces that draws us closer to such artworks, and artists. Hannah Kong is brimful of it, and it's exciting to see what else the young designer will be unveiling in her future endeavors.
Load More Stories