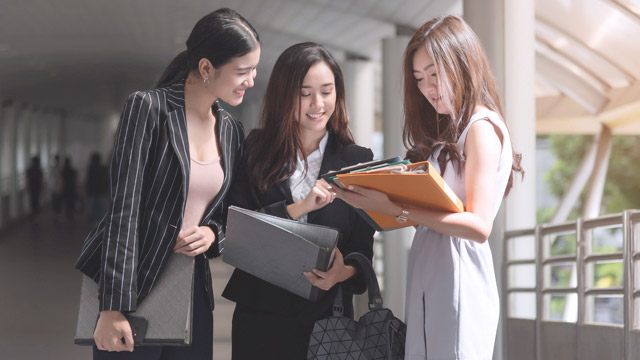 We all have those little moments in life when we wish we could just ride a time machine and do things differently. So in our latest #FNAsks, we asked our readers what courses they would take if they could go back to college today, knowing their life now. And boy, we got a lot of answers alright! So read on and let us know if you can relate to some of them!
ADVERTISEMENT - CONTINUE READING BELOW
CONTINUE READING BELOW
Recommended Videos
"Fine Arts or Interior Design, maybe. But I took up Psychology. I'm artistically inclined but I was scared there would be fewer career opportunities for me." - Marj Nob
"Siguro IT pa rin, pero if I [had] the opportunity, I would have chosen a more famous/prominent school kasi nakaranas ako ng discrimination. Some people in higher positions in the previous company I worked for back in the PH made me feel like I [was] less than their new hires that are my age just because hindi ako galing sa school kung sa'n sila galing." - Girltalker iceheaven31
ADVERTISEMENT - CONTINUE READING BELOW
"My first choice, which is Mass Communications. I would want to have further knowledge and exposure in terms of [executing] great campaigns [with] positive messages [for] audiences [to appeciate] in the midst of the hardships of everyday life." - Trisha Cox Gotidoc
"Psychology because I only realized now that working in the HR/Recruitment is more fulfilling." - Clarisse Quindoza- Geronimo
"If money weren't an issue, I most definitely [would have] pursued either Law or Medicine, for all the obvious reasons. I feel na 'andito sa dalawang ito passion ko, but I'm leaning towards Medicine more. Maybe in another lifetime, too late for me now." - Girtalker Rory_Lorelie_Gilmore
"IT. Not that I regret finishing Mass Communications. I've been doing Corporate Communications for Technology for companies for more than 10 years now and it still amazes me how technology is constantly evolving. Now, I'm taking technology courses to stay relevant in the industry I learned to love." - Rachelle Anne Luna
ADVERTISEMENT - CONTINUE READING BELOW
"I used to not like Dentistry and wanted to change it because my mom was the one who wanted me to become a Doctor. But I'm glad I didn't change it and finished it because I got to be a DMD and now I'm fulfilling my dream of becoming a pilot. So the thought of changing my course before changed when I learned how to appreciate Dentistry when I was in aviation school. I get to have two careers. I now put value in Dentistry as well. Sometimes we are ungrateful and all we need is time to realize that the things we take for granted might be things that will help us grow." - Beatriz La
"Education kasi maraming opportunities abroad." -Girtalker angeljolie
"Entrepreneurship because I believe schools should teach students not to become good employees but rather be brave enough to start their own business and provide work for other people." - Ma Elena Caragay Bartolome
ADVERTISEMENT - CONTINUE READING BELOW
"IT has never been my passion but it was one of the courses available at the university that was convenient for my mom's budget and it has no board exam. I used to have a love and hate relationship with my course but later on learned to like programming even though I haven't landed an IT-related job as of now. If I could go back in time, maybe I'd go for Psychology or Education, major in English." - Girltalker missyuko
"Creative writing. I always love the idea of creating (writing!) something that will reach out to many—to be able to entertain, educate, help, encourage, and inspire. To become a friend to many even if we're worlds apart. I believe words are powerful whether written or said, and I want to use mine to make a good difference. :)" - Michelle Sedeno
"I would have chosen College of Education major in Pre-school Education because I really love kids and it's my dream to teach the little ones. It's sad that my parents were against my decision before and until now I'm still thinking if I could just go back in college then I would definitely pursue my passion." - Girtalker Miss Taken
ADVERTISEMENT - CONTINUE READING BELOW
"If I could go back to college today, I would change my course to anything related to Finance. Most of the time our parents or scholarships decide on what we must take. In reality, after graduation, we'll either end up doing what we really love or end up being stuck, pretending to love what we don't like to do just to please others." - Celisa Ramirez
"Political Science as I believe it will help me enhance whatever God has blessed me with such as being able to do public speaking, knowing the laws, the rules and how basically it can help to better society. If given a chance I would take this then eventually pursue Law." - Heather Marie Navarro Halili
"Growing up, I dreamed of becoming a scientist. I ended up taking Travel Management in UST under my parents' decision. Now, if this will be, I would choose the same university, but different college which is UST College of Science and the degree would be Applied Physics major in Instrumentation." - Ezra Nicole Basto
ADVERTISEMENT - CONTINUE READING BELOW
"Actuarial Mathematics or Secondary Education Major in Mathematics—simply because I love numbers and I love solving simple to complex Math problems. Others may hate Math but it's a different scenario for me. I just love the subject. Or Travel Management—I love this program because of my certified wanderlust. :)" - Bianca Naguimbing
"Taking up IT was a wrong decision. It's far from what I've been thinking. But given a chance to go back in time where I've just finished HS, I would probably take nursing as my pre-med course then I'll take medicine next." - Louella Angelie
"If I could go back to college today, I will change my course to BS Mathematics or any medical-science related course and then go to medical school… I was just too scared and too obedient back then, so I opted to take Computer Science and Chemistry." - Lee Velasco Daquil
"If I could go back to college today, I will change my course to education or optometry. These courses can be turned into family businesses, like I can open a small school or an eye clinic." - Anthea Rima Rivera – Laput
ADVERTISEMENT - CONTINUE READING BELOW
"Culinary. I was inclined into taking up Commerce because the family was into business. It's not a bad thing actually but my first love was cooking and baking so it would have been great if I was able to study food in detail, including understanding the chemistry of it in relation to the other ingredients in the recipe. That would have been awesome!" - Au Urag Valles
"Education. As a teacher, you never stop learning. As the student's second mother, you never stop caring." -Jenny Posadas Afroilan
"Really happy with my course Multimedia Arts since art is my passion. But if I were to live in an imaginary world where I'm studious, I really want to study law. I enjoy knowing my rights as a woman, civilian, and as a citizen and I always try to apply it sa everyday life ko. Frustrated lawyer ako but I know I won't be able to make it kasi tamad talaga ako mag-aral. Like I said, first love ko ang arts or maging maarte lang. Who knows, if I were to live another life at masipag ako mag-aral, I could be the living legally blonde (minus the blonde hair)." - Girtalker plumpolka  
ADVERTISEMENT - CONTINUE READING BELOW
"Architecture and pursue my passion in design but I'm happy with the learnings I have right now as an Accounting Officer." - Estepanny Boco
 *Minor edits were made by the FemaleNetwork.com editors for clarity.
Comments
Load More Stories