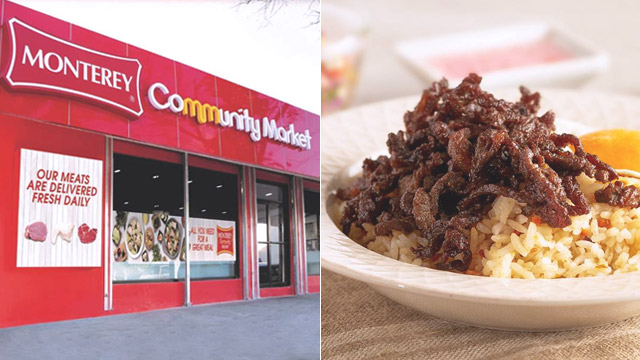 Food carts are always a good option especially when you've got limited funds and are just starting to break into the franchising industry; however, at some point, you need to grow and diversify. If by this time you've already saved enough to get into a slightly bigger investment, or if you've spent years working abroad and finally have enough to come home and be your own boss, then you may want to consider investing in a Monterey Community Market franchise.
ADVERTISEMENT - CONTINUE READING BELOW
Monterey Community Market (MCM) is a pretty solid option as it's backed by San Miguel Foods, Inc., so you know that you're putting your hard-earned money in a stable company. It's basically a one-stop shop for Monterey fresh meat cuts, as well as ready-to-eat and ready-to-cook meats, Magnolia chicken products, and other San Miguel food products. Non-San Miguel products are also available, provided that they complement Monterey's offerings.
How do you apply for a Monterey Community Market franchise?
It takes approximately a month-and-a-half to complete the entire application processes. As with many other franchises, you'll need to first send a letter of intent to San Miguel Foods, Inc., which includes the location you're interested putting your store in. If you own a commercial space you want leased, you'll need to "submit a proposal with the complete address and [a] sketch of the exact location of the proposed site."
The area will then be surveyed by the company. Getting the Monterey Management's approval for the site is just the beginning, as you'll have to develop a viable business plan and present it to the Franchisee Selection panel. Once you pass the screening, you'll finally be able to sign the Franchise Agreement and pay the fee.
The screening process may be difficult, but once you get through it, you'll have the full support of the company. After planning for and implementing developmental activities to help start up your franchise, you, as well as the crew that you will hire to man the store, will undergo training at the Monterey Meatshop School. This is where you learn more about the products you'll be handling (from procurement to selling), as well as the day-to-day front- and back-end processes you'll be dealing with once the store is open.
ADVERTISEMENT - CONTINUE READING BELOW
From the store opening onwards, you'll get full marketing and advertising backing from Monterey and San Miguel Foods, Inc. so if it's brand recall that you're worried about, then you'll never have problems in that area. On your end, you'll need to comply with the standards of the company, and this includes making sure that your supplies are always fresh, that your service is always good, and that your retail operations are always smooth.
ADVERTISEMENT - CONTINUE READING BELOW
How much do you need to franchise a Monterey Community Market?
According to a Female Network email interview with a Monterey representative, your estimated initial investment in franchising a Monterey Community Market will be between P3M to P3.5M for a 60sqm store. It may appear steep, but it's pretty reasonable considering what's included in the package:
Store construction;
Supply of meats and products;  
Dress up of interior and exterior of store (this includes merchandising and advertising materials which will be sent to you by their marketing arm);
Royalty fee; 
Advertising fee; and
Equipment.
Here's a breakdown of your investment:
Franchise Fee - P336,000
Royalty Fee - 2% of monthly purchases
Advertising Fee - 1% of monthly purchases
You can pay the fee either by cash or credit card.
Products that your Monterey Community Market Can Sell
Here is a summarized list of your possible offerings:
Beef – these are sold in different cuts including bulgogi and kalbi
Pork – similar to beef, these are also sold in different cuts depending on what your customer needs
Timplados – these are marinated meats that are ready-to-cook
Magnolia Chicken and Eggs
Magnolia Chicken Cuts
Magnolia 3-Way Chicken – these are marinated chicken cuts that your customer can cook in three different ways
ADVERTISEMENT - CONTINUE READING BELOW
The perks of applying for bigger franchises
If you have the money and you're sure that you can sustain a larger business, you can always opt for a big-name franchise. While the success rate of joining the industry is always a 50-50 thing, the perks often outweigh the risks. Here are a few reasons why you should invest your money in one:
1. You're backed by a reliable, long-standing company…
Big-name franchises are under the umbrella of big-name companies, many of which are conglomerates that also have investments in other industries. This means that they always have financial resources, and that there is little to almost no chance of them folding overnight and inadvertently ruining your business. If you are new to the franchising industry, the dependability of a big company will give you peace of mind.
2. …And being backed by a reliable long-standing company means it's easier for you to get loans to fund your franchise.
Bigger franchises mean more expensive franchising fees, and unless you've got millions in cash stashed under your bed, you'll probably want to get a bank loan to fund your first store. According to business mogul Hardy Grewal on Entrepreneur, banks are more open when they hear that you're investing the money you're borrowing in a reliable name: "If the brand is established and you can show net profits, the banks will lend money."
ADVERTISEMENT - CONTINUE READING BELOW
3. Your brand already has recall and you can bank on its reputation.
Monterey is a household name. This means that once you open your doors, people immediately know that what you are selling are fresh and quality products. You get the privilege of being a trusted establishment in your community, which so many smaller businesses may need to work for more.
4. You've got marketing covered.
All promotional plans and materials are distributed from the head offices of big franchises, so there's really not a lot left to do except implement them. While there's very little room for you to move when it comes to marketing and advertising executions, you at least have them off your mind especially when things start getting into gear. If, at some point, you wish to have more creative business leeways, use your successful franchise to fund another sustainable enterprise—this way, you can diversify your assets and investments and eventually grow your wealth even more.
ADVERTISEMENT - CONTINUE READING BELOW
For more details on franchising a Monterey Community Market, you may visit their website, or call  (02) 633 6328.
Load More Stories