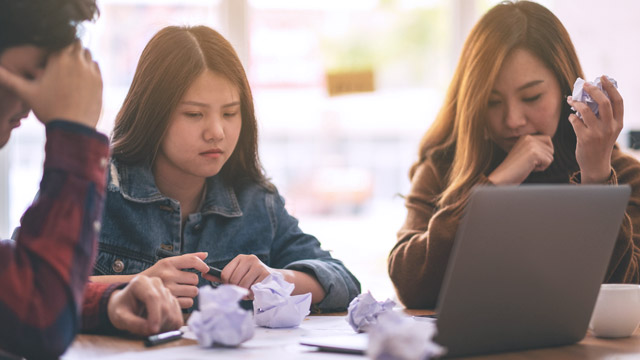 It happens more often than you think—a colleague drops the ball, starting a chain reaction of problems. And since you're involved in the project, you end up trying to catch whatever you still can, while simultaneously doing damage control for problems you didn't cause.
ADVERTISEMENT - CONTINUE READING BELOW
There are a few things more frustrating that having to clean up someone else's mess, and as much as you wish you can skirt the responsibility, sometimes, there's no one else who can do it (read: your boss thinks there's no one else who can do it). So instead of putting all your energy on anger, try calming down and focus on making things better.
According to a feature on Harvard Business Review, it's important to first find out what exactly is going on. What made your colleague royally eff up? Everyone makes mistakes, and a generally responsible colleague may be having a bit of trouble if she's not performing at 100 percent. As author Allan Cohen notes, "What you don't know is if the person is getting the right support from others, if a non-work issue has cropped up, or perhaps the person doesn't understand the issue like you do."
To get to the bottom of the issue, directly ask your colleague about what went wrong. This is where empathy may come in, because sometimes the mistake is actually caused be stresses outside the office: maybe she's been sick on and off, or maybe she's going through a family tragedy. Asking can actually help you understand where your officemate is coming from instead of immediately placing blame.
Once you know the cause, do what you can to accommodate and help without being a pushover. You shouldn't carry the entire burden, but you can manage your colleague's expectations about what you can offer. Give a clear list of what you can do and what she has to do to remedy the situation, as she still has to feel that it's her responsibility, and you're only pitching in.
You shouldn't stop with helping out, though. The best way to avoid the same problems, or at least to minimize the damage, is to actually learn from your experience and put in a new procedure or a fail-safe you can fall on. This way, it wouldn't hurt as much in case the same thing happens again.
ADVERTISEMENT - CONTINUE READING BELOW
But what if your colleague is simply being irresponsible and lazy?
There's a difference between doing one's best and making a mistake, and simply being an irresponsible seat-warmer and making everything hard for everyone. If you're dealing with the latter, and you have no other choice but to clean the proverbial shit that hit the fan, still go through finding out exactly what happened, speaking with your colleague, helping out, and making backup plans—however, you also need to protect yourself.
Make sure to let the key people know that you're helping fix things (like those working on the same project, or your supervisor), but that the entire shenanigan is ultimately your colleague's responsibility. Always make sure that your work is attributed to you, lest there be instances of credit grabbing once everything gets back on track. Most of all—and especially if this certain colleague is known for slacking off and passing work to other people—set an ultimatum, because let's face it, mahirap kapag namimihasa. If you can, speak about it with your supervisor. If it's your supervisor who's the issue, and it's not something that can be resolved in a civil conversation, speak to the manager, or go to HR. If you do, be as precise as possible and give specific examples (or maybe even proof, like e-mails or texts).
ADVERTISEMENT - CONTINUE READING BELOW
It's never wrong to help a person in need, but you need to keep your interests in mind as well. Make sure that your good intentions don't get abused. You deserve to have work-life balance, too.
Load More Stories