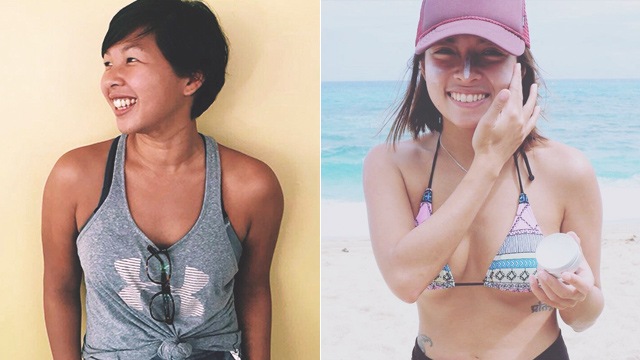 Somewhere between their patriarchal upbringing and millennial sensibilities, women entrepreneurs become more prominently driven by a desire to put their feminine fancies into the spotlight and shine the truth that what is important to them matters to society—even the world. At least that's what these four enterprising females seem to have in common with the projects they started when they hit the big 3-0. From empowering local communities to impacting the welfare of the environment, these women-run businesses are taking cues from what they love and influencing positive changes in behavior among their growing customers and fans.
ADVERTISEMENT - CONTINUE READING BELOW
Rai Tan, 30
Founder, Wawai's Organics
Her Passion: Surfing, sun, and saving the environment
When she's not bound to the city as a finance broker, Rai gets into her element and makes her way to the beach. A weekend nomad, it wasn't long before Rai started looking for products that weren't harmful to the ocean and its coral reefs. "There weren't many options available in Manila," she says, "So I decided to make my own surf wax from coconut oil and beeswax." The homemade concoction was a success, spurring her to experiment with other ingredients, eventually producing even her own sunscreen. "It was a relief to know that I wasn't slathering on loads of chemicals on my skin every time I go under the sun, which is very often! So I started selling them as a way to encourage other people to know more about marine pollution and how we can help minimize it."
Since launching Wawai's Organics, the product line has expanded to include an all-healing salve, an after-sun spray, and a drawstring tote that are available in some of the country's main surf spots. "Every time I have a repeat customer, I consider it a huge accomplishment! [And] it's great to know that these places are moving towards providing safer choices for the consumers and supporting local products like mine."
Hit the beach with Wawai's Organics. Visit their Instagram here.
Mia Cabalfin, 35
Founder and Workshop Director, Hiphop Hooray with Mia Cabalfin 
Her Passion: Dance and its power to transform
Mia—who may be familiar to many of you from her days (or 13 years, to be exact) as a TV Host, Producer, and Sportscaster—says that, while she learned to dance later in life, she wouldn't be complete without it. "One of the crucial reasons why I was able to have a formidable career as a dancer and choreographer is because I had teachers who believed in me," she says, "Even if I was a late-bloomer with zero technique, but 100% heart!" As the forewoman of Hiphop Hooray, Mia has made it her mission to allow kids and teens to experience the liberation of movement and performance.
ADVERTISEMENT - CONTINUE READING BELOW
"I've had kids who have never ever taken a dance class," she says, "They come in feeling like shy and awkward wallflowers and they come out of the workshop feeling like superstars!" Mia, who initially began her craft as a hiphop dancer, entered the professional contemporary dance company, Airdance, where she has developed a distinct style that she imparts in her workshop. Since conducting her "test class" in December 2016, Hiphop Hooray has launched into a 3-batch recital series for summer, mid-year, and year-end in 2017. She has even partnered with the Make-A-Wish Foundation to give back.
ADVERTISEMENT - CONTINUE READING BELOW
"Dance is transformative and empowering," she reiterates. "It could be a little thing, like learning how to do a cartwheel or master a certain step—all of that gives these kids a sense of confidence, empowerment and achievement. I feel that this is what Hiphop Hooray is all about, more than just teaching steps or technique."
Adults are welcome, too! Check out Hiphop Hooray with Mia Cabalfin on Facebook.
Bea Gomez-Dey, 30
Co-Founder and Partner, 

Manila Wooden Toys
Her Passion: Building socially responsible and profitable businesses
It's true, that's a passion. Once upon a time, Bea was the business development director of a marketing firm and, before that, also the hands, feet, and brains behind a small sustainable café. But even having such experience would not prevent her surprise when she joined her cousins-in-law Faith Alcazaren and Kris Pineda on a venture.
"We sold about 50 pieces within two hours of opening our online store," says Bea, who works as a yoga teacher when she's not co-running Manila Wooden Toys, maker of the 12-arc rainbow toy set that has stolen the hearts of parents since it launched in October. Based on the European toys created by Grimm's Spiel and Holz, the product has inspired creativity and imagination among toddlers since the 1970s. The trio gives the product a meaningful touch by sustainably sourcing local wood and employing craftsmen in Pampanga.
ADVERTISEMENT - CONTINUE READING BELOW
"The whole thing is really [Faith's] idea. Being a pediatrician and a mother of two, she couldn't find quality local and accessible open-ended toys for her kids," shares Bea. "Kris [who is a financial advisor] and I thought we could make a good complement to her because of our previous experience. It turned out to be a really great team." Since the toys are handmade, Bea and her partners are already up to their necks with orders until February. "By next year," she says, "We want to create more impact by producing more open-ended toys, tapping into more craftsmen in more locations, and collaborating with other social enterprises for different collections."
Learn more and order your Manila Wooden Toys here.
Abi Portillo, 30
Founder, Stuff by Serena
Her Passion: Loving the skin you're in
"I come from a family of fun-loving, adventurous people. The women are empowered and not shy at all," narrates Abi. "They are the types who love to be at the beach, wear bikinis regardless of size, and enjoy roasting under the sun. They were the inspiration for Stuff by Serena." Unlike many Filipinas in pursuit of fair skin, Abi grew up in a culture of celebrating being morena, though this often put her in frustrating need of tanning products that were unavailable, too expensive, or environmentally irresponsible in the market.
ADVERTISEMENT - CONTINUE READING BELOW
"It was very important to me for the product to be locally, sustainably-sourced; environmentally-friendly; and had a positive message," she says, "So I experimented with coffee and coconut oil at home. I made sure that I didn't waste anything, either, so I use non-plastic packaging only and I encourage refills." The results are a tanning oil and coffee scrub that have growing followings. "I just joined my first bazaar recently," Abi shares. "More than anything, [I was proudest of] the set-up, not because of some narcissistic reason, though, [more because] everything in that booth, I started with P2,000. That's really the biggest milestone."
Load More Stories