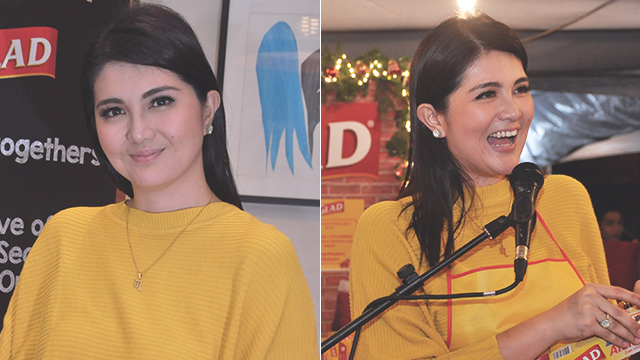 Dimples Romana is proof that success is not an excuse to live indulgently and be careless with your money. Regardless of how much you earn, what matters is how much you spend, and where you spend it.
At 34, Dimples is a career woman, a wife, a mother, and a caring daughter. Recently, she made headlines for surprising her mother and siblings with a new home.
ADVERTISEMENT - CONTINUE READING BELOW
In an interview with FemaleNetwork.com (FN) at the Glad Holiday Get-together in BGC, the Bagani actress shares that she and her husband, Boyet Ahmee, just acquired a commercial building—their ninth property investment in 15 years as a married couple.
"For me, it's really more of taking leaps of faith, it's all about how matapang you are," Dimples shares with FN.
"If you don't have the guts for it, then your dream will remain a dream."
But how does she know when to purchase a property? "I always pray about discernment, like if [a] property will be good for us."
Dimples admits to praying a lot for peace of mind and clarity, but she also knows that it's up to her and her husband's teamwork to make things happen. 
"We're working on budgets all the time, we're not well off... we're always just living from one paycheck to another. The key is really to make sure that you get help from other people as well."
ADVERTISEMENT - CONTINUE READING BELOW
Taking on bank loans and flipping foreclosed property
The actress-host-entrepreneur shares that one form of help they've utilized is getting bank loans. Looking back, she says there were loans that really helped them reach their goals and take them to the next level.
"Bank loans are perfect especially when you are young, because you can stretch it to the maximum. And if ever you soar high in whatever career you are in, in the next two to three years, you can pay it off. And then eventually move on to your next property."
Dimples reveals the reason they prefer to buy real estate is because they invest in flipping properties. "You cannot go wrong with real estate," she adds.
"We would buy foreclosed properties, flip, and then sell... When you buy foreclosed properties from the bank, you're very safe. .. because the bank will not release the funds unless the property or title is clean."
ADVERTISEMENT - CONTINUE READING BELOW
"But the thing with real estate is that you have to have the guts to actually go for it.
"If you were to wait for the time that you're ready, you will never be ready. That time will never come.
"You have to tell yourself, I'm taking this step."
ADVERTISEMENT - CONTINUE READING BELOW
Dimples shares that there are many banks with very good interest rates, but that's not the only factor to consider when taking on a loan. You also have to review your personal commitment, personality, and capacity to pay.
Dimples' advice? "[For me], any way that I feel money flow will come in, I really try it especially if I feel [it] will be good for me.
"[Nowadays], there are so many opportunities for you to earn money. You cannot just go on one path. You have to diversify, never put your eggs in one basket.
"[But] always take calculated risks. Meaning, you know that you have a job, you know that you're masipag, then you can take on a loan.
"Never take on a loan na alam mong tamad ka, then mababaon ka lang sa utang. Sayang lang pinaghirapan mo." 
Naturally, there are sacrifices to be made. "For the longest time, we lived off of what was just enough for us," but she also adds that eventually, it paid off "because we really put our money in the right places."
ADVERTISEMENT - CONTINUE READING BELOW
Load More Stories