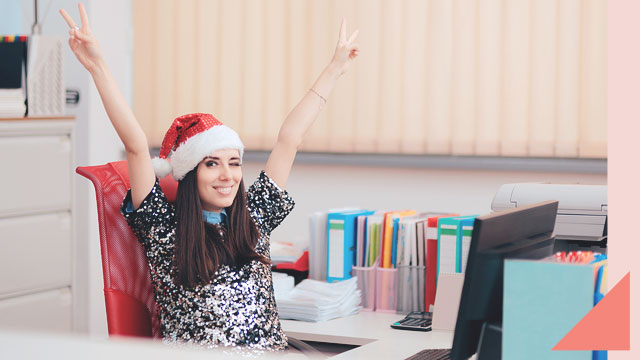 When you ask a close friend or a relative for advice regarding leaving your job, they'll probably tell you to resign sometime in December, because really, it makes perfect sense—by then, you've already received your 13th month pay. But more than this, there are other pretty good reasons why the last month of the year is a good time to resign if you really feel that it's your time to go:
ADVERTISEMENT - CONTINUE READING BELOW
It's better for your tax record
In a previous Female Network article, accountant Pamela Lloren explains: "Since December is the year end, your tax will have a clean break and you will only be taxed for income from one employer. Generally, if you have two or more employers within the same year, your current employer needs to annualize your income and tax."
CONTINUE READING BELOW
Recommended Videos
Annualizing your income and your tax is pretty complicated, and may even end up with you having tax deficiency, which may cause you to pay more taxes in your new company for some time, and of course, you wouldn't want that.
It can possibly be a good time to look for a new job, if you haven't found one yet.
It's always best to have a new job or several freelance projects on the wings before you submit your resignation, but should you decide to leave without one, then don't worry: while January is considered a better month to look for openings, December also has a lot of them simply because like you, a lot of people leave their jobs during this month. As a feature on Top Resume notes, "An unexpected employee departure can leave a company scrambling to fill the void," so watch out for these opportunities!
ADVERTISEMENT - CONTINUE READING BELOW
It's gives you a sense of finality.
Resigning on the last month of the year makes you feel like you're really closing a chapter of your life: mentally, it helps with letting go, whether or not you've had a good experience. Moreover, starting a new gig in January also gives you an energized sense of purpose, which will hopefully keep you motivated for the rest of your stay.
FN Tip: Remember that timing is everything.
A December resignation is not at all uncommon, but remember to do things right. To tide you over in case your backpay gets held up a month or two, you'll want to make sure that you already have any bonuses on hand, as remember, bonuses are given at the discretion of your company; however, you'll also want to leave with grace without looking like money was your only motivation, especially if you're looking for a good recommendation.
ADVERTISEMENT - CONTINUE READING BELOW
If your company gives its bonuses in November, then that's great; but if it only gives them out in December, then you have a decision to make: are you willing to (a) forgo a bonus to leave in December, (b) get the bonus and leave in December at the risk of getting not-so-good marks on your 201 file, or (c) get your bonus in December, and wait it out a month more for a possibly smoother exit. Note that it really depends on what kind of relationship you have with your boss and colleagues, so these are only three of many possible arrangements. Nevertheless, a feature on Jobstreet recommends: "Start your job search only after the bonuses are paid. If a company takes you, be professional in your departure: Give a months' notice and don't forget to be gracious and grateful to everyone who have been a part of your employment in the company you're leaving."
ADVERTISEMENT - CONTINUE READING BELOW
Comments
Load More Stories