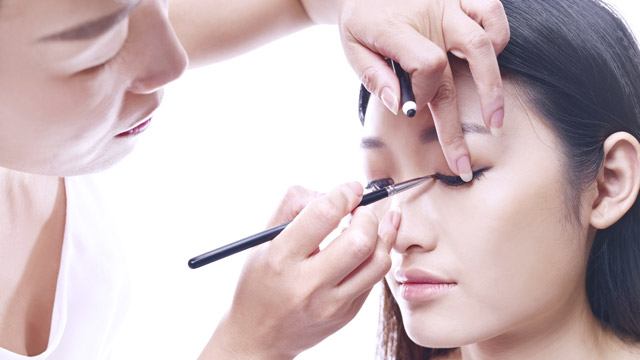 If you're one of those girls whose first eyeshadow palette (You were 5 years old!) was made of pink plastic featuring cheap glitter gunk, this story's for you.  

Now that you're all grown up and you never really outgrew your love for cosmetics, you've probably taken your beauty obsession to the next level—meaning 5,000-peso powder brushes and lippies at P1,000 a pop.
ADVERTISEMENT - CONTINUE READING BELOW
And if you want to pursue makeup as a career? That's a different story: You have to know the cost of studying it, how much it takes to put together a pro kit, and your potential income given your investments.
We talked to five makeup artists—Rachel Torres (@hmuarachel), Joyce De Dios-Ignacio (@joycedignacio), Al De Leon (@just_go_al), Anthea Bueno (@antheabueno), and Mark Kingson (@mkqua)—to get an idea of the cost of becoming a makeup artist. Read on.  
Where To Study
Lucky for you, there are a ton of colleges and institutions now that offer makeup courses and classes in the Philippines and abroad, so you have a variety to choose from based on what you want to learn, how long you want to study for, your availability, and your budget.
Schools like Maquillage Professional School of Make Up Artistry, Make-up Designory Manila (M.U.D.), Center for Aesthetics Studies, Australian College of Hair Design and Beauty Manila, and SoFA Design Institute have workshops, short courses, and full-fledged programs dedicated to different kinds of makeup artistry: bridal makeup, fashion and photography makeup, airbrush makeup, and more.
Tuition fees vary for each program and workshop, of course. But they can range anywhere from P3,500 for one workshop at the Center for Aesthetics Studies and P38,000 for 50 hours at Maquillage Professional School of Make Up Artistry, to as much as P400,000 for a full nine- to 14-month course at Australian College of Hair Design and Beauty Manila. And if you decide to study at an international beauty school, get ready to shell out $10,000 (about P498,430) to $25,000 (P1,246,075). 
If studying makeup in a classroom is something that doesn't interest you, a more wallet and bank-account friendly way of developing your skills is by interning FOR a makeup artist—you'll learn everything there is to know about the industry inside and out. Anthea Bueno, who interned with Jigs Mayuga for a year, shared, "[The experience helped] not just with my technical skills but also how I handle myself when facing different people." 
ADVERTISEMENT - CONTINUE READING BELOW
The Cost Of Building A Kit
There is no wrong or right way to build your pro makeup kit. It's totally up to you if you want to slowly add to your collection, or bulk-buy a complete kit from the get-go. Just keep in mind that your initial shellout will be a substantial amount—more than P10,000, that's for sure—because when you're a professional makeup artist, you need all these things (and makeup today is expensive AF): A makeup case, a set of brushes, a makeup belt, makeup brush cleanser, cotton buds, foundations, eyeshadows, makeup wipes, lipsticks, a mixing palette, tweezers, powders, concealers and correctors, mascaras, eyeliners, and a set of falsies [via StyleCaster].
Joyce De Dios-Ignacio and Al De Leon recall spending a hefty P50,000 when they first created their kit, while Rachel Torres spent P30,000, and Mark Kingson spent P12,000. But it doesn't stop there since you'll have to constantly update and replenish your products. According to Kingson, he still spends P20,000 to P50,000 every three months for his kit, while De Leon rarely spends now since she is "connected with a brand."
ADVERTISEMENT - CONTINUE READING BELOW
The main takeaway here: How much you'll spend on your makeup kit depends entirely on you and how you want to pace your spending. So don't worry if you see your fellow makeup artists with a full collection of foundations while you only have three or five.
Factors To Consider When Creating A Pro Makeup Kit 
According to all five makeup artists we interviewed, quality, research, budget, and variety are the most important things to consider when starting a professional makeup kit from scratch.
Quality is necessary, especially for foundations, concealers, and skincare, because you'll be maximizing their use, said Kingson. De Dios-Ignacio agreed because "these are products that require plenty of refilling," and if your base products aren't good, the finished makeup look you create might be lackluster.
Research is important too. Bueno said using well-reviewed products by professionals will greatly help your makeup kit, since not all products will work on everyone. You have to be "aware and ready," shared Torres.
ADVERTISEMENT - CONTINUE READING BELOW
Budget—if you can't afford a certain product, then look for more affordable dupes! With the access to information we have now, it's easy to find alternatives for every makeup product in the market. But Bueno advised to set money aside for base makeup because these are products that are going to be worn ALL over the face. So it's better if they're made with higher quality ingredients.
For variety, you'll be working with men and women who have different skin tones, so it's "important to remember that as a makeup artist, you're supposed to have makeup and tools that will suit different skin types, colors," said Torres. If you don't want to buy each product in a different shade, De Leon and De Dios-Ignacio advocate the use of palettes for the lips, eyes, and face. They have all the colors you'll need and they're more affordable than buying each color one by one.
ADVERTISEMENT - CONTINUE READING BELOW
How Much You'll Earn
It's not a nice thing to hear, but the five MUAs said that in the beginning—like the first two years—you'll earn next to nothing, with P500 or P1,000 already being "heaven sent," said Bueno. Why? Because those years are when you're going to work hard to get your name out in the industry and agree to "exchange-deals," explained De Dios-Ignacio. 
But as time goes by and you get more jobs, your income will grow—before you know it, you'll be earning as much as P50,000 a month like Kingson! It's not a standard monthly pay, but doing freelance is part of the fun.  
What Budding Makeup Artists Should Know
Rachel Torres: "No matter how long you've been in the industry, or whoever's face you have touched, it is important to keep learning. Be disciplined and humble. The world of makeup looks like a lot of fun, but know that it's more than having several shades of lipstick on hand and being surrounded by different brands of cosmetics. That's just the first layer of it. It's a service-oriented job; you have to face (ha, pun!) clients and reach their expectations. [And] practice on your own time. You can make a few mistakes [at first], have someone help you, and grow in the long run."
ADVERTISEMENT - CONTINUE READING BELOW
Anthea Bueno: "Never be discouraged by the little bumps along the way and always be eager to learn. Work extra hard and focus on your craft. I've seen this quote somewhere and I [have] lived by it ever since: 'Determination beats talent, every time.'"
Al De Leon: "Believe in yourself, and don't be afraid to assert [your right]. Don't forget that this is a business—which means you need ROI (return on investment), you need to get paid, you need planning and strategy, and concrete goals. Don't price [your service] below industry standard rates. Have proper business ethics, and know your seniors."
Mark Qua Kingson: "If you really like doing makeup, know that it'll be a rough journey. But never, ever give up and always work to improve your makeup artistry."
Joyce De Dios-Ignacio: "Makeup artistry is 50% skills and 50% professionalism. You have to be constantly up to date on the trends. Make sure that you are always prompt for your appointments, and it pays a lot to be nice to your clients all the time. During work, wear comfortable clothes, particularly shoes, as it is expected that you will be standing for long hours. Invest in a make-up chair—it will save your back and keep your clients comfy. Get some exercise too, if you can, so your body can withstand long hours of work—that can be for days at a time."
ADVERTISEMENT - CONTINUE READING BELOW
This story originally appeared on Cosmo.ph.
* Minor edits have been made by the Femalenetwork.com editors.
Load More Stories