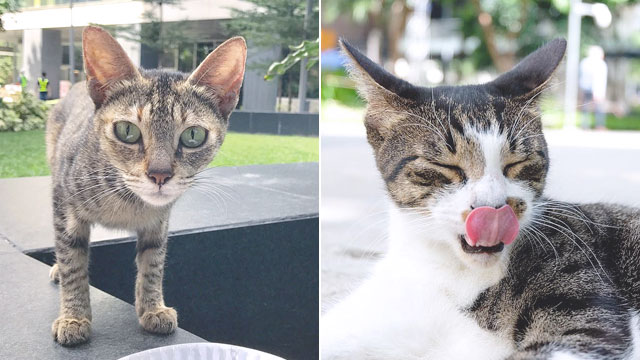 Bonifacio High Street seems a little quieter with the absence of the cat colony maintained by Cats of BGC, a volunteer group that fixes and feeds the friendly felines roaming the area. In a move that shocked and angered residents and animal advocates, the management of the adjacent hotel Shangri-La at the Fort ordered the removal of the colony, hiring pest control company PestBusters to "dispose of the cats," according to an Inquirer.net report.
ADVERTISEMENT - CONTINUE READING BELOW
CONTINUE READING BELOW
Recommended Videos
Spayed and neutered community cats are usually maintained by many animal advocacy groups around the metro not only to balance the ecosystem and keep rat populations under control, but also to share good vibes among passersby. The disappearance of the BGC cats sparked a huge online outrage that pushed Shangri-La at the Fort to coordinate with Cats of BGC and CARA (Compassion and Responsibility for Animals) Welfare Philippines; unfortunately, even welfare volunteers were targeted by the anger of many cat lovers.
The reality is that volunteers and advocates are often under great stress even without the recent controversy. Rescuing strays and abused animals can take a toll on a person's emotional and mental well-being and can eventually cause "compassion fatigue," which according to a feature on Nautilus is "the chronic stress that stems from extended caregiving." Compassion fatigue isn't only the result of the endless job of rescuing and rehabilitating, but also of the constant criticisms that many workers face in spite of what they do.
ADVERTISEMENT - CONTINUE READING BELOW
What's alarming is that compassion fatigue can take a dark turn and lead to depression. A report on Newsweek revealed that "the highest rate of on-the-job suicides occurred for people in 'protective service occupations,' such as police officers, firefighters, detectives and animal control workers, at a rate of 5.3 suicides for every 1 million workers." In 2016, a Taiwanese shelter director who was forced to put down 700 dogs due to the lack of space and welfare funding took her life by injecting herself with the drug used for animal euthanasia. She allegedly mentioned in her farewell letter that she "had become too distressed with the fact that she had to put too many dogs to death."
The symptoms of compassion fatigue can start simply as signs of stress, but later on escalate to the following listed by the Compassion Fatigue Awareness Project: problem denial, excessive blaming, bottled up emotions, isolation, compulsive behaviors, poor self-care, recurring nightmares and traumatic flashbacks, and chronic physical ailments.
ADVERTISEMENT - CONTINUE READING BELOW
Persons suffering from these symptoms should first focus on themselves. Self-care is very important to those going through compassion fatigue, and they often need to be reminded of this. In more severe cases, medical intervention is required.
For those of us who only watch from the sidelines as these tireless volunteers do their work, the best thing that can be done is to lend support. In light of the current situation with the Cats of BGC, CARA, and Shangri-La at the Fort, it's important to stay educated and to avoid bullying those who are trying their best to fix the situation. After all, one of the best remedies for compassion fatigue is compassion itself.
Comments
Load More Stories