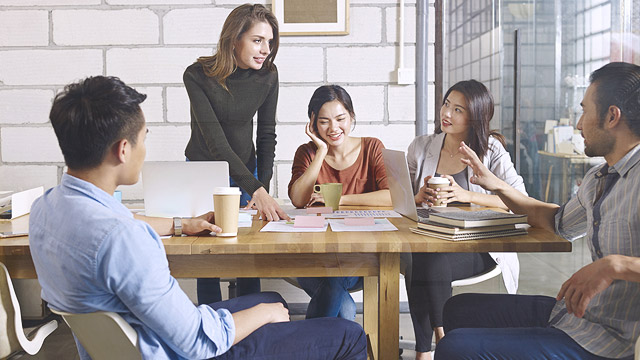 It's a good time to be a Pinay in the workplace, as according to Grant Thornton International Ltd.'s Women in Business report featured on Business World, 46.58 percent of those holding senior managerial positions locally are women, making the Philippines the country with the highest proportion of girl-bosses among 35 countries surveyed.
While some Pinays may take this for granted, having women in positions of power actually makes the company you work for a better place. In fact, the Getting to Equal 2018 report by Accenture revealed that allowing women to thrive means allowing everyone to do the same.
"Our research shows that in companies with cultures that include the workplace factors that help women advance, men thrive too, and we all rise together," explained senior managing director and Accenture Advanced Technology Center lead Ambe Tierro. She pointed out that an equality-centric culture that focuses on diversity and inclusiveness can create a work environment where everyone benefits.
ADVERTISEMENT - CONTINUE READING BELOW
Based on Accenture's report, there are 40 factors that are common among companies that care for their employees by allowing them equal opportunities. Out of 40, 14 are most relevant. Scroll down to see how many of these are true for the company you work:
1. Gender diversity is a priority for management.

2. A diversity target or goal is shared outside the organization.

3. The organization clearly states gender pay-gap goals and ambitions.

4. Progress has been made in attracting, retaining and progressing women.

5. The company has a women's network.

6. The company's women's network is open to men.

7. Men are encouraged to take parental leave.
8. Employees have never been asked to change their appearance to conform to company culture.

9. Employees have the freedom to be creative and innovative.

10. Virtual/remote working is widely available and is common practice.

11. The organization provides training to keep its employees' skills relevant.

12. Employees can avoid overseas or long-distance travel via virtual meetings.

13. Employees can work from home on a day when they have a personal commitment.

14. Employees are comfortable reporting sex discrimination/sexual harassment incident(s) to the company.
If you think that your employer has most of these factors down pat, then congratulations—you're working for an inclusive and progressive corporation. If you feel that your organization still needs a lot of work, here are a few things you can initiate on your own:
Create a women's support group within your department.
Starting out a simple social media or lunch group where you can openly discuss your concerns can be a big help to you and your teammates. Move beyond ranting and venting and create a safe space where you can suggest plans of action that can help uplift your team.
Support fathers.
Encouraging men to take advantage of their parental leaves can help break the stereotype of women being the only ones to stay at home to take care of the kids.
Request for employee training seminars.
When budget season comes around, suggest that your team invest more in training its members in best practices that will improve everyone's performance. Valuing people and upgrading their skill sets can go a very long way in making your organization more current and competitive.
Take advantage of leaves.
Leaves aren't just for out-of-town trips. They can also be great opportunities for you to stay home to rest and recharge, enabling you to function better when you get back to the office the following day.
Actively participate in exit interviews.
If you think that with all your efforts, your management has yet to realize that equality and inclusiveness will make the company thrive, then the best you can do is to speak honestly with the HR personnel that will interview you before you leave. Be open about your experiences, and give suggestions on what can be improved within the organization to give them an idea how they can evolve into a workplace that helps everyone grow.
Load More Stories