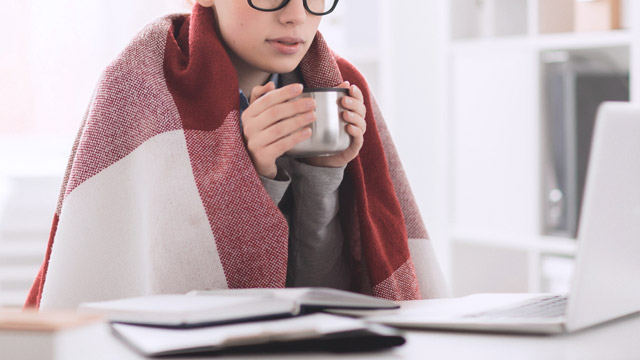 We're all grateful for office air conditioning, especially on days when it's sweltering hot outside; but have you ever noticed how harder it is to work when your floor's temperature is at "freezing" levels? For women at least, it seems room temp can be linked to productivity.
ADVERTISEMENT - CONTINUE READING BELOW
Researchers have found that women's productivity may improve in warmer temperatures. The recent study, published in the PLOS One journal and conducted by researchers from the University of Southern California (USC) challenges a previous study where the global standard for modern offices is to use climate control systems based on the metabolic rate of an average man. The ideal temperature for women is almost 5°F (-15°C) warmer than men—and this is probably why women often feel too cold in the office.
In the USC study, a total of 543 students participated in a laboratory experiment conducted in Berlin, Germany. For each session, room temperatures were set at various increments ranging from about 16.19°C(around 61°F) to 32.57°C (approximately 91°F).
In each session, participants were asked to complete three different tasks—math, verbal, and cognitive tasks—within a given amount of time. The study found that women performed better on math and verbal tasks at warmer temperatures while men's performance dropped. As temperatures increased, so did women's performance on tasks, but when temperatures fell, men performed better.
Test outcomes for both men and women on cognitive tasks were not affected by the temperature. According to the study, the relationship between temperature and men's performance "was less pronounced" and "not statistically significant."
Authors suggest that comfort is not the only factor offices should look at when setting temperatures. Gender is also an essential factor, especially when determining the impact of temperature on productivity and cognitive performance.
"It's been documented that women like warmer indoor temperatures than men, but the idea until now has been that it's a matter of personal preference," Tom Chang, the lead author of the study, said in a press statement. "What we found is it's not just whether you feel comfortable or not, but that your performance on things that matter—in math and verbal dimensions—and how hard you try —is affected by temperature."
In mixed-gender workplaces, temperatures should be set "significantly higher than current standards to increase productivity," according to the study's authors.
ADVERTISEMENT - CONTINUE READING BELOW
"People invest a lot in making sure their workers are comfortable and highly productive," said Chang, who is also an associate professor of finance and business economics at the University of Southern California Marshall School of Business.
He adds, "The study is saying even if you care only about money, or the performance of your workers, you may want to crank up the temperature in your office buildings."
This story originally appeared on Smartparenting.com.ph.
Load More Stories