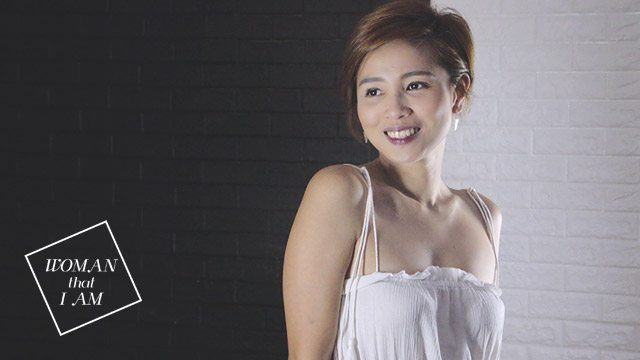 In just a few short months, Maureen Wroblewitz became a household name in the modeling industry as she became the first Filipina ever to win Asia's Next Top Model. If you've ever seen an episode of the show, you'd know that modeling isn't as glamorous as the final output appears, and watching her grow from week to week was an inspiration to many. But success of this magnitude is rarely achieved by one individual, and one of the people who deserve to be congratulated and celebrated alongside the 19-year-old is the person who scouted her on Instagram four years ago, Prima Stella Managing Director Chinie Go.
ADVERTISEMENT - CONTINUE READING BELOW
While most people imagine successful women to be intimidating power players in well-tailored suits, Chinie sits comfortably in a spaghetti-strap cropped top and short dyed hair (though we're certain she can rock a suit better than any boss you'll ever have.) At 36, she isn't like anyone you've ever met, and while that may throw you off at first, her confidence and candor will reel you in.
Like Maureen, her jouney to success wasn't always smooth, but it all the more makes it earned. Before becoming a scout, Chinie explored many careers; she was once a ground attendant, a singer and unsurprisingly, a model. "I really like to explore my capacity. And I really like experiencing everything I want to do personally. [But I guess] I saw that 'relevance' when I was already 30... until I worked with a modeling agency. I started as a booker."
She initially came in to audition as a model for Elite Manila when they first came to the Philippines. "The head of management, she was fond of me, and she emailed me and asked me if I wanted a job [as a booker].
CONTINUE READING BELOW
Recommended Videos
"I was like, oh my gosh, mukhang matanda na 'ko para dito sa modeling, kaya yata ako inaalok ng iba," she jokes.
"That's where I found my skills."
Chinie enjoyed being a booker not just because it was fun to see how things worked from behind the scenes, but also because she found that it was a career where she could really be herself. "Before, I used to look super girly, and that wasn't my personality. It wasn't uso na super short hair, [but eventually] I got blond hair, super boy cut. I would be in neon pink outfits, boots... they'd find me weird, but naaaliw yong mga tao sa 'kin," she shares with a laugh.
"I think it's because my personality came out. So that was the freedom that I actually got."
So what was it like to be a booker? "When you're a booker, you go to castings, bring your best talents, best effort; you wait in a queue for the longest time, siguro mga 50-100 people—and there's no guarantee. After that you wait if you get a call back… They'll cut through 50% of the talents, then final casting, rehearsals, workshops..."
ADVERTISEMENT - CONTINUE READING BELOW
But the castings were only part of the job. As in any industry, networking was a big part of her professional life. "That was when I started going out, partying til 4, 5am. But that was just work. Because I don't drink, and I don't smoke, but I dance hard. That's it! But again, it's part of my job. Scouting talaga.
"From booker, na-upgrade ako bigla to international manager because I was already contacting people from outside the Philippines—medyo makapal 'yong mukha ko talaga," she jokes. But she shares that it was also because the roster and the demand for talents then was really for foreigners.
"One day, I scouted a half-Filipino guy, that was when my passion started… Dun na 'ko nakapag-isip. Why am I scouting for people abroad, when I can actually scout Pinoys? So nagpaalam ako ng maayos; they were really nice. They were very supportive. And that's where I started."
ADVERTISEMENT - CONTINUE READING BELOW
As with any new endeavor, there were many challenges she had to face. The biggest of which was the fact that clients still weren't open to getting Filipinos and Eurasians. "Every day was a struggle, it's like I was trying to find people who actually believed in what I was doing."
But she was determined, and remained confident in her decision to dedicate her agency to local talent. She would often tell associates (and anyone who would listen, really), "You have to believe me, this market will have a turnaround... it needs to be releatable somehow, someday. 
"I had this gut feel that it's gonna happen sooner or later. This world is [always evolving]. Sabi ko, aantayin ko 'yon."
Aside from that, it was also hard for a new agency to get invited to castings for commercials. "It was so hard for us to get in, cause some would only get from big agencies—so I had to make sure magamit ko lahat ng PR skills ko para lang tanggapin kami ng mga casters. Basically it's a day-to-day struggle. It's life," she shrugs off.
ADVERTISEMENT - CONTINUE READING BELOW
On a personal note, her quirky appearance would also sometimes prevent people from seeing her talent as a scout and a manager. "It has been a struggle for me. They don't actually take you seriously and they talk to you like you're a kid, so I had to change everything to make them believe that. Minsan kailangan ko maging brusko.
"But I adjust my style depending on my client, even how I talk. You have to be smart, but you cannot get mad... I have to be neutral."
And eventually, all her patience and calculations paid off. Slowly, she gained the respect of clients and casters, and the industry started seeing the value of homegrown models. Less than five years in, Chinie, along with a partner, had already launched Prima One in Sydney, where they are also scouting and managing Eurasian talents. The 36-year old shares that they get a lot of messages from models all over the world—those who never felt like they were tall enough or good-looking enough to pursue this profession. "Kaya ko siya pinush, kasi nakita ko na marami rin pala akong nai-inspire na mga tao."
ADVERTISEMENT - CONTINUE READING BELOW
In terms of keeping up with her growing pool of talents, the ever-changing industry and her expanding company, she says she relies on her instinct in every decision she makes. "I'm very observant. When I move, I think. I'm very specific with things—it's not obvious but I am."
Apart from managing her clients and booking jobs, a big part of her day-to-day is dedicated to training and guiding her roster of models. Aside from making sure they do their jobs in the most professional way possible, she also makes sure they're safe, happy and protected. "I try to be chill, kahit hindi, para hindi sila pressured. You're supposed to express your talent, not suppress it. 
"They need to like what they're doing, and it produces the best results."
And it's this cool, calm, but approachable demeanor that sets Chinie apart from most business owners. This managing director of a now international agency may chalk up most of her success to instinct, but five minutes with her is enough to see that it's also her persistence and personality that pave the way for her company's continuous growth. Her dream to change what was once a stubborn industry didn't come true because she knew it was going to happen, but because she made it happen. Her biggest asset, despite being a self-confessed micromanager, is that she believes in her people—both models and employees—just as much as she believes in herself.
ADVERTISEMENT - CONTINUE READING BELOW
"I think I broke the rule. But I like breaking rules. It's sexy."
Load More Stories