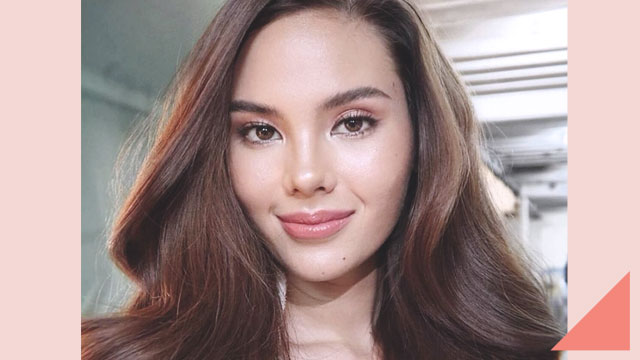 When talking about being smart about your money, you probably know the basics: save it, create an emergency fund, and invest it, among others.  Another thing that not everyone thinks about, however, is that when you have money, you should own it and be on top of it—and this is what Miss Universe 2018 Catriona Gray says during a recent interview with Female Network at the re-opening of Jollibee's Katipunan branch, which is touted as the most modern branch to date.
ADVERTISEMENT - CONTINUE READING BELOW
"You really have to educate yourself because if you constantly put your trust and the way that you deal with your money in the hands of other people, you'll never really know what's going on, and it won't be until something bad happens, or a financial emergency, that you will really take matters into your own hands," she says. Catriona also notes that she wishes proper financing was included in every school's curriculum, so that children will learn about it earlier.
"I feel like it's not really taught well in schools, also we need to empower ourselves with information," she continues. "There's the internet to teach us or if you have someone in your family that you see has great money practices and habits, ask them and learn from them because money can be a huge source of stability and also it allows you to pursue and do and live the life that you want, so it shouldn't be something that should be hushed about." The sad truth is that money isn't as talked about as much in families as it should be. "Growing up no one ever talked about it in my family, so I had to learn as an adult, and I wish I had learned it earlier."
According to the U.S. Consumer Financial Protection Bureau (CFPB), it's important to learn about money at a very young age. In fact, "children as young as five can learn about saving," and having hands-on experiences with money while they're young can result in a better view about finances in the future. If, like Catriona, you've only learned about the importance of financial education in adulthood, the first thing you'll have to do is to understand where your money goes. "The prequel to your financial story begins with a look into your past and current finance," says another article on the U.S. CFPB website. "What do you spend money on, and where are you getting your income? By tracking these factors, you can get a better sense of your financial picture today so you can plan for the future."
If you want to learn more about how to manage your money, read through some of our articles in our Work and Money section. If you're at a point where you need a bit of assistance—or just a good fall back on a rainy day—read about personal loans here, and try out our new Female Network Personal Loan Calculator here.
ADVERTISEMENT - CONTINUE READING BELOW
Load More Stories