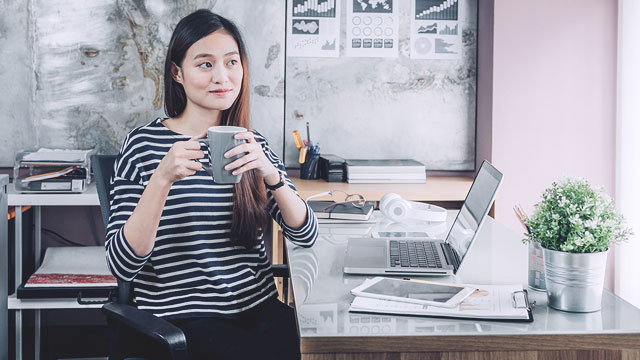 In all the years that you've been working, you've probably shifted careers once and companies twice or thrice. Mistakes were made, and sometimes you wish for a do-over, but in the end, all that you've been through has made you into the professional power woman that you are.
ADVERTISEMENT - CONTINUE READING BELOW
Now that you're in your 30s, you more or less already know the ropes, but just in case you need a bit of a reminder, here are a few workplace lessons that you should take to heart:
1. Don't be stuck in a place you're unhappy with just because familiarity feels safe.
You really have no time to stay in a place that you feel isn't for you. If you don't like your job and the people you work with and you know that you've tried your best to adjust to an office culture that you just can't dig, then quit. There's no point in being worried about offending people or being afraid of not finding a new job opening. You'll be fine as long as you plan your exit well. Leaving a place that doesn't allow you to grow may just be the best decision you've made for your career.
ADVERTISEMENT - CONTINUE READING BELOW
Recommended Videos
2. Being sipsip doesn't work in the long run.
Sure, being sipsip can get you noticed, but it's hard work that will really get you ahead. Oftentimes, those who only advance through ass-kissing bite more than they can chew—they take on responsibilities that are way beyond their skill level that they end up running when the going gets tough. Sure, maybe you won't get that promotion right away, but in the end, you'll realize that you're worth more than most, and if you're not valued where you are, there are always other companies who will be more than glad to have you on board.
3. Being observant is different from being chismosa.
Here's the thing about office gossip: knowing what's going through the grapevine and being privy to certain types of information can actually help you at one point or another. If someone shares chismis with you, just listen while taking it with a grain of salt, but do your best not to add to the conversation. Observe, but stay detached.
ADVERTISEMENT - CONTINUE READING BELOW
4. Socializing actually pays off.
Having lunch with your team and maybe a beer or two with your boss can help you foster good relationships in the workplace. It's all about pakikisama and acknowledging other people as more than what's written on their calling cards. The key is creating genuine connections, because sincerity in your dealings both in and out of the office won't only make success more achievable, but will also allow you to enjoy a positive work experience.
5. Prioritize yourself.
Being busy is never an excuse to forget about your health. Always have time for self-care: go out with family and friends, take regular gym sessions, eat healthy, book a flight to a new destination, and indulge in your hobbies. Never feel guilty about enjoying the fruits of your labor. The more you prioritize your overall wellness, the more efficient you are at work.
ADVERTISEMENT - CONTINUE READING BELOW
6. It's okay to fail.
Failure happens to everybody, whether it be due to taking a conscious risk or having a slightly irresponsible oversight. You may feel that you're done for at the moment of your mistake, but remember that you're not the first person who has ever made a corporate boo-boo: the point, really, is knowing how to fix your mess and learn from it. Sometimes, ideas that come from failures actually yield better results. As long as you take responsibility for your actions, things will somehow turn for the better.
7. Learning is a continuous process that will always give you an edge.
Always be open to new technologies and practices. Take part in activities that allow you to grow as an individual, whether or not they're within the scope of your work. From reading books to signing up for supplementary seminars, being thirsty for knowledge can open more doors for you and widen your world.
ADVERTISEMENT - CONTINUE READING BELOW
8. Success doesn't happen overnight.
Success doesn't come with a blare of trumpets and a spray of confetti. It comes with every step you've taken, every project you've finished, and every professional relationship you've made. Success happens when you build something not just for the sake of money (though yes, money is always good), but when you firmly believe that your goal can actually change lives. When you appreciate your job and respect your craft, all things will follow, and one day, you'll just wake up and be surprised at the realization that you've finally made it.
H/T: INC, LifeHacker
Load More Stories