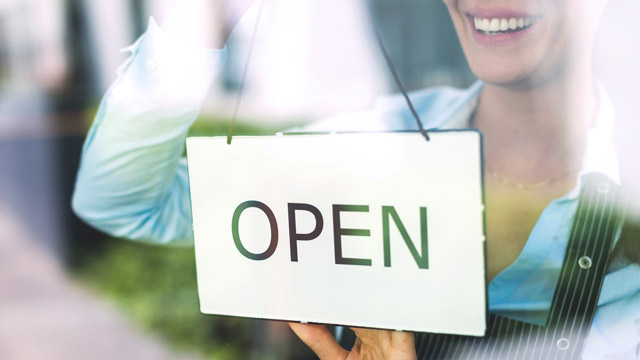 So you want to get your feet wet in the food industry. This may seem initially daunting, since aside from conceptualizing a good product and creating a solid brand, you'll still have to go through registering your business, thinking of the right packaging, and looking for places where you can sell them, among others.
ADVERTISEMENT - CONTINUE READING BELOW
What some budding entrepreneurs sometimes overlook is that the Department of Trade and Industry (DTI) can actually help you start out through their Negosyo Centers.
What are Negosyo Centers?
"We have regional offices, provincial, as well as…Negosyo Centers," explained DTI Secretary Ramon Lopez during the opening of the 2019 National Food Fair on March 14. The Food Fair, which runs until March 17, is located at Megatrade Halls 1 to 3 in SM Megamall, and is open to all.
"Anyone can just approach those offices if they want to be assisted," he continued. "They can join also—almost everyday there are seminars in the Negosyo Centers near them.
Started in 2014, Negosyo Centers under the Go Negosyo Program were launched after the passage of Republic Act No. 10644 or the "Go Negosyo Act" authored by Senator Bam Aquino. The goal was to help micro, small, and medium enterprises (MSMEs) gain access to government support. These Centers can be found in difference provinces.
Secretary Lopez shared that aside from providing seminars on everything from business management to food safety, the DTI can also provide assistance on product design and packaging. In fact, the National Food Fair features the Design Center of the Philippines, where budding entrepreneurs can inquire about on-trend product presentations and packaging designs.
Avoid "5-6" loans with Pondo sa Pagbabago at Pag-asenso
The secretary also highlighted Pondo sa Pagbabago at Pag-asenso (P3), a project to help MSMEs get out of crippling "5-6" debts by offering low interest rates on loans.
"Many of [our] seminar attendees, when they get to P3—Pondo sa Pagbabago [at Pag-asenso]—alam na nila…'Patayin ko na 'yong 5-6 na utang ko, dahil...sa interes lang napupunta 'yong tubo. Kuha ako ng Pondo sa Pagbabago at Pag-asenso, para mas maliit na 'yong interes na babayaran ko.'"
According to DTI's website, P3 offers micro, small, and medium business owners "affordable and cost-efficient micro loans with 2.5 percent monthly interest." Moreover, "an end borrower may avail P5,000 up to P200,000 depending on the size of the business and the enterprise's ability to pay. For enterprises with at least one (1) employee, beneficiary can borrow up to P200,000."
ADVERTISEMENT - CONTINUE READING BELOW
How to turn your produce to products with higher value
For small businesses that are a part of a larger cooperative, the DTI can also offer support by way of shared service facilities.
"Kunwari...sila ay may taniman sa isang lugar, let's say, kalamansi… 'yong 'pag inani na nila 'yon, rather than sell the kalamansi per se, puwedeng ipo-process 'yon. So the DTI can give processing equipment, 'yon 'yong shared service facility. So ipo-process nila, para 'yong kalamansi, hindi mo ibenta per kilo. Juice concentrate na, mas mataas ang value. O 'di kaya actual juice drink…or puree…or ipa-powder sila."
Micro, Small, and Medium Enterprises at the National Food Fair
The success stories of Negosyo Centers and P3 can be seen in the National Food Fair. Featured this year are over 233 MSMEs from 16 regions selling local delicacies, beverages, and fresh produce (most offer free tasting, too).
Here are some you can check out:
ADVERTISEMENT - CONTINUE READING BELOW
Mang Itso Chili Garlic Sauce from Zamboanga City, Zamboanga del Sur
Chocoloco Inc. from Davao City, Davao del Sur
ADVERTISEMENT - CONTINUE READING BELOW
Chiton "Kibet" Seafood Chicharon from Tiaong, Quezon
Mumshie Batuan Pickles by MFK Agri Products And Technology from Bacolod City, Negros Occidental
ADVERTISEMENT - CONTINUE READING BELOW
Vegitari Healthy Bites from Los Banos, Laguna
There are also live cooking demonstrations of different dishes from Luzon, Visayas, and Mindanao by famous chefs Cherry Tan, Don Edward Quito, Vince Garcia, Raymund Yabut, Boy Logro, Gabby Prats, and Anton Abad; and if you're tired from walking around (because the area is huge) you can chill at KAPEtirya, a coffee pavilion which features coffee from different regions of the country.
ADVERTISEMENT - CONTINUE READING BELOW
For more details on the National Food Fair and on how you can start your business with DTI, visit DTI's website or contact the DTI Offices at (+632) 751-0384. For business name assistance, call (+632) 751-3257. For investment assistance, call (+632) 895-3989.
Load More Stories