Having capital or puhunan is a must if you want to start your own business, but admittedly, it can be pretty hard to raise funds for that Big Idea you've always had. Unless you have angel investors, or people who are willing to bet on the success of your endeavor, you'll have to save up or get a bank loan—and bank loans, while quite helpful, aren't easy to get.
ADVERTISEMENT - CONTINUE READING BELOW
So if you truly believe in your venture, why not take a chance on getting a grant? Social Networking app Bumble has launched an Asia Pacific-wide pitch competition for women-led businesses under Bumble Bizz. 
"In awarding the grants we'll be looking for businesses that have a clear mission and aim to solve a real world problem. We'll be asking applicants to show why their business exists, how it is currently funded, and how the grant will support further growth," said Bumble APAC Marketing Director Michelle Battersby said in a release. "For us at Bumble, this is about providing opportunities for women entrepreneurs and opening up more pathways to success for them, while also encouraging them to make the first move with their business ventures."
There will be one winner from each of the following countries: the Philippines, Australia, Hong Kong, India, New Zealand, and Singapore. Winners will get a $5,000 USD grant (approximately P261,050), plus a trip to Syndey, Australia to attend the inaugural APAC Bumble Bizz Summit, where they'll get to meet and learn from entrepreneural women, including MISHBISH and Yardbird founder Lindsay Jang, fashion designer Maggie Marilyn, and Sunnies creative director Martine Ho, among others.
To apply, simply download the Bumble app, complete your profile, and go into into any of its three modes—DATE, BFF, BIZZ (for this, we prefer BIZZ). You'll need to do a couple of swipes before the prompt appears, so be patient!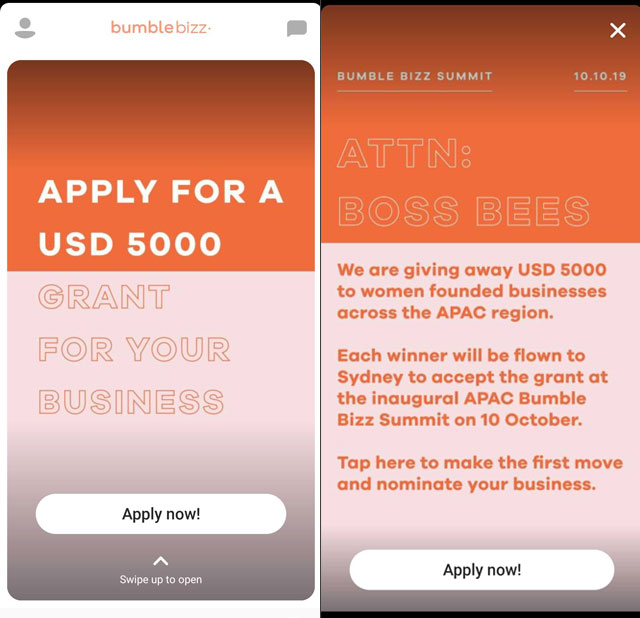 Once it's up, tap to go the form you'll need to fill up.
ADVERTISEMENT - CONTINUE READING BELOW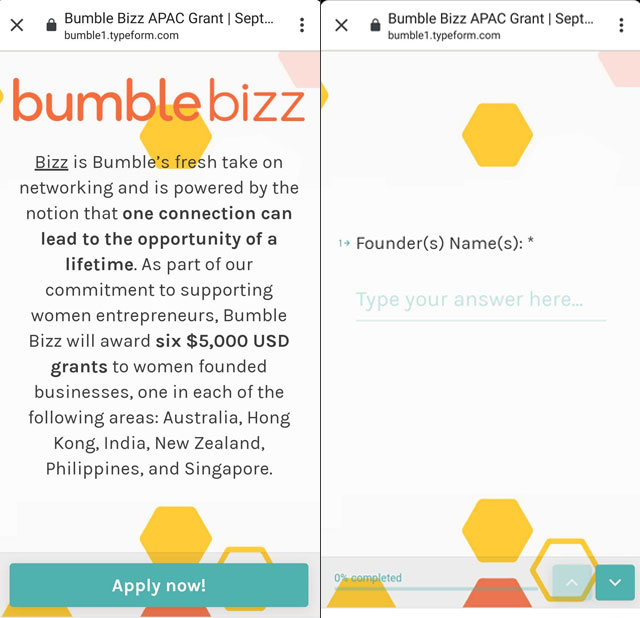 Deadline for applications is on Friday, September 27, at 12 noon.
For more details on Bumble and its other initiatives, visit www.bumble.com.
Load More Stories