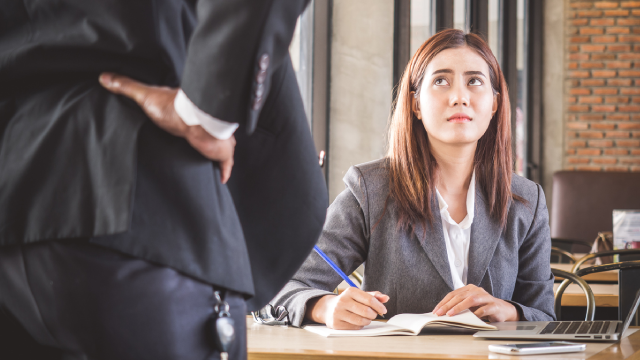 There are bosses that you don't get along with, but you know aren't inherently bad; and then there are bosses that are just downright crazy: it's either they're bullies, or they sabotage your career and attack you personally, or they make a habit of throwing you under the bus. We don't need to warn you that you have to be careful of the latter, but just in case you need convincing, science says that a nasty boss isn't just a hassle, but can also be really, physically bad for you.
CONTINUE READING BELOW
Recommended Videos
ADVERTISEMENT - CONTINUE READING BELOW
According to a feature on Forbes, several studies and surveys have already proven that a bad boss can be detrimental to your health. One that was done by the Americal Psychological Association revealed that 75 percent of those they surveyed "say their boss is the most stressful part of their day." A bad boss is also one of the top reasons why employees leave their jobs (thus the saying, "You resign from your boss, not your job").
Another survey that had 3,122 Sweden-based correspondents has revealed that "those who work for toxic bosses were 60 percent more likely to suffer from a stroke, heart attack, or other life-threatening cardiac condition," this aside from the development of mental issues including anxiety and depression. Moreover, a feature on Science Daily notes that "People who work for bosses who display psychopathic and narcissistic traits not only feel more depressed due to their bosses bullying behavior, they are also more likely to engage in undesirable behaviors at work," and these "undesireable behaviors" which may include anything, from taking way too many cigarette breaks to actually playing hooky on a daily basis, can ruin your reputation.
ADVERTISEMENT - CONTINUE READING BELOW
How should you deal with a bad boss?
You can initiate a heart-to-heart with your boss, but admittedly, that's easier said than done. If you feel uncomfortable not having someone around to witness your discussion (especially if you're wary that your boss will end up twisting your words), then you can have a higher up or HR arbitrate. There are instances when this works—maybe your boss has anger management problems and is actually getting help—but if he or she is just a downright bully, you don't need to deal with the BS at all. Leave and look for better management, and ask someone else to be your reference. The longer you stay with a boss who's out to sabotage your career, the worse it will be for your health and reputation. Submit your resignation papers. You're definitely better off with a boss who's an actual leader.
Comments
Load More Stories