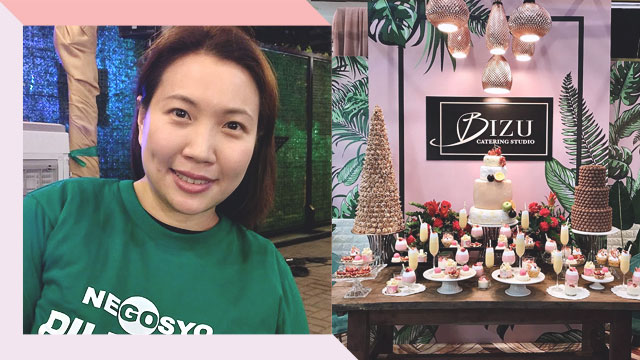 For more than a decade, Bizu Patisserie has been a household name when it comes to cakes and catering, but as with any other business, it started small. The name "Bizu," comes from the French word bisous meaning "kiss" or "beso," and based on this dainty display of affection was the concept of offering sweetness in the form of European pastries.
ADVERTISEMENT - CONTINUE READING BELOW
Audrey Tanco, who heads and manages Bizu Catering, readily admits that starting out was not an easy feat.
CONTINUE READING BELOW
Recommended Videos
"I would say it was a very difficult journey, but it was also a very rewarding journey… It's not all rosy," she says during an interview with Female Network at the recent female-led Go Negosyo online mentorship event at the Mercato in BGC. "Our first branch was in Glorietta 4. We also put up our own commissary to support the different branches. But we weren't able to grow as fast as we should, and so we had a lot of problems also in terms of overhead, so there were a lot of entrepreneurial issues."
She highlights that it was the branding of Bizu that got them going. "I really focused on our brand, how people perceived us, and so it really stood through for us."
The patisserie's now famous catering arm soon followed, and yet again, it was the brand that helped them carry through.
ADVERTISEMENT - CONTINUE READING BELOW
"It was not part of our business model," Audrey explains. "One day, I was walking in a wedding fair with my sister-in-law. She was planning her own wedding. And I just said, 'Hey, you know, we could be here!' I did my first wedding fair… and then I got my first client there, and the rest was history."
ADVERTISEMENT - CONTINUE READING BELOW
Audrey is quite hands-on, and has always been open to wearing many hats and learning along the way. "It was a very long process," she says. "I remember sleepless nights. I remember doing the captain waiter job. It was a lot of pain, but we pulled through."
Female Network: Was the transition from being a patisserie into a caterer difficult?
Audrey Tanco: It was a very easy transition from branching from a patisserie into a wedding caterer, mainly because it was a brand. The brand 'Bizu'—many women just fell in love with it. Because it was very soft, it was very sweet, it was very romantic. And to this day, actually, Bizu is all about romance. Bizu is all about the love affair women have with everyone around them. It's their love: I call it the language of love of women. It was an easy transition because it moved from cakes to weddings, so people were able to grasp that concept easily.
ADVERTISEMENT - CONTINUE READING BELOW
FN: What's your most memorable catering event?
AT: The most memorable catering event I guess would be a catering event I did in volume. Until today, I would say the night I did 6,000 people in one set-up at the SMX. It was when I worked with 500 people at the back of the house, to make something like that beautiful and smooth.
ADVERTISEMENT - CONTINUE READING BELOW
FN: What would be your biggest tip to those who want to start or grow their dessert business?
"I would start with a strong positioning. You can start with a differentiated product all together, something no one has ever tried. That's really innovating your product from day one, and really being known for that. My second advice would be to really have a strong brand. A brand that really would mean something to people, and something that you can extend many, many ways."
FN: Was there a mistake that you initially regretted that eventually turned out to be a huge opportunity for growth?
AT: I don't regret my mistakes. All my mistakes all contributed to my growth. You know, my mindset was just to get anything at that time. There was no catering too hard or too big for my capacity, so I just grew the capacity based on the demand. Even if I couldn't yet at that time, even if we could only cater for 30 people or 50 people, and someone would say, 'Hey, can you do 300?' I wouldn't say 'No, I can't.' I'd say, 'Yeah, I could!' And then I did everything I could to make sure it was successful. When someone would say, 'Hey can you do 800?' Even if my capacity was only 300, I'd say, 'Yeah, I could!'
ADVERTISEMENT - CONTINUE READING BELOW
The way I challenged myself every year as I grew was just really what pulled me through. The mindset of nothing was too big. Everything was conquerable, and I felt that I was on fire when I was doing that.
Load More Stories