You are now gainfully employed. You are embracing your independence, spending your hard earned money for things that you need and want. It can be such a joy to be financially independent but it can be a tough learning experience. Adulting can be hard at any age.
You may occasionally (hopefully, not often) find yourself in a financial bind. You may opt to phone a friend and perhaps they can lend you some money to tide you over until your next paycheck. You may secure a loan from your company, a bank, SSS or Pag-IBIG. You may also draw a cash advance from your credit card.
ADVERTISEMENT - CONTINUE READING BELOW
Another option you have is to ask help from mom and dad since generally, they rarely say no. (Of course it varies from every family and relationship.) So if you want to use this lifeline sparingly and in the direst of circumstances, here are some instances when using the mom/dad helpline is fitting and most valuable.
You have a good business idea or a promising business opportunity.
You've studied it thoroughly – risks and all. Investing in it would give realistic returns within a reasonable time. There's a hitch though. You need a leg up in raising capital to start that business that you may want to ask your parents. Unlike investors, parents might not meddle with all your business decisions. And unlike getting a loan, parents will not charge you interest and expect you to repay the principal regularly.
You found a property worth buying.
You want to embrace your independence and move out but the amount you've saved is not enough to make that down payment. You might want to ask your parents help especially if time is of the essence in securing that property. Make sure though that when you ask for help, you can prove that you have the ability to pay the monthly amortization and not starve.
You have exhausted all options.
You've cut down your expenses, did a lot of overtime work, tried earning extra income with a side hustle, and approached your creditors to ask for some leeway. If you've done all of these and more and you still can't get out of the pinch, ask your parents' help. Aside from money, perhaps your parents can help you by letting you move back in, dropping you off or picking you up from work, or even provide you free meals. You may also ask for their advice on how to improve your finances.
Parents are more than willing to help as long as you ask humbly and be transparent about your state of affairs. Even if your parents don't ask, show them as much information about your circumstances as much as possible. If it's an investment, whether business or property, show them all the risks and rewards, what you've already saved for it, and the remaining deficiency. If it's a debt, show them what you've done so far to make ends meet. Expect to get a scolding but know that they will help.
ADVERTISEMENT - CONTINUE READING BELOW
Also, it's best that you only ask financial assistance for needs and not wants. You should forego your luxuries until you are in a better financial position.
Whether they ask or not, you have to repay your parents especially if the amount is significant. Treat the financial help as a loan that needs to be repaid. Set aside a reasonable amount from your salary and remit it regularly – every payday or monthly. If you receive performance bonuses and 13th month pay, allocate a bigger amount to pay off the "loan." Regular remittance gives your parents an assurance that you're already in control of your finances.
Need a bit of assistance—or just a good fall back on a rainy day? Try out our new Female Network Personal Loan Calculator here.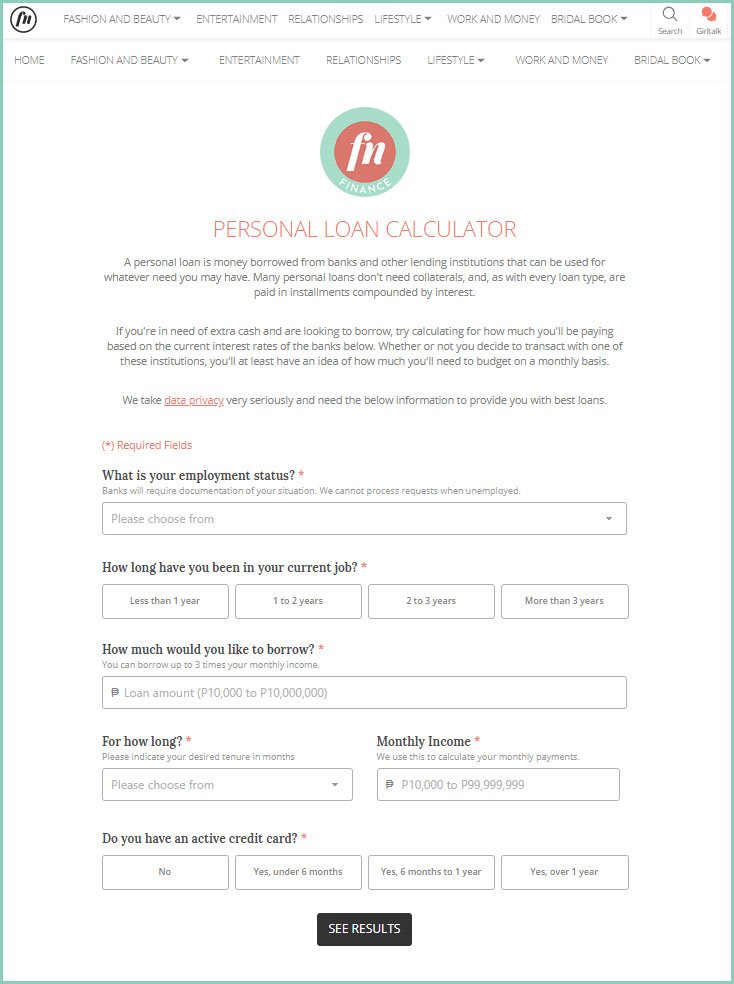 ADVERTISEMENT - CONTINUE READING BELOW
* Pamela Lloren is a Certified Public Accountant and is currently teaching accounting and finance subjects at the University of the Philippines.
Load More Stories