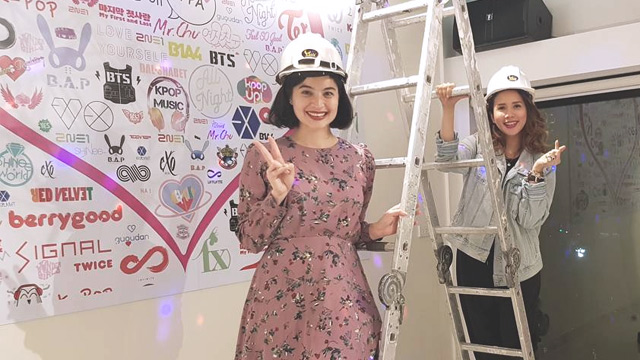 Anne Curtis and Karylle have been working together, side by side, every day for eight years. This closeness even led them to play a special role in each other's wedding: Anne was a candle sponsor for Karylle in 2014, then three and half years later, Karylle flew to New Zealand to be Anne's bridesmaid. But this next chapter in their friendship off-cam is a little different. For once, they're not just co-hosts, but business partners. And that's opened up to a whole new dynamic and even more opportunties to learn from each other. 
ADVERTISEMENT - CONTINUE READING BELOW
In an exclusive interview with FemaleNetwork.com, Anne and Karylle sat down to talk about their latest venture, Rockstar KTV by Centerstage, which is a karaoke bar and restaurant located in SM Aura Sky Park. 
"I've always been passionate about singing," Anne shares. "So, I was always asking K, 'Please make me sali. I wanna be part [of the Centerstage team]. It's like a dream of mine to have my own KTV place.' I just love singing and I love seeing people enjoying singing as well."
And from there, the two partnered up (along with other investors) and got to work—which is already such a feat considering their busy schedules. Aside from their daily appearances on It's Showtime, both women have several endorsements, husbands, pets, fitness goals and their other businesses to attend to (Anne launched her own makeup line, blk cosmetics, in 2017, while Karylle is a Booky and iFlix investor, among others). So how does it work?
"I have a bunch of busy people in my life," Karylle reveals. "Yael's busy, my mom's busy, my sisters are busy. So, I get busy and I know how to wiggle my way around it. I'm very thankful that Anne has such a supportive staff and sometimes I make them kulit, like, she was shocked that I knew her schedule."
Anne laughs. "(Like) for this presscon, I asked, 'Why is it not earlier?' She said 'Because you have dubbing' I'm like, 'Oh, I do?!," she says, shaking her head.
At the end of the day, it's all about proper planning, and knowing when to reach out."It's one of my strengths, I feel," Karylle muses. "Na makapal 'yung face ko to ask for help," she says with a laugh. "I know how overwhelming work gets... it's important to just figure out the puzzle pieces. Everyone has their own light and busy days, and you can tell when somebody's overwhelmed...  I think like that's one of the strengths that you can have as a woman."
ADVERTISEMENT - CONTINUE READING BELOW
But becoming an entrepreneur goes beyond managing schedules, it's also about finding the right business for you. "For me, [it has to be] something I'm passionate about," answers Anne. "Like [with blk cosmetics], I'm passionate about makeup!
"[You should also] work with the right team. It's hard din kasi people say na you shouldn't be working with friends. [But] honestly for me, so far, I've only been working with friends and it's awesome."
"It's so important to see women working and achieving and being supportive of other women," says Karylle. "I always used to have a negative notion na parang women can be catty, that was the first thing that I had to break because women can be so supportive. I think sometimes we just get shy to ask, [but] it's really rewarding when you figure it out."
Passion, of course, needs to be met with the necessary legwork. "I get excited and I ask a lot of questions," says Karylle. "I'm always on the lookout for the [next] new thing... so, every time I meet people, especially from abroad, I like to learn from them, ask them and listen." She also stressed the importance of expanding your research, and finding the right people to work with—and it sure looks like she's found the right partner in Anne. 
ADVERTISEMENT - CONTINUE READING BELOW
Over the years, the two friends reveal that they've also learned a lot from each other. One of Anne's secrets to success is to "write everything down so you don't forget [what you need to do]," which she reveals is "one of the things I picked up from Karylle. Even on her phone, she's [always] writing on her phone."
For Karylle, it was Anne's time management skills that left a lasting impression. "I always knew that Anne understands how to balance and keep things light... I was so impressed that [she was] taking vacations. I didn't know how to take vacations back then."
Now both in their 30s, these two women prove that there are many ways to find fulfillment in your career—and that your day job doesn't always have to be your endgame. For as long as you know how to create opportunities for yourself, and you're unselfishly willing to share them with others, then you'll always find different ways to grow and expand your horizons. So for other thirty-something women out there looking to branch out and explore possibilities, Anne and K share some sound advice:
ADVERTISEMENT - CONTINUE READING BELOW
Don't get complacent.
"[For example, Rockstar KTV], everything here is a cut above. So, we're trying to just constantly improve," says Karylle. "Even if you get older, it doesn't mean you get comfortable. You get bigger and better."
Set concrete goals.
"Have a quota for yourself," says Anne. "Put away your savings, reach that quota first and then have a little extra to spend on yourself... Whatever you get aside from a day job, find a way you can invest that."
Stay passionate.
It's hard to push yourself to do something you don't care about, so always find a way to inject your personality into what you want to accomplish. Anne's UNICEF fundraiser motivated her to complete her marathon despite admitting there were times she wanted to quit, and Karylle knew she had to overcome being shy and really put herself out there in order to launch successful partnerships. Both women often raise funds for charity inspired by what they enjoy doing, which proves that being yourself in the best way possible can lead to fruitful projects.
ADVERTISEMENT - CONTINUE READING BELOW
Prioritize work-life balance.
Always, always have time for yourself, your friends, and family. Take vacations, travel, go on self-exploratory breaks, and have time to unwind and pamper yourself, too. If you haven't caught up with loved ones in a while, well, there's always Rockstar KTV. If you get hungry, try the Anne and Karylle-approved adobo diablo, truffle pasta, their extra-crunch sisig, nachos and more. Rock on!
For reservations, contact 0906-2891239 or follow them on Instagram and Facebook.
Load More Stories