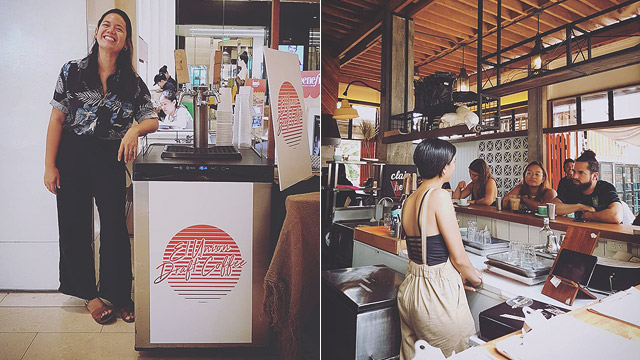 Living by the beach is a dream for most working Pinays—whether stuck in the city, or in a job they don't like. Sadly, it's hard to make this dream a reality despite the fact the Philippines is basically a country of beaches. After all, it takes more than just moving out of the city to make things work. This was experienced first-hand nearly six years ago by then 25-year-old Amy Cosio, who moved to San Juan, La Union with her husband Kiddo, their daughter Cadence, and newborn Dylan. Today, they are joined by their youngest, Adam, and are known as the well-loved LU-based family behind #CampCosio and El Union Coffee—a café with a reputation that is synonymous to the surf town's magic. Back then, however, they were, as Amy puts it, "like little kids playing house, but the consequences were real."
ADVERTISEMENT - CONTINUE READING BELOW
They were set on how they wanted to live: spending as much time with their young children, which was something they couldn't do in Manila. While working as a human kinetics instructor, Amy had also been pursuing an MA degree, while Kiddo worked in digital marketing. Everyday, they would suffer three hours in traffic to and from home. With careers just barely starting, Amy admits there was nothing that really tied them down. "Let's do what we want," she and Kiddo agreed, and they decided to move to La Union.
At that time, San Juan's tourist destination Urbiztondo was hardly the strip of resorts and restaurants it is now. The millennial hotspot and Instagram favorite Flotsam & Jetsam Artist Hostel was just being constructed (a site Amy claims her kids Cady and Dyl pretty much grew up in) and there was no home school cooperative to cater to her kids' needs. Besides that, moving troubles and marriage spats between her and Kiddo abounded. "Starting a business in a new town, with two babies, and barely any money… We were really asking for it," she shares.
"A big challenge for me was to do the whole stay-at-home mom thing, in a new place. I didn't know how to cook, I didn't know my way around the palengke, and I didn't have my support system in LU," Amy recalls. "We struggled to make rent, we struggled to put up El Union. It was difficult, but we had so much time with our kids, and so much fun with friends. 2013 was the best of times and the worst of times for me."
ADVERTISEMENT - CONTINUE READING BELOW
El Union was then a humble stall by the bus stop and Kiddo was the only barista. Today, El Union is the starting point for a weekend in the surf town, greeting locals and travellers alike with a cup of dirty horchata and some grilled cheese sandwiches at The Great Northwest Viewing Deck. In business, Kiddo has always been at the front of the house—the perfect place for his extroverted nature. For Amy, though, nothing felt quite as natural and she found herself in a number of roles at the company, especially when no one was doing their accounting. "I knew nothing about business. I studied sports," she says, "But [I guess] it fit my personality to wait in line and collect receipts."
Amy being the admin and operations manager behind this cool place to be may sound like the boring part of the deal, but the introvert has other things in mind. "To be honest, I don't really think of success," she says, "My goals are mostly about how I do things. I'd like to raise my kids to become kind people, and I want to be a person they'd want to be friends with."
ADVERTISEMENT - CONTINUE READING BELOW
Speaking of friendship, it wasn't always smooth-sailing for the the husband-and-wife tandem. "There's no shortcut to calibrating with your partner. The growth is painful," she shares, "Kiddo and I are opposites in everything except our philosophy. There have been many days when that's all that has held us together." That philosophy is something that reflects on #CampCosio. From their daily ritual to close shop at 4 p.m. and watch the sunset on the beach as a family, to their daring unschooling method of teaching their kids. Amy and Kiddo have taken to living deliberately, having no more than a "one-year plan" kind of approach to life.
"My mom died the summer before my senior year in high school," Amy shares, "I remember reading her journals, and [finding out that] her motivation to fight cancer was to become a grandmother someday. It hit me hard that nothing was certain." In her grief and teenage years, Amy found herself drawn to Henry David Thoreau's words, "I wanted to live deep and suck out all the marrow of life," a passage Amy holds close to her heart, especially as she remembers taking her mom to get her bone marrow biopsy. She forges through her days with this mantra—one that is unconventional to many, but perfectly suited to their lifestyle as a family.
ADVERTISEMENT - CONTINUE READING BELOW
Their road to LU was paved with traffic, business woes, and both literal and figurative growing pains. But sacrifice, self-awareness, and a little bit of faith have brought them to their success today. "In La Union, the ones making it big are the businesses that understand what makes LU great," Amy says, "For El Union, I just want to have a company that can provide for a good quality of life for our crew. I feel like a big part of our success is that people come into the shop and are able to reimagine what their life could be—away from the city, out of the rat race, lots of play, lots of outdoors." One look at Amy and the family and business she has built is more than enough to imagine that such a life is possible—and that it is really pretty good—in LU.
Load More Stories