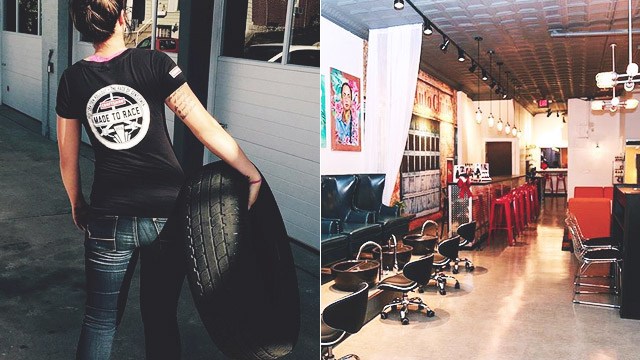 We already have car washes and repair shops that serve coffee and pastries, but what about one that dishes out a good mani?
A group of women did just that. Engineer and mechanic Patrice Banks founded the Girls Auto Clinic Repair Center near Philadelphia in 2013 as a haven for women who are tired of feeling out of their element in testosterone-ridden shops, or worse, being talked down by male mechanics. The goal is to offer support and education to female car owners, while empowering her all-female team of mechanics, called "sheCANics."
ADVERTISEMENT - CONTINUE READING BELOW
CONTINUE READING BELOW
Recommended Videos
Recently, Patrice opened the Clutch Beauty Bar within the auto shop, which has a nail bar, a café, and a lounge! The idea of looking fab after getting your car fixed sounds pretty good.
It's all about creating a space for women and encouraging them to pop that hood and not be intimidated by what's beneath it—all while getting awesome nails and the perfect blow-out. Watch reporter's Noor Tagouri feature about Patrice and her establishment on Newsy, and who knows? Maybe you'll be inspired to create something of your own.
Load More Stories