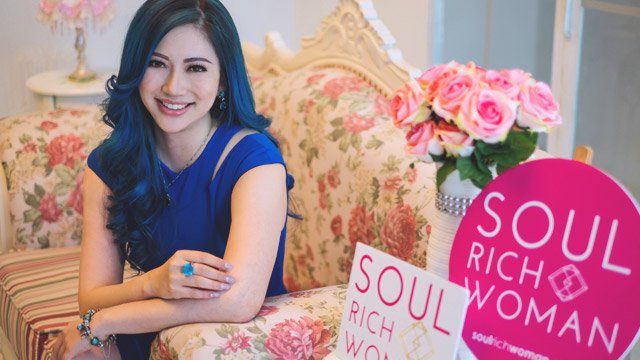 Beauty queens come and go, and after the crown has been passed on to a successor, there are some who lose steam and slowly settle down.
Not Miss Singapore 2006 Genecia Alluora: she went ahead to forge a different path for herself as a businesswoman who has tried, failed, and finally risen to become an inspiration to many women who dream of making it big on their own.
ADVERTISEMENT - CONTINUE READING BELOW
Now the founder of Soul Rich Woman, a network of like-minded female entrepreneurs with the aim of pulling each other up through education and relationship-building, Genecia shares with FemaleNetwork.com how joining a beauty pageant has changed her life, as well as her plans of uplifting and empowering women across Southeast Asia.
Female Network: What pushed you to join Miss Singapore back in 2006, and what was your takeaway from that experience?
Genecia Alluora: I've always pursued opportunities as they present themselves throughout my career and back then I was modeling commercially for a number of brands, I saw an advertisement for the Miss Singapore competition and gave it some thought. What did I have to lose?
It was a totally life-changing experience in the end. I met so many great people on that journey and it gave me a huge boost in confidence which set me on my way to entrepreneurship.
ADVERTISEMENT - CONTINUE READING BELOW
The one takeaway for me over that entire period was the lack of support for ambitious women, not necessarily during the competition but in general. I spoke to so many women during that period who wanted to start their own businesses, become senior level executives in their field and some who wanted to go down the academic route but few of them had mentors to guide them or point them in the right direction. 
FN: What did you do right after the pageant?
GA: The Miss Singapore experience showed me the need for a female only support network, this led [to come] up with the idea of Soul Rich Woman.
FN: What is Soul Rich Woman, and what made you decide to create it?
GA: Soul Rich Woman is Southeast Asia's largest network of female entrepreneurs. We now have over 10,000 members who help each other to succeed in business, life, and health through knowledge sharing, networking and inspiring confidence in each other.
ADVERTISEMENT - CONTINUE READING BELOW
The motivation behind the idea was personal. Over the various stages of my career, I never really had a mentor or someone I could ask for help. I had to learn everything from scratch which meant I had to spend a lot of time making mistakes to get ahead. I always asked myself the question, why isn't there a place where I can meet people doing similar things so we can teach each other.
I also had confidence issues that I think most women would have so it had to be a safe space where women could go and get advice for all manner of things business and life-related. That's what Soul Rich Woman has become now: a space for ambitious women to help each other succeed.
ADVERTISEMENT - CONTINUE READING BELOW
FN: You shared that you've tried your hand in several businesses until a partnership failed and you ended up with a huge debt. What were your first thoughts when you realized that you were in a very tough situation? Was there a point when you just wanted to give up?
GA: I've always believed that failure is necessary to succeed. You always learn far more from failure than success as I've learned!
My own experience, especially during that time taught me a lot about myself, my level of resilience, the importance of friends and family. It really put things into perspective. My first thought over that period [was] really about just trying to correct the situation and not to panic!
I got some great advice over that period from other female entrepreneurs that helped me back on the right path and that's really important when you're up against it. To know you have people in your corner when things are tough. It's part of the culture that makes up Soul Rich Woman now.  
My thoughts during that period were really centered on getting out of the situation. The worst thing you can do is panic because it paralyzes you and makes the whole thing worse. I think that's the most important part, most people end up in some trouble in their life financially, the only thing you can do is do something about it!  
ADVERTISEMENT - CONTINUE READING BELOW
FN: How did you rise above your debt and turn things around?
GA: I set up another business, a coffee chain called Coffee:Nowhere. I was so lucky to have supporters who still believed in me which is so amazing at a time like that. They invested in my new venture and it turned out to be a massive success. Coffee:Nowhere is now a leading retail coffee chain across three countries.
You can't give up, you never know what's around the corner and if you keep working at finding a solution something positive will happen to you.  
FN: Who are the people that have inspired you to move forward and why?
My mother she always tells me: I am strong because I know my weaknesses. I am beautiful because I'm aware of my flaws. I am wise because I learn from my mistakes. And I can laugh because I have felt sadness.
My mentor James Wee, he tells me: success should be all about going beyond your own interests and having a much broader impact [on] other people's lives. Success isn't just about money, but being responsible and doing public good in your own community.
ADVERTISEMENT - CONTINUE READING BELOW
My personal belief is that each one of has valuable skills and talents to share [with] the world. Even if we don't recognize that value in ourselves, other people can help us get to know that aspect of ourselves. If you have a supportive network that can do that for you, it'd be much easier to leverage your efforts by a hundredfold. You get things done faster through others' help. When you make use of others' knowledge and experiences, you'll realize that success comes from acknowledging that you can't do everything alone.
ADVERTISEMENT - CONTINUE READING BELOW
FN: If you were given enough resources, what's one thing you'd like to improve on in the lives of women across Asia?
GA: I really believe that knowledge is power and it helps empower women to do whatever they want so if there was one thing I could improve on in the lives of women it would be education and knowledge transfer. If we teach and help each other, we are unstoppable.
FN: What would be your message to women who want to start their own business but are afraid to fail?
GA: You need to do it. Fail and fail and fail again. It sounds strange but the more you fail the more confident you'll become because you won't be afraid anymore so go for it!  
Striking out on your own is always scary, and we always imagine the worst possible scenarios. In reality, these situations rarely come to pass. I want women to know that they shouldn't be crippled by their perceived limitations. Instead, they should channel that worry into something more positive by envisioning success. Don't dwell, because the longer you dwell, the harder it'll be for you to take action.
ADVERTISEMENT - CONTINUE READING BELOW
Get educated, make mistakes, learn, repeat. You don't want to be that person who regrets not doing enough for herself when you get older.
Recommended Videos
Comments
Load More Stories