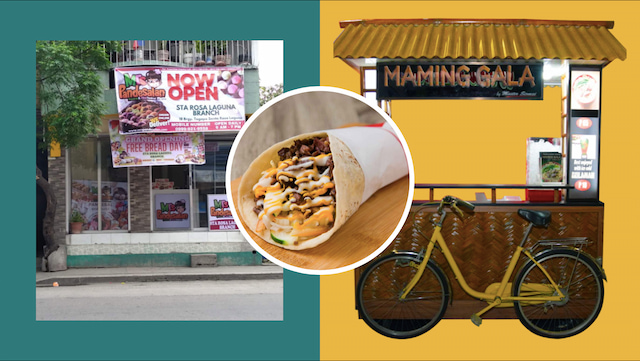 So you've managed to save quite a bit for yourself and you're planning to make your money grow. Ever considered going into the franchise business?
Investing in a franchise can fulfill your boss dreams. Imagine running your own biz and enjoying the freedom to chase after other pursuits, as most of the time-consuming research and planning that go into building a business have already been done for you. Managing a franchise offers a lot of flexibility for career-driven gals who want not only to keep their day jobs but also to have a steady investment as well.
Franchises are also great starting points for budding entrepreneurs who want to carefully dip their toes in running their own businesses, as most of the groundwork has already been done. Running a franchise means you already have a marketable product and an established brand that customers are already familiar with, so the owner's main responsibility is just to make sure that it is properly managed.
READ ALSO: As Low as P15K: Here are 5 Franchise Packages Below P100K
The convenience of having a franchise makes it a feasible option for those who cannot devote their entire time to planning a business or are just simply juggling many hats but want another steady source of income.

Another beauty of going into the franchise business is that it offers lots of flexibility when it comes to capital. Most franchises offer different packages at various price points, and a couple of hundred thousand pesos could get you a long way. In fact, P200,000 is already quite a decent sum.
ADVERTISEMENT - CONTINUE READING BELOW
We've gathered a couple of franchises that you can invest in for 200K and below:
1. Mrs. Pandesalan: starts at P129,000
Pan de sal will always be a Pinoy breakfast and merienda staple, so going for a bakery franchise is well worth considering.
Mrs. Pandesalan has made a name for itself by introducing a variety of flavored pan de sal. The store began when the owner offered home-baked pan de sal for sale within her village. Soon, her cheese, chocolate, green tea, and wheat pan de sal earned quite a cult following that the owner had to move out of her kitchen to open her own physical store in order to accommodate the growing demand.
The business grew from one branch, which opened in 2019, to over 60 outlets all over the country. Mrs. Pandesalan offers other products, such as garlic cream bread, ensaymada, and hamburger buns, to name a few, along with its classic and flavored pan de sal.

The brand offers franchise packages, two of which are below P200,000:
The Starter Package is priced at P129,000 and covers the setup and equipment needed to operate the franchise, marketing for the brand, initial pandesalan inventory, as well as staff training.
The 1 + 2 Package, on the other hand, offers not just bread but also pizza and burger products. It offers the same coverage as the Starter Package, but as its product line has expanded to accommodate pizzas and burgers, a counter and a griller are included in this one as well. The 1 + 2 Package is priced at P185,000.
Both franchise packages are advertised as ready to operate, with no need to have a baker on duty. Visit the Mrs. Pandesalan website for more information on the company and how to apply for a franchise.
READ ALSO: These 7 Local Celebrities Will Inspire You to Start Your Own Business
2. Maming Gala: P120,000
Master Siomai has made a name for itself as one of the country's go-to siomai stalls, and it has expanded its portfolio by offering other food cart concepts.
ADVERTISEMENT - CONTINUE READING BELOW
One is Maming Gala, a food stall that offers mami, our local version of noodle soup that is paired with beef. This ever-comforting dish makes for a quick but filling meal as well as the perfect pick-me-up during the rainy season.
The package for this franchise is priced at only P120,000, and it already includes the food cart, a two-door fridge, an electronic cooker for the noodles, a plastic juicer, kitchenware and plastic ware, initial inventory, cleaning supplies, and marketing materials. For more information, head to the Master Siomai official website.
3. Expresspay: starts at P154,000
Not all franchises are limited to food services. Payment centers are a boon to everyone, as they offer convenient ways to pay bills without having to line up at the bank or at the mall.
Expresspay is a one-stop shop that allows customers to pay bills, send or receive cash through its money-remittance services, buy mobile load, and even book flight tickets, among other things.
ADVERTISEMENT - CONTINUE READING BELOW
It offers various franchise packages, with the most basic one (Package A), starting at P154,000. Package A includes the Expresspay system for both the clerk and owner, as well as staff training and marketing materials for the storefront.
For more information on franchising and other inquiries, visit the official Expresspay website.
READ ALSO: How to Find the Right Location for Your First Business
4. Habibi Shawarma: P149,000
Shawarma has long become a staple here in the country, and it doesn't come as a surprise. After all, you can never go wrong with meat, pita bread, and a couple of veggies.
Habibi Shawarma banks on Pinoys' shared love for this Middle Eastern dish, and it instantly become a hit when it first opened its doors in Bacolod. It has evolved into one of the province's go-to snack outlets, going beyond its famous shawarma rice and wraps by offering other products such as nachos.
ADVERTISEMENT - CONTINUE READING BELOW
The franchise fee for a kiosk starts at P149,000, and the package includes trademark use, staff training, operations assistance, as well as research and development.
Got more questions regarding franchising? Send an email to ldepalubos@yahoo.com or materesa1226@yahoo.com. You may also reach Habibi Shawarma via mobile at 0939-934-3958. You can also request a franchise kit by filling up an online form.
5. Kilay Alert: starts at P149,000
Who knew that you could get your brows on fleek and earn money at the same time?
Kilay Alert is a franchise that is totally serious about getting those perfect arches through microblading. What began as a passion project in 2016 for an eyebrow specialty studio has evolved into a company that also offers semi-permanent makeup services. In addition to microblading, ombre brows, and combrows, Kilay Alert also provides lip tattoo and eyelash lift services.
The initial microblading franchise package starts at P149,000. But if you want to go beyond brows, they offer a package for their complete services for P200,000. Both packages include training and operations assistance as well as trademark use of the brand.
ADVERTISEMENT - CONTINUE READING BELOW
For more inquiries, you may contact Kilay Alert directly through email at kilayalert@gmail.com or through mobile at 0947-996-3239. You may also request a franchise kit by filling up an online form.
Load More Stories