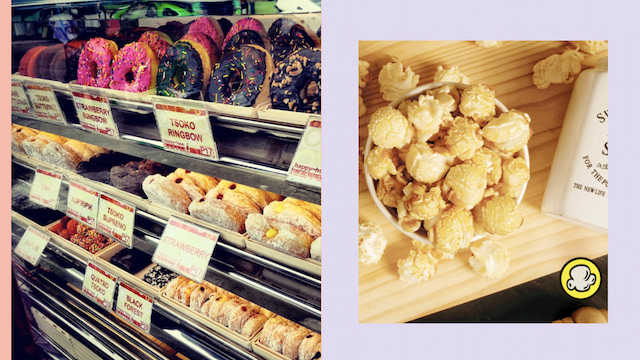 Getting into the franchise business can have a lot of advantages.
First, your customers already have an idea of what your product is, making it easier to sell. Brand recall, after all, is very important, so investing in an established franchise will definitely give you an edge.
ADVERTISEMENT - CONTINUE READING BELOW
Second, you won't have to worry about preparing business plans or even planning the logistics of running one, as franchises already have those in place. You won't lose time worrying about feasibility and other concerns, as the research has already been done for you.
Third, you have a direct source for supplies, so you won't be inconvenienced whenever you run out of products or tools that you need for your business. In fact, most franchises offer packages that include sample inventory so you can hit the ground running ASAP.

The best thing about having a franchise is that you can start small. In fact, you don't need millions of pesos in order to venture into one. There are so many options out there to choose from, but you can easily narrow down your choices depending on your budget.
READ ALSO: Small Business Owners Share the Best, Worst Decisions They've Made with Their Capital
Looking into earning cash on the side without having to go through micromanaging every single detail of your business venture? Thinking of a starter investment that does not need sky-high capital? You might want to give franchise businesses a try.
Here are a couple of easy-on-the-wallet franchises that you can look into with packages that are below 100K:
1. Kettle Korn: P15,000
Who can say no to popcorn? This snack has become synonymous with the movies, but that doesn't mean it can't be enjoyed within the comforts of your own home, too. Munching on these while binge-watching the latest episode of your favorite series on Netflix? Sounds perfect.
You'd be happy to know that you can make money off this well-loved snack as well through franchising. Local popcorn brand Kettle Korn offers a Negosyo Package for just 15,000 pesos, which includes the use of the brand's cart, marketing collaterals, and initial inventory worth P2,250.
ADVERTISEMENT - CONTINUE READING BELOW
Planning to make further inquiries? You may head to their office at Food Cart Concepts Inc., 6th Floor, RFM Corporate Center, Pioneer corner Sheridan Sts., Mandaluyong City. Look for Francis delos Santos, Vhang, or Ayeth for more details on franchising. You may also give them a call at 633-5542 or at 631-8101, local 7927.
READ ALSO: This Pinay Started a Coffee Business with Only P6,000 and Now It Already Has 15 Branches
2. Pinoy Pao: P26,888
Food carts are business investments that are worth looking into, as they are relatively inexpensive but offer marketable products that already have brand recall among customers.
Pinoy Pao is one such example. It's a food cart that offers a selection of siopao and siomai that appeal to pedestrians in need of a quick but filling snack.
Pinoy Pao offers a franchise package priced at P26,888. The package covers the purchase of the food cart, one electric steamer for the siopao and siomai products (with samples also provided in the package), and even a prepaid mobile load dealership option.
ADVERTISEMENT - CONTINUE READING BELOW
What's great about this franchise package is that it also includes accident insurance for the food cart owner. For more details, you may head over to the Filtrepreneur Franchise, Inc. website.
The company also offers similar franchise packages at the same price points for its other single cart brands, such as Burgeroo, Pizza Pinoy, O'Noodles (which offers noodles served with toppings), Emperor's Siomai (a food cart that offers a wide selection of siomai variants), Jack's Foodcart (which offers fish balls, squid balls, chicken balls, and the like), and Red Bowl (a rice-in-a-box stall).
READ ALSO: French Fries Food Carts You Can Franchise With a Partner for Less Than P500k
3. Sisig Stop: P42,888
Who does not love sisig? This putok-batok dish might not be a recommended meal on a daily basis, but it does make the rounds whenever there's a celebration of some sort, a drinking session with friends, or—let's be real—whenever the cravings kick in.
ADVERTISEMENT - CONTINUE READING BELOW
Sisig Stop is a food cart that caters to all sisig lovers, and what's great about it is that it serves healthier versions of this Pinoy dish through its chicken and tuna sisig selections.
Sisig Stop offers a franchise package priced at P42,888 that includes the brand's cart, cooking equipment such as a microwave oven and a rice cooker, utensils, training for both the franchisee and staff, initial inventory worth P400, and even a mobile-loading side business as another money-making option.
For more inquiries, visit the Philippine Food Carts website, or call 0920-671-5124 or 0925-814-0888.
4. Happy~Haus Donuts: P50,000
Happy~Haus is a local donut brand that began in 2005. It offers a wide array of scrumptious and unique donuts, such as the sans rival ring donut, the tsoko-vanilla flower donut, and the black forest quarter donut.
To date, the brand has grown to over 600 branches all over the country, offering freshly made donuts at affordable prices.
ADVERTISEMENT - CONTINUE READING BELOW
Happy~Haus Donuts offers a Dagdag Pangkabuhayan Franchise Package at P50,000. It includes the brand's kiosk, a cabinet for donuts, marketing collaterals, as well as orientation for both the franchise owner and staff.
For more details on the company and its franchise offering, head to the Happy~Haus official website.
5. ML Express: P99,000
Planning to get into the money remittance business? After all, sending and receiving cash will always be part and parcel of our lives, and it is even made more convenient because all of the services can now be done online.
ML Express, the money-transfer service of the M. Lhuillier group, offers a franchising package for just P99,000. It covers payment for using the ML Kwarta Padala Express System (the online platform that it uses for money transfer between other ML Express or M Lhuillier branches and their partners), equipment (a tablet with a mouse and keyboard as well as a printer), a P25,000 initial fund in the ML Wallet, and marketing supplies.
ADVERTISEMENT - CONTINUE READING BELOW
For more details on franchising an ML Express outlet, you may go to the official M Lhuillier website.
Load More Stories