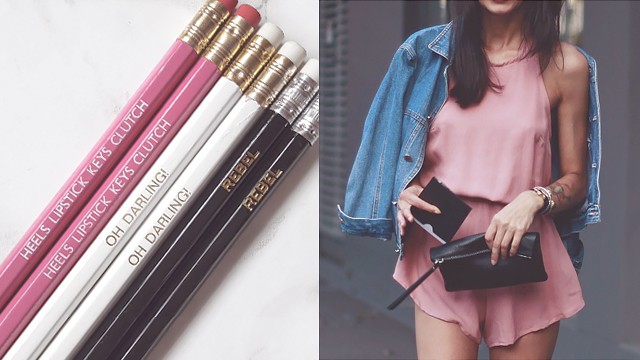 You've probably had your fair share of wardrobe malfunctions at the most inopportune times at work. It's not easy to deal with a tear on your blouse or a lose button on your slacks just before an important meeting, but don't worry – there are many things in your office that actually save you from an entire day of awkward stares:

1. Paper clips

ADVERTISEMENT - CONTINUE READING BELOW
CONTINUE READING BELOW
Recommended Videos
Worried about a lose button? Get the smallest paper clip you can find and push it through the holes. Then, twist it on the back. Just be careful about attempting this on delicate fabric!

If you're wearing a racerback shirt on laundry day and you need to hide those awkward bra straps, corral them with a paper clip and you don't have to worry about them the whole day.

2. Pencils

Losing the push back of your stud earring can be annoying. No need to crawl on the floor for it: just use a pencil eraser to keep your earring in place.

Scruffed your suede shoes? Erase the marks with your pencil eraser.

If you're up against a stuck zipper, run the graphite tip of your pencil along the length of its teeth to smoothen it.

3. Binder clips

ADVERTISEMENT - CONTINUE READING BELOW
If you lose the button of your jeans or if you accidentally break your bag's zipper, use a binder clip to keep things closed.

4. Tape

If the heel of your black shoe breaks off, use electrical tape for a quick fix.

Lose skirt hems can make you look dishevelled. Secure the fabric with double-sided tape.

Close a tear on your blouse by sticking the fabric together with masking tape from the inside.

Gum stuck on your blazer? A bit of duct tape can do the trick - press a small piece tape on the area and peel it off. Do this several times until the gum is removed.
Comments
Load More Stories