Almost every woman has, at one point, had that one, long-time guy friend who unofficially served as a part-time boyfriend. If you have one now, then this is the the guy you run to when you want to get out of a really bad date or when you're in need of a shoulder to cry on. But how do you know for sure he's not in love with you? Here are seven signs he's possibly thinking of stepping out of the friend zone:

1. He always goes out of his way to see you.
Even though he lives in the South and you're from the North, he's still more than willing to be there for you when you're going through tough times (or even just for a random dinner meetup). Can you imagine him braving his way through EDSA? If he didn't have even a tinge of feelings for you, he wouldn't bother tolerating traffic, right?
ADVERTISEMENT - CONTINUE READING BELOW


2. He always texts back. Always.
Even you don't have that much free time.

3. He tells you things that remind him of you.
It could be something ordinary like a signage he saw while walking outside or something really significant to you – like a cat which reminds you of your love for the feline creatures; either way, it could mean that you're constantly on his mind.

4. He's vocal about how much fun he's having with you.
Whether that's thru a text message or a phone call, he never forgets to tell you how much he enjoys the time he spent with you. It may be a simple gesture, but it definitely speaks volumes.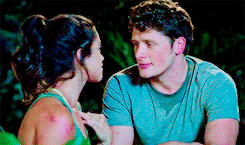 5. He's really protective.
It's only normal for friends to look out for each other, but if he's worrying a little too much, then something must be up. According to Steve Harvey's dating book entitled Act Like a Lady, Think Like Man, it's how men subtly express that they like you.

"When a man truly loves you, anybody who says, does, suggests, or even thinks about doing something offensive to you stands the risk of being obliterated. Your man will destroy anything and everything in his path to make sure that whoever disrespected you pays for it. This is his nature."

6. He accepts you for who you are.
No matter how weird your habits are, he still accepts them with open arms – he even finds them endearing! From the way you walk to the face you make when you're confused, everything you do is adorable to him.

7. He remembers everything about you.
Yes, even the smallest of details. It may not mean much to some, but women just love it when guys keep the small things that are important to them in mind. And although these signs may look promising, remember that a confession from him is still a sure way to know if your best bud is really, REALLY, into you.
ADVERTISEMENT - CONTINUE READING BELOW
Load More Stories