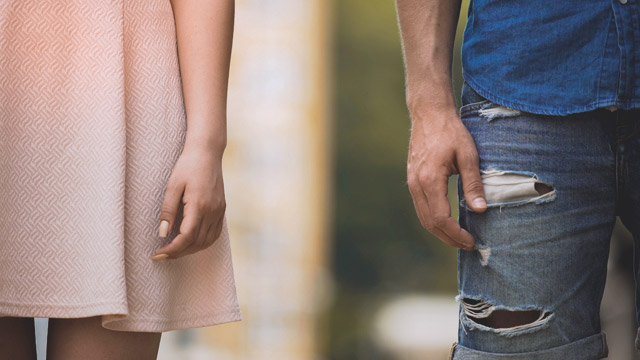 First off, there's nothing wrong with being single. There's a lot you can do with your independence—you have enough time to learn about yourself so that you can really come into your own without being defined by what you can do or the people you're with.
ADVERTISEMENT - CONTINUE READING BELOW
That being said, it's also another thing to be single because you keep on getting into relationships that are counter-productive, or worse, downright abusive. If you're wondering why you're attracting all the wrong people and can't seem to get lucky in love, then you may need to change a few things about how you perceive yourself and others.
According to clinical psychologist and marriage counselor Randi Gunther, Ph.D. on Psychology Today, attracting and picking the wrong person may be a result of mismanaged expectations and not-so-good personal deals:
"Humans are traders by nature," she says. "The underlying problem is that many people believe they can make a better deal than they can. For example, they might think that what they have to offer is worth more over time than it may seem up front, and they want the other deal-maker to trust in the investment. Or, they've been more sought out in a different dating market than in their current one, and haven't accepted that reality. Maybe their well-intended friends have given them the impression that they are more marketable than they really are. Or, perhaps they're searching in the wrong places, or it's just the wrong time in their lives."
ADVERTISEMENT - CONTINUE READING BELOW
Recommended Videos
It's all about perceptions and expectations, and this isn't only about the person you're planning to be with, but also about yourself. Here are a few things you may be doing that are most probably sabotaging your chances of meeting "The One":
You're not being honest about who you really are.
This often happens online, especially if you're into dating apps. Trying to pretend to be skinnier or curvier or more outgoing or reserved than you really are will only mean that you'll have a lot of pretending to do to keep the person you want to be with—and that's not a good foundation for any relationship. Stay true to who you are and just be open to the possibility of finding someone, because while it sounds cliché, the right person does comes along when you least expect them to.
ADVERTISEMENT - CONTINUE READING BELOW
You're not open to people with excess baggage.
The mere mention of "excess baggage" can send many people running, because no one wants to get entangled with a "messy" past. Think about it, though—there's really no one without baggage. Every person carries something with them that may have hurt them, changed them, or even have caused them to be wary of loving again, but if you're really serious about letting someone into your life, you'll need to know that as much as you're accepting the other with all his imperfections, he's also accepting you. It's a two-way street. Don't be afraid to take a risk with someone who has become wiser with everything he has gone through.
You're lowering your standards.
"Ang taas naman ng standards mo! Kaya wala ka pang boyfriend, eh," is probably something you hear in family and BFF reunions, but never take it as a sign to dismiss your preferences. After all, you're the one who's going to be in the relationship, not them. Don't ever lower your standards just because you're afraid of growing old alone or not having kids, or because of any other fear that society has trained you to have. Settling for someone who doesn't match you in any way just so you can say that you have someone will only make you unhappy. Remember that the right person is always worth the wait.
ADVERTISEMENT - CONTINUE READING BELOW
You unconsciously think that you're unworthy of love.
This is one reason why you'll allow yourself to be swayed by other people into lowering your standards. You think that you aren't a great person that you'll latch on to anyone willing to "deal" with you and your insecurities, clinging to the point of suffocation, until that person leaves and you think that it happened because you aren't a great person—thus, you repeat the cycle.
Before looking for love, find love within yourself. There are a lot of good things about you if you only take time to acknowledge them. Don't sell yourself short because if there's one person that's worthy to be loved, it's you. Once you start believing that you're okay, and that you're no less than anyone else, then you open the doors for the person that's right for you.
ADVERTISEMENT - CONTINUE READING BELOW
H/T: Huffington Post
Load More Stories