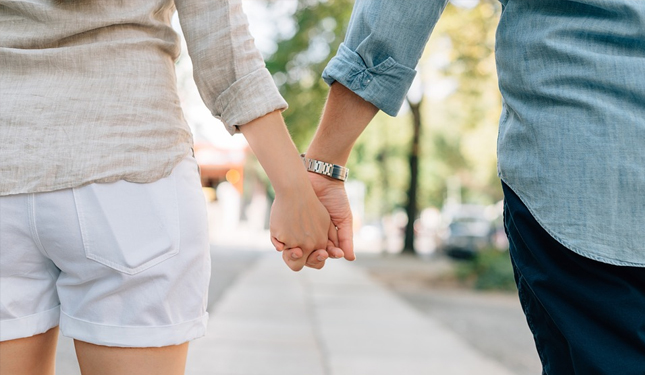 He's out there.

A constant reminder, a gentle consolation to a heart that longs for a partner, sometimes a plea cast into the air, a promise. It's a soothing balm to a soul that has been waiting for a forever that has not yet begun. 

Some people might say that it's a lazy girl's excuse to get on her feet and take her destiny into her own hands. But when you really think about it, in a world full of people trying to find that one person who will piece together your dreams of a promising future, it becomes a prayer of faith and hope.

He's out there.

It's not easy being single in a society that dictates that the only way to be completely happy is to fall in love. They sell you the idea of romance in every way possible from absurd television shows, to mushy love stories, to heart-warming works of literature. 

You are surrounded. They make you believe that in order to feel whole, you need to find that person and create a life together. In so many ways, this may be a reason why hearts get broken. Hearts whose owners have been lured into the trap of believing that they can never be complete without a better half to save them. When you do find the right one though, it is all going to be worth it.

He's out there.

Even through the most difficult times when you're not supposed to believe anymore, you still do. It doesn't matter how many times you've seen love failing, deep within, you know there's a story being written specifically for you. 

Maybe you imagine him on a white horse sauntering down a crowded street, ready to whisk you away to eternal bliss. Maybe you envision him standing teary-eyed at the end of the altar waiting to call you his for as long as you both are alive. Or maybe, you just imagine holding his hand for no reason, staring into his eyes, trying to guess what he's thinking, stealing little kisses when you think no one is looking and hearing him say the words that turn all your bones into liquid.

He's out there.

You remind yourself that you need to trust the system. Some get to find the love of their lives easily. For some, it's a long and winding road of waiting and searching and longing. But it is okay, you know your time will come. He will come.

And if he's not out there, it's still okay.

You've grown to be independent and self-sufficient, that in itself is a reason not to worry too much because you are going to be just fine. There are lots of different ways to give and receive love, and though you might miss the intimacy of having a partner, the world doesn't end just because you think you are alone. You are only alone when you allow yourself to feel alone. 

You are beautiful, so beautiful that one person is not enough to make you feel loved; you've got the whole world instead to do that.

*Minor edits have been made by the Femalenetwork.com editors

Got a story to tell? Send us an email over at webmaster@femalenetwork.com with the subject My Story on Female Network and we might just feature it!  
ADVERTISEMENT - CONTINUE READING BELOW
Load More Stories