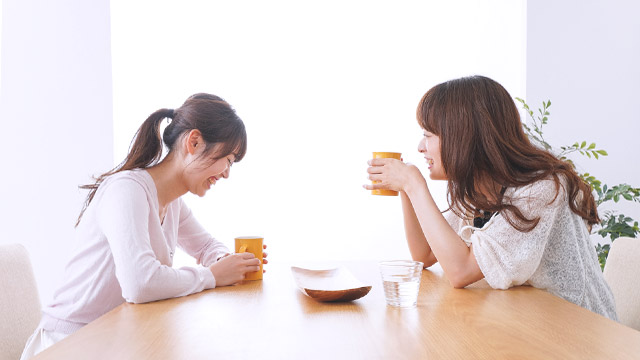 As the famous saying goes, no man is an island. No one can go through life without interacting and making connections with others. It is especially important for women who live high-stress lives, especially moms who go through a lot of pressure daily.
ADVERTISEMENT - CONTINUE READING BELOW
We are talking about the friendships, and one invaluable friend is a "vent buddy." She is the one you go to whenever you are feeling overwhelmed; someone you can talk to who you know will not judge you.
Why moms need a vent buddy
Having a person you can call to listen to your parenting woes, big and small, is good for your mental health. Here are a few reasons (and perks) why you need this kind of support:
1. It's healthy for you
According to Southwestern Assemblies of God University's ThoughtHub, people vent because it is a way to reduce their stress levels. A 2009 study found that disclosing stress is a common type of coping mechanism, which can help lower stress levels. And this is key: find a friend who responds with empathy, not someone who will add to your stress.
All moms experience different types of stress every single day, so it's only natural for them to reach a point when they just feel like they're going to explode. When this happens to you, it can be healthy for you to call or send a message to your vent buddy so you can release all that stress that's wearing you down. When you're done talking, you might feel a lot lighter and better!
CONTINUE READING BELOW
Recommended Videos
2. You feel that you are not alone
More often than not, when people vent, they don't really want to hear any advice, or even to get a verbal response—they just want someone to listen. A vent buddy who will listen to you actively and express empathy for your situation can help you learn that no matter how much you may think that nobody understands you, there is always someone who cares for you!
3. You get advice
Again, the advice is not necessarily what most moms want when they vent, but it can also be helpful for you to seek help from your friend every so often, especially if your vent buddy is also a mom who knows what you are going through. She can provide a new perspective on your situation, or she can simply assist you in realizing something that you might be doing wrong.
ADVERTISEMENT - CONTINUE READING BELOW
4. It's an excellent way for you to practice empathy
Your vent buddy is also human, which means she might even get overwhelmed by her own situations in life. Therefore, she might also need someone to vent to. If she comes to you with her own frustrations to talk about, you can take the opportunity to repay her with the empathy and affection that she showed you when you were the one venting. This can be a way to help your friend stay sane and mentally healthy and to deepen your friendship with one another.
One important thing to remember: if mom is happy, she will also be able to care for her child well. You may find that you can handle every day, even the situations and little mishaps that generally stress you out, more calmly and responsibly.
So even if, on most days, you may feel as if there's just no time to squeeze in a few minutes or an hour to meet up with your friend, don't let go of the opportunity! You would be doing yourself a lot of good by doing so.
ADVERTISEMENT - CONTINUE READING BELOW
This story originally appeared on Smartparenting.com.ph.
* Minor edits have been made by the Femalenetwork.com editors.
Load More Stories